It has been a delight to read Michael L. Jones' dispatches from Louisville Business First, where he recently accepted a position as reporter. Here at Food & Dining Magazine, Michael has been writing print features for a long while, including this one in 2018.
Among others, Michael profiled Big Momma's Soul Kitchen.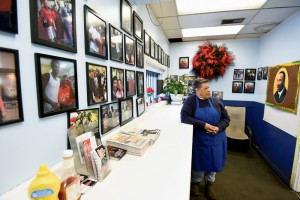 The Food Does the Talking at Big Momma's Soul Kitchen
Jessie Green is an anomaly in today's celebrity-obsessed culture. Green didn't want any kind of fame, but the 74-year-old has found it thanks to the popularity of her restaurant, Big Momma's Soul Kitchen. In addition to receiving glowing reviews in practically every publication in Louisville, Big Momma's was called "a true oasis of lovingly prepared home cooking that delivers great taste at a great price" on ABC's Nightline after two correspondents stumbled into the place when they were in town reporting on a school desegregation lawsuit in 2007.
Time waits for no one, and Michael now has a timely update at LBF: Big Momma's Soul Kitchen expected to close for good — but it's for sale.
Big Momma's Soul Kitchen, 4532 W. Broadway, is set to close its doors for good in December unless the restaurant's owners can find a buyer before then.
Sheryl Fox, Big Momma's manager and the daughter of its co-owner, Jessie Green, said her mother is retiring after nearly two decades of cooking at the restaurant. Green's last day at Big Momma's will be Nov. 28 and the restaurant is scheduled to close on Dec. 19.
Fox said Green is hoping to find a buyer for the restaurant, which is co-owned by one of Green's sons. The family is asking $80,000 for the business and the equipment. The money would be put into a retirement fund for Green. The family has also set up a Go Fund Me site for patrons who would like to make contributions for Green.