Tony Palombino keeps the credo simple: "If it's not fun, it's not worth doing … and if it's not good, it's not worth eating."
Using his parents' 700-foot St. Matthews storefront as an incubator, Palombino kicked off Tony BoomBozz Pizzeria in 1998, a spot dedicated to gourmet pies in a market where traditional tomato sauce, pepperoni and extra cheese were the norms. BoomBozz met with quick popular and critical acclaim, and has enjoyed continued growth over the decades. Still, Palombino hasn't once hesitated to tweak a winning formula.
So it was last October when Palombino reimagined his award-winning creation as Boombozz Pizza & Watch Bar. The Jeffersonville, Indiana location of BoomBozz at 1450 Veterans Parkway became the prototype for its sister restaurants, corporate-owned or franchised, with updated decor and furnishings, audio/video enhancements, a refreshed company logo, a new slogan ("Crafted for You"), an expanded wine and cocktail list, and a dedicated takeout entrance.
America's response to the coronavirus changed this comfortable picture overnight, replacing the bricks and mortar communal experience with home sheltering. In a flash curbside carryout and delivery became the new norm for restaurants. On March 19 the Boombozz Pizza & Watch Bar in Jeffersonville announced it was temporarily suspending operations to regroup, and this week the pizzeria reopened (as did another of Palombino's creations, Merle's Whiskey Kitchen in Louisville).
The full iconic BoomBozz menu is available, as well as a new selection of family meals.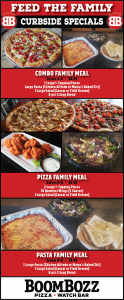 Current hours of operation are Sunday through Thursday, 11:00 a.m. to 8:00 p.m.; Friday and Saturday, 11:00 a.m. to 9:00 p.m. Curbside pickup orders can be placed online here, or call 812-913-4171. Delivery orders via Doordash can be made here.
Beer and wine to go are available for curbside orders only.