New Wheated Bourbon from Wilderness Trail
Member distilleries of the Kentucky Bourbon Trail will be reopening June 8. Danville's Wilderness Trail Distillery will mark the occasion by releasing a 6-year-old, wheated, bottled-in-bond bourbon. (The other releases by the distillery, owned by Shane Baker and Dr. Pat Heist, have been four-year-old, bottled-in-bond bourbons and a cask strength rye whiskey.)
Said master distiller Baker in a press release, "We always practice patience in aging our whiskeys. We're used to waiting for those great flavors the years spent in the barrel produce. But it's been hard to wait for the return of our visitors. It seems like years since we've had guests. We wanted to make the first day back extra special"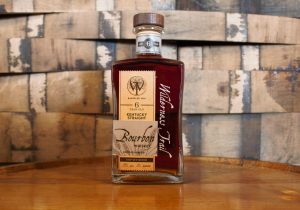 A limited edition of 100 bottles presented in a Family Reserve mahogany box with two shot glasses will be available for curbside pickup at the distillery, 4095 Lebanon Road. Hours will be from 10 a.m. to 5 p.m. on the 8th and the price is $75 plus tax with a limit of two box sets per person.
It's only available for pre-sale online at WildernessTrailKy.com. Go to the "Shop" link under the category of "Spirits." For more information, call 859-402-8707. Purchasers must bring a copy of the receipt for pickup. The distillery's gift shop will also have a limited number of bottles.
Age Statements Return to Bottles of Knob Creek
When it was first released as part of Jim Beam Distillery's Small Batch Collection of bourbons, (which also includes Basil Hayden's, Baker's and Booker's) Knob Creek carried a nine-year age statement. Due to demand for the popular brand the age was dropped from the label a few years ago. But, now it's back and Knob Creek is not only available aged nine years, there's also a 12-year expression.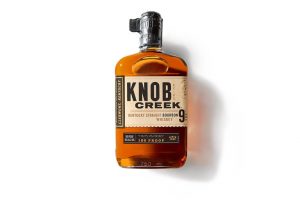 Both are bottled at 100 proof. Suggested retail prices are $35 and $60 respectively. For more information, go to www.knobcreek.com.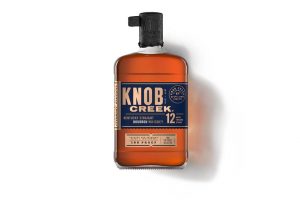 Cocktail Corner – The Bourbon Mojito from Seviche
There are few more refreshing hot weather drinks than that Cuban classic the mojito, made with light rum, lime juice, and muddled mint. If you think that sounds like a tropical mint julep, you would not be too far off the mark. And since chef/owner Anthony Lamas of Seviche: A Latin Restaurant (1538 Bardstown Road, 502-473-8560) specializes in combining the best of Latin and Southern culinary traditions, it is only fitting that one of the restaurant's signature drinks is a bourbon mojito. Seviche has now reopened for both indoor and outdoor dining, but it also still offers curbside service that includes being able to order a quart of bourbon mojitos – about four to five drinks – to go. (You can see the full take-out food and beverage menu at www.sevicherestaurant.com.) In case you'd like to find a use for that mint you have left over from the Derby's postponement, Seviche's beverage manager Aaron Graves has kindly provided the recipe.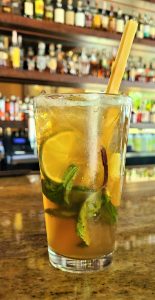 The Bourbon Mojito
2- 2½ ounces bourbon (Depending on your preference.)
2 ounces Finest Call Sweet & Sour Mix
1 – 1½ ounces agave syrup or simple syrup
1 ounce club soda
¼ lime
Sprig of fresh mint
In a pint glass, add the lime, mint, club soda, and syrup. Muddle thoroughly (You can also muddle in cherries, blackberries, etc., if you wish). Fill glass with ice.
Add the bourbon and sweet & sour mix bourbon (whatever you like) and 2 oz. of sweet and sour mix. Pour all ingredients into a shaker tin and shake hard several times. Pour back into pint glass. Garnish with a stick of sugar cane. Enjoy!
******************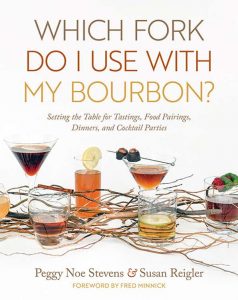 F&D Bourbon Columnist Susan Reigler is the author of several whiskey books, the most recent being Which Fork Do I Use with My Bourbon? Setting the Table for Tastings, Food Pairings, Dinner, and Cocktail Parties, co-written with Peggy Noe Stevens. Autographed copies are available from Carmichael's Bookstore. It can also be purchased on Amazon, or directly from the publisher at https://www.kentuckypress.com/9781949669091/which-fork-do-i-use-with-my-bourbon/.
Photo credits: Wilderness Trail Distillery; Knob Creek; Seviche (Bourbon Mojito).
advertising content
advertising content