BOURBON NEWS & NOTES – for 26 November, by Susan Reigler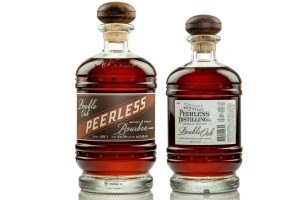 A Flurry of End-of-Year Releases from Kentucky Peerless Distilling Company
Since its first whiskey releases, Kentucky Peerless has lived up to its name.  Its portfolio consists of many notable limited expressions, as well as its flagship bourbon and rye. To close out 2021, the distillery is offering some special bottles in addition to its flagship Small Batch Bourbon ($79).
The Double Oak ($134) is aged in two different barrels. Tasting notes from the distillery describe it as having a nose that opens with sweet oak accented with orange zest, and cedar joined by tobacco and herbs. The palate starts out with honey before shifting to cinnamon and spicy oak continuing into leather. The viscous mouthfeel carries through to the finish with toasted oak and dry cocoa.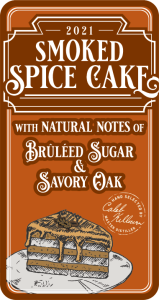 Especially appropriate for the holiday season is the Smoked Spice Cake Bourbon ($124). The distillery's notes:
Nose: Citrus, cinnamon, and a rich tobacco crate a great first impression. Herbs and a smoked caramel complete the nose.
Palate: The first taste leads with spicy cinnamon, oak, and citrus. Toasted sugar and tobacco soon join. Another sip adds rich, bourbon-infused cake.
Finish: The finish focuses on a sweet and spicey oak accented with sweet smoke and a dash of citrus biters.
These certainly sound like bourbons that would pair beautifully with fine cigars. The best way to get these bourbons if you live in Louisville is to visit the distillery gift shop. They would be very appreciated holiday gifts for the bourbon lover on your list.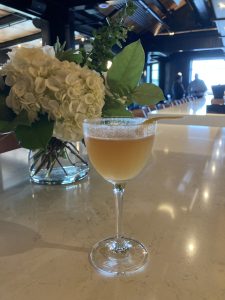 The Kitchen Table's Pink Peppercorn Brown Derby
Jim Beam Distillery has recently renamed itself the James B. Beam Distilling Company. It has also joined the growing number of distilleries with restaurants on-site for both visitors taking tours and anyone in the area who might like to drop in for a meal. Having had the pleasure last week of sampling lunch and cocktails at The Kitchen Table, Beam's new restaurant, I can say without reservation that it could be not just a drop in eatery, but a dining destination.
The pork, beef, and chicken on the menu are all sourced from a farm only two miles away. Chef Brian Landry puts all into good use in such dishes as pulled pork empanadas, a Hot Brown pizza, and a burger dressed with Kenny's white cheddar (another Kentucky product), and charred onion aioli. The cocktail list is no less impressive.
Many thanks to Tin Le, lead bartender, for this week's recipe. It is both substantial and refreshing. Old Tub is 100 proof, so sip accordingly.
The Pink Peppercorn Brown Derby
½ ounce Old Tub bourbon
¼ ounce lemon juice
¾ ounce pink peppercorn thyme honey syrup
The pink peppercorn thyme honey syrup is made in house. 1.5x honey to hot water is brought to a boil and then infused with a lemon, thyme and pink peppercorn spice blend, added to taste. Once boiling, allow ingredients to steep for 10-15 minutes. Strain and cool before utilizing in the cocktail.
1 ounce grapefruit juice
Pour all contents into a shaker over ice. Shake until well chilled. Strain into a coupe glass and garnish with lemon peel.
This week's photo credits: Kentucky Peerless and S. Reigler.
******************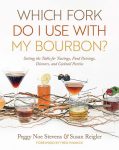 F&D Bourbon Columnist Susan Reigler is the author of several whiskey books, including Which Fork Do I Use with My Bourbon? –  Setting the Table for Tastings, Food Pairings, Dinners, and Cocktail Parties and Kentucky Bourbon Country: The Essential Travel Guide. Autographed copies are available from Carmichael's Bookstore. They can also be purchased on Amazon, or directly from the publisher: 
https://www.kentuckypress.com/9781949669091/which-fork-do-i-use-with-my-bourbon/
https://www.kentuckypress.com/9780813180311/kentucky-bourbon-country/