[adrotate group="3"]
When dusk starts to obscure the day at 4:30, when that cool autumn breeze turns into a face-chilling Arctic blast, when you curse yourself in the morning for forgetting your gloves as your fingers turn blue on the steering wheel, then our appetites turn towards stomach-warming, stuffy-nose-clearing, soul-comforting soups.
Aside from gazpacho — a way to eat as many in-season local tomatoes as possible — and an occasional foray into an elegant-sounding cold vegetable purée as a summer dinner party first course, cold soups have not made inroads into my culinary repertoire. But come cooler weather, I eagerly peruse cookbooks and cooking magazines seeking inspiration for chunky hot soups that provide quick, reheatable lunches or, with salad and bread, easy, satisfying dinners. A choice of three or four soups bubbling softly on the stove and a loaf or two of hearty sourdough, or crusty baguette, or even sliced Pepperidge Farm pumpernickel makes for a convivial, make-ahead dinner party. Winter soups, then, provide many levels of satisfaction and solace.
Soup making is, for me, an enjoyable way to play with food. Soups usually require considerable peeling, or scraping, or chopping, or dicing vegetable ingredients, and preliminary browning or searing of meats. The soup maven has to watch and stir and watch some more as the soup comes to a boil and then must adjust the heat to the right level of
simmer. Then comes occasional stirring, and tasting and adjusting of seasonings. If you have the time, tending soups for an hour or two on the stove-top is a contemplative pleasure.
(Originally published in the Winter 2019 issue of Food & Dining)
Stove top or pressure cooker? Both make good soups
If you're short on time but still crave the satisfaction of a hot, home-made, rib-sticking soup, use your pressure cooker or Instapot. Few pressure cooker soups take more than 30 minutes under pressure. Beforehand, there is still prep work – browning and searing, peeling, trimming, chopping – but once that lid clamps down and the pressure indicator locks everything tight, there is nothing further you can do. Pressure-cooking soup has always provided fine results for me, but I sometimes miss the watching, fussing, and checking things out that stovetop cooking invites.
The soup recipes I've offered here provide a range of satisfying flavors. The baked bean soup is perhaps the fastest and easiest, and can be made in a half hour from a well stocked pantry. It is a vegan soup that has a rich umami flavor and mouth-filling texture. The Korean chicken soup, with the slow-onset and long-lasting spiciness of the gochujang chili paste (easily available now in most supermarket Asian food sections), gives welcome relief to stuffy noses and scratchy throats as well as being quite
delicious even if you are healthy.
The Portuguese kale and potato soup gets a milder spicy kick from the chorizo sausage, which underlays the richness and chewiness of the potatoes and kale. The goulash soup uses fresh and fermented cabbage – that would be the sauerkraut – and sweet paprika to convey its Middle European origins, and its milder taste and hunger-satisfying robustness.
Soup bases make stocks almost instantly
Since three of these recipes call for stocks, I will take one more opportunity to tout the value of keeping jars of the soup base Better Than Bouillon in the fridge. I used to make chicken stock from carcasses and bones and froze it to use in soups, gravies and glazes. But frozen stock takes up a lot of space in the freezer. Better Than Bouillon lasts for months after opening, is easy to use and measure, and creates flavorful stocks to use in any recipe calling for a stock. Several flavors, meat and vegetable-based, can be found next to canned soups in the grocery.
For the next several months I will likely always have a container of soup in the fridge, ready to pull out and reheat for the perfect lunch after a brisk walk or a morning of chores.
Note: Soups are the easiest recipes to alter to meet your needs. All the recipes here can be doubled, or cut in half, to adjust the proportions according to how many servings you want to make.
---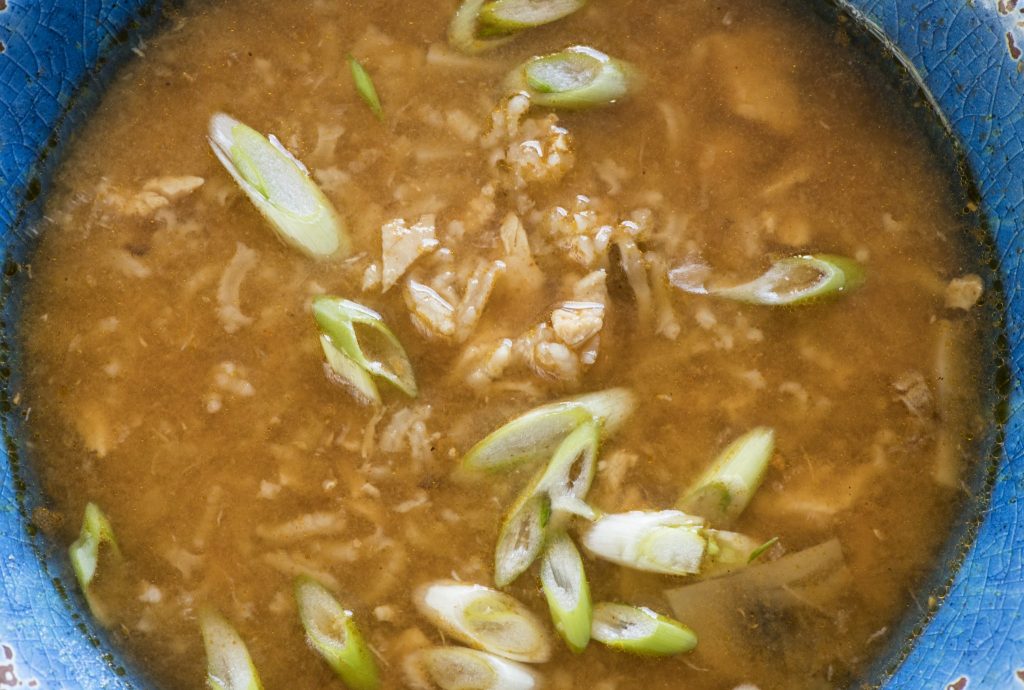 Korean chicken soup(Serves 6)
1 tablespoon sesame seeds
8 cups chicken broth
2 tablespoons garlic, peeled and finely chopped
2 tablespoons finely grated fresh ginger
½ cup uncooked white rice
1 tablespoon soy sauce
1 teaspoon toasted sesame oil
1-2 teaspoons gochujang or other hot chili paste
½ cup sliced mushrooms
1 cup shredded cooked chicken
2 scallions, trimmed and finely chopped
In a small dry skillet, toast sesame seeds over medium-high heat, shaking until lightly browned and aromatic. Transfer to a small bowl and set aside.
In a large soup pot, combine the chicken broth, garlic and ginger. Bring to a boil over high heat. Add rice, reduce the heat to medium-low and simmer until the rice is tender, about 15 minutes. Stir in soy sauce and sesame oil; add chili paste to taste. Add mushrooms and chicken and heat until just warmed through. Garnish in bowls with scallions and toasted sesame seeds.
---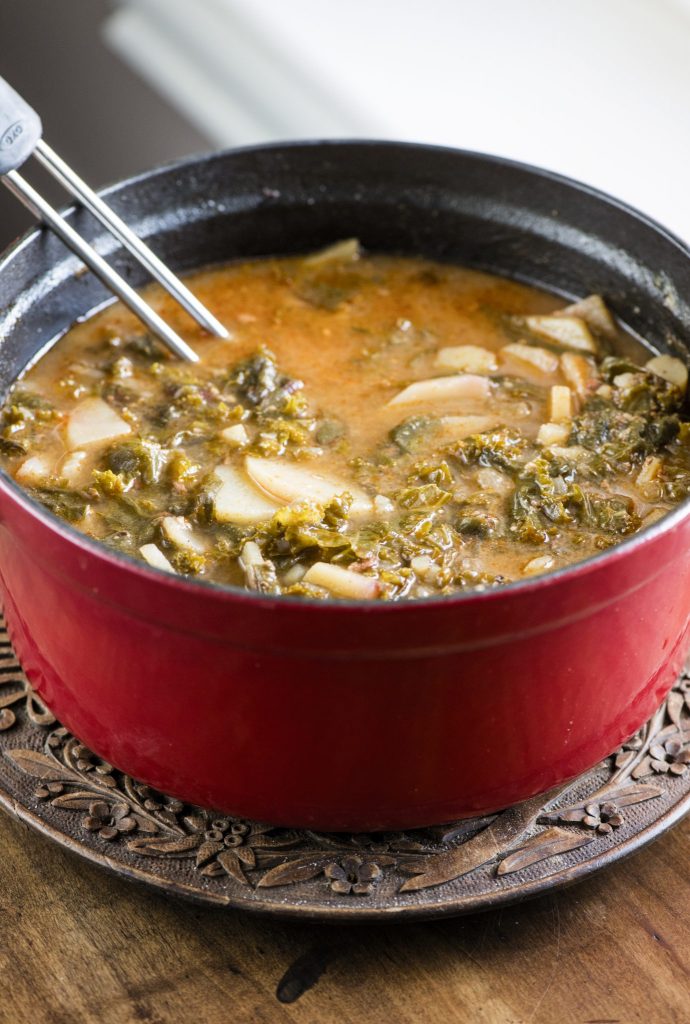 Portuguese potato and kale soup
(Serves 6-8)
6 ounces chorizo sausage
1 tablespoon olive oil
1 onion peeled and chopped
8 cups chicken stock
2 pounds (about) potatoes, peeled, cut in quarters lengthwise and then into ¼-inch thick slices
6 cloves garlic, peeled and left whole
1 bunch kale, about 1 pound, trimmed, washed and thinly sliced
Salt and pepper
Heat a small skillet over medium heat. Add chorizo and cook until nicely browned and set aside.
In a heavy soup pot or Dutch oven, heat oil over medium heat. When shimmery, add onions and sauté until softened, five minutes or so. Add the chicken stock, potatoes and garlic and bring to a boil. Reduce heat to low and simmer, uncovered, until potatoes are tender, 10 to 15 minutes.
With a slotted spoon, transfer about half the potatoes and all the garlic to a bowl and mash them lightly with a fork. Return to the soup and bring to a simmer. Stir in kale, a handful at a time, and simmer for five minutes, or until tender. Stir in the reserved chorizo and heat through. Taste and adjust seasonings with salt and pepper.
---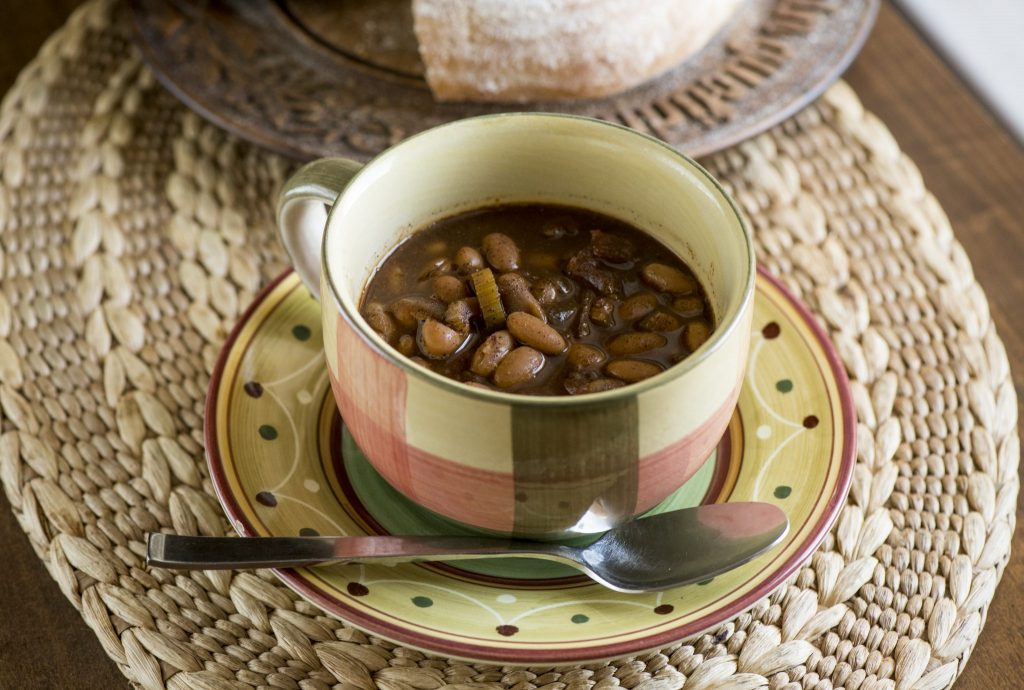 Baked bean soup
(Serves 4)
2 tablespoons olive oil
1 onion, peeled and chopped
5 teaspoons chili powder
1½ teaspoons dry mustard
2 cups water
2 15-ounce cans cannellini (white kidney) beans, rinsed and drained
1 14½-ounce can stewed tomatoes with juices
3 tablespoons unsulfured molasses
Heat oil in a large pot or Dutch oven over medium heat. When shimmery, add onions and cook, stirring, until soft, eight minutes or so. Add chili powder and mustard and stir. Add water, beans, tomatoes with their juices and molasses. Simmer soup 15 minutes, stirring occasionally and breaking up any large chunks of tomato. Taste and adjust seasonings. Serve hot.
---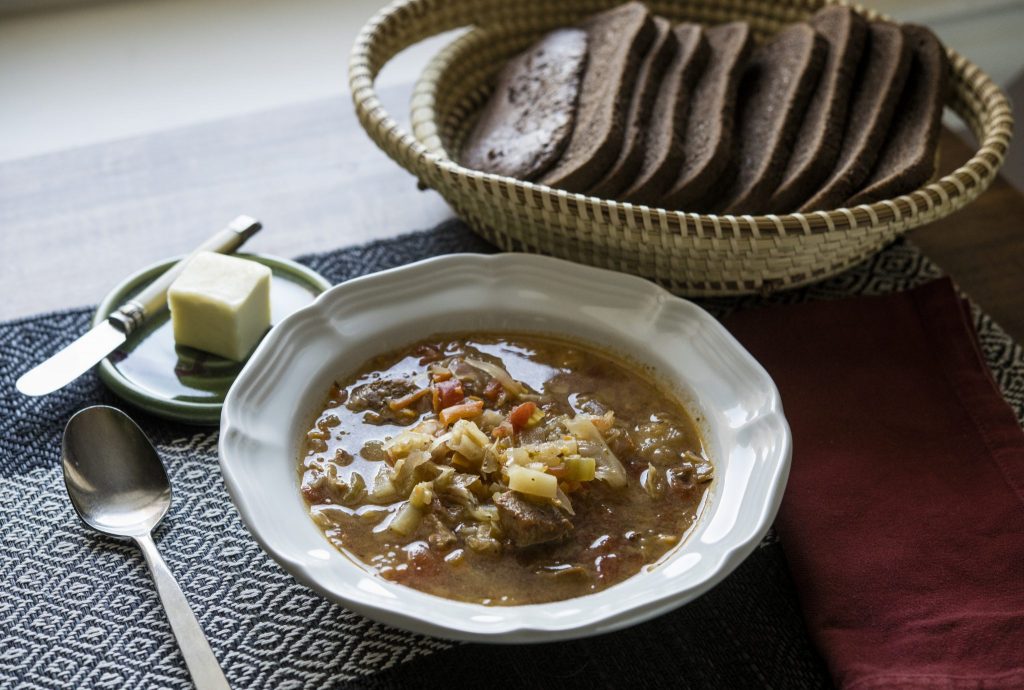 Goulash soup with sauerkraut (Pressure cooker version)
(Serves 6)
The supermarket cut called "boneless country ribs" is ideal for this soup.
1 tablespoon oil
1½-2 pounds lean pork, cut into ½" cubes
3 tablespoons butter
4 onions, peeled and finely chopped
4 carrots, trimmed, scraped and finely chopped
2 ribs celery, strings removed and finely chopped
1 large garlic clove, peeled and minced
2-3 tablespoons Hungarian sweet paprika
1½ teaspoons fresh thyme or a half teaspoon dried, crumbled
1½ teaspoons fresh oregano or half teaspoon dried, crumbled
½ teaspoon caraway seeds
3 quarts beef stock
2 cups canned diced tomatoes
1 cup thinly sliced fresh cabbage
2 large potatoes, peeled and cut into cubes
1 lb. sauerkraut, rinsed and drained
Salt and pepper
Sour cream for garnish
Preheat the oven to broil. Lightly coat a baking pan with 1 tablespoon oil. Add the cubed pork, toss to coat with oil, arrange in a single layer and broil until nicely browned on all sides. Drain on paper towels and set aside.
Melt butter in the bowl of the pressure cooker. When sizzling, add the chopped onions, carrots and celery and cook, stirring now and then, until vegetables soften, five minutes or more. Stir in the browned pork and all the other remaining ingredients except the sauerkraut. Lock on lid, bring to pressure and cook 30 minutes. Release pressure carefully. Stir in sauerkraut and simmer uncovered for an additional 15 minutes. Taste and adjust seasonings. Garnish in bowl with sour cream if desired. F&D