Gravy? It's what makes comfort food comforting.
Gravy is such an accepted aspect of American cookery that the word – and the food concept behind it – has embedded itself in the American idiom. Boomerang parents, frustrated by returned-home slacker adult children, finally warn them that it is time to "jump off the gravy train" and fend for themselves. When jobs are secure and relationships stable, we exult in good fortune, content that "all the rest is gravy."
(Originally published in the Spring 2017 issue of Food & Dining)
Gravy is such an accepted aspect of American cookery that the word – and the food concept behind it – has embedded itself in the American idiom. Boomerang parents, frustrated by returned-home slacker adult children, finally warn them that it is time to "jump off the gravy train" and fend for themselves. When jobs are secure and relationships stable, we exult in good fortune, content that "all the rest is gravy."
Such familiar language attests to the role of gravy as a rich and soul-satisfying accompaniment to American foods. But this quintessential American food was most likely brought to America in the great waves of migration from the British Isles, where gravy had long been a cherished by-product of meat cooking. In America, the frugality demanded by life on the frontier, where nothing would be discarded if it could possibly be used, brought a new cachet to gravy, which is essentially a way to use the drippings or exuded juices of cooked meats to enhance the flavor and texture of cooked food.
Of course, enhancing flavor and texture is what sauces do, so the question arises: What, if anything, differentiates a sauce from a gravy? In one sense, the main thing that differentiates them is the English Channel. That is, sauces are very French, and gravy is indisputably English.
In a more culinary technical sense, gravy is made from the sautéing, frying or roasting residues of meat left in the cooking vessel. A liquid is added to these juices and browned bits of meat and fat, the residue is scraped from the pan and incorporated in the liquid reduction and voilà! You have gravy.
Sauces, on the other hand, are made in addition to and separate from the meat or fish being prepared. Sauces are a mixture of fats (butter or oil), flour (for thickening the sauce) and a liquid (to attain the proper consistency of the sauce and to add flavor).
Some issues of nomenclature and popular usage must be addressed at this point. "Gravy" can have rather far-reaching and idiosyncratic connotations in regional American cooking. In some parts of the American South chocolate gravy – yes, made with cocoa – is a much-desired accouterments to biscuits, and for generations of Italian-Americans, "Sunday gravy" meant a long-cooked, meat-enhanced tomato sauce overseen by grandmothers and aunts.
But for our purposes here we are sticking with the basics: gravy made from the residue of meat cookery, de-glazed (loosened from the cooking pan) with liquid and usually thickened with a starch, and used to enhance cooked meat.
That is the technique for making sawmill gravy, which is slathered atop biscuits for an economical and rib-sticking breakfast; red-eye gravy, which captures the essence of country ham and is also the perfect accompaniment to shrimp and grits; and milk gravy, a classic addition to fried chicken or other "chicken-fried" meats, often served with mashed potatoes, which always call out for some sort of gravy topping.
Gravy making is relatively easy, but one common problem is lumpiness, which can be avoided by the proper addition of flour or cornstarch to thicken the gravy. The starch molecules in flour or other thickeners react very quickly to hot liquids, which then clump around the rest of the flour, trapping flour inside a soft shell, making lumps. The way to prevent that is to avoid adding flour directly to hot liquid. Flour and cornstarch will mix smoothly with cold water, or with warm fats such as melted butter or oil. To avoid lumps, add the starch to the melted fat in the pan and stir well, cooking the mixture briefly to cook out the raw flour taste. (For additional nuttiness in a sauce, cook the mixture longer, until the flour starts to turn a golden brown. Just take care not to scorch it.) Alternatively, make a slurry by whisking flour or cornstarch into cold water, in about equal proportions, until that mixture is smooth. Add the slurry to the bubbling gravy about a tablespoon at a time, stirring and watching as the gravy thickens. Add more slurry as needed, or stop when the texture seems right.
---
Breakfast biscuits and sawmill gravy
(Serves 4)
For the biscuits:
2 1⁄2 cups flour, plus more for cutter
3 1⁄2 teaspoons baking powder
1 1⁄2 teaspoon kosher salt
8 tablespoons unsalted butter, cubed and chilled, plus 2 tablespoons melted
1 1⁄2 cups buttermilk
For the gravy:
2 slices bacon, finely chopped
8 ounces breakfast sausage
1⁄4 cup flour
2 cups milk
Kosher salt and freshly ground black pepper, to taste
For the biscuits: Heat oven to 425 degrees. Combine flour, baking powder and salt in a large bowl. Cut in the chilled butter, until pea-size crumbles form. Add buttermilk and stir with a fork until just combined. Transfer to a floured work surface and knead gently, folding dough over on itself and patting out flat two or three times, until dough holds together. Pat or roll dough into a 12-inch by 6-inch rectangle, about 1-inch thick. Dip a 3-inch round cutter into a bowl of flour and cut out rounds of dough. Press scraps together and repeat with remaining dough, making as many biscuits as you can. Brush a sheet pan or cookie sheet with melted butter, arrange biscuits in pan and brush the tops with melted butter. Bake until golden brown, 20-25 minutes, turning pan around back to front halfway through.
For the gravy: Place bacon in a saucepan over medium-high heat and cook, stirring occasionally, until its fat renders, about 3 minutes. Add sausage and cook, breaking it into small pieces with a wooden spoon, until browned, about 5 minutes. Add flour and cook, stirring, for 2 minutes. Add milk, bring just to a boil and then immediately reduce heat to medium to cook, stirring occasionally, until gravy is thickened, about 5 minutes. Add salt and pepper, and stir until combined. If too thick, add more milk. If too thin, continue cooking down, stirring constantly to avoid scorching.
---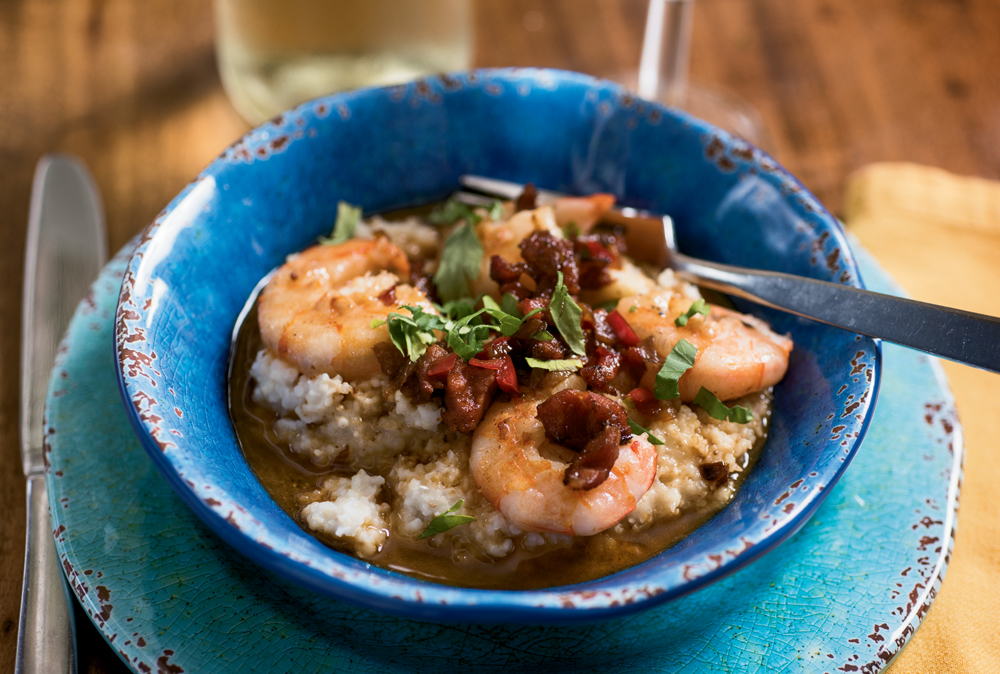 Shrimp and grits with red-eye gravy
(Serves 4)
For the grits:
1 cup stone-ground grits
1 teaspoon salt
4 cups water
1⁄2 cup grated Parmesan cheese
For the red-eye gravy:
1 tablespoon unsalted butter
1⁄4 pound of country ham, diced into 1⁄4-inch cubes
1⁄2 cup onion, peeled and diced
1⁄4 cup green or red bell pepper, seeded and diced
1⁄4 cup petite-diced tomatoes, drained
1⁄2 cup strong black coffee
1⁄2 cup low-sodium chicken broth or water
1 teaspoon brown sugar
Hot sauce of choice, to taste (optional)
For the shrimp:
1 dozen Gulf shrimp, peeled and deveined
2 tablespoons butter
Salt and pepper
For the grits: Bring water to a boil, add salt and slowly add grits, stirring well. Bring back to boil, lower heat and simmer, stirring often, until grits thicken and bubble. Stir in grated cheese.
For the gravy: Heat a cast-iron skillet over medium-high heat. Melt 1⁄2 tablespoon butter and when sizzling, add diced ham, onions, pepper and tomatoes and cook, stirring, until ham is browned, fat has rendered, and onions and pepper have softened, 5 minutes or so.
Pour coffee into the skillet and cook over medium-high heat, scraping skillet with a wooden spoon to de-glaze and loosen any browned bits. Add broth and sugar; simmer, stirring occasionally, until thickened and reduced to about 1⁄4 cup, 3-4 minutes. Taste to adjust seasoning and add hot sauce, if using. Add remaining 1⁄2 tablespoon butter and whisk until emulsified, about 1 minute more. Keep warm while you quickly cook the shrimp.
For the shrimp: Melt butter in a skillet. Season shrimp with salt and pepper. When butter is sizzling, add shrimp and cook until they turn pink in color and curl up into a tight "C," just
a couple of minutes. Add shrimp to gravy. Portion grits onto plates or into shallow bowls and top with shrimp and gravy.
---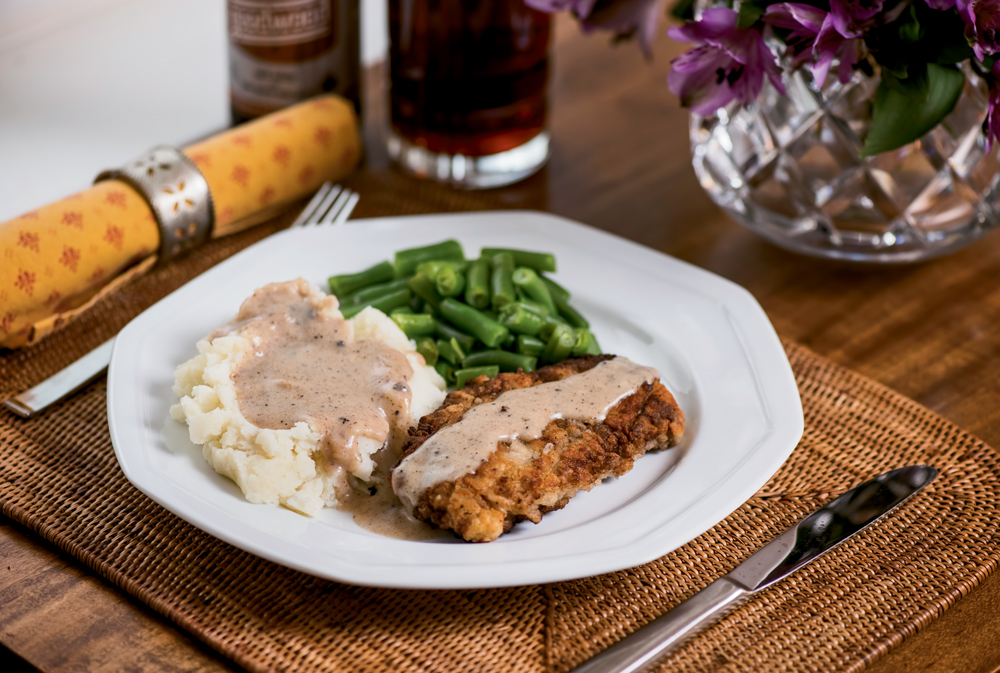 Chicken-fried steak with milk gravy
(Serves 4)
2 pounds top sirloin steaks or cubed steak
1 ½ teaspoons coarse salt
1⁄2 teaspoon ground black pepper
1 cup all-purpose flour
1⁄4 teaspoon cayenne pepper
1 cup buttermilk, well shaken
Vegetable oil, for frying
3 cups milk
Place steaks on a work surface and pound both sides to 1⁄4-inch thickness with a meat mallet or small frying pan. Season steaks with 1 teaspoon salt and 1⁄4 teaspoon pepper.
Combine 1 cup flour and cayenne pepper in a wide, shallow dredging bowl and pour buttermilk into another dredging bowl. Coat steaks in buttermilk, and then in the flour. Transfer to a cooling rack over a baking sheet and let stand 20 minutes.
Pour about a quarter-inch of oil into a large cast-iron skillet and heat over medium-high heat. When shimmering, fry the steaks in two batches until golden brown and crispy on both sides, about 3 minutes per side, carefully turning once; avoid disturbing the coating. Transfer to a paper towel-lined plate to drain.
Carefully pour all but 2 tablespoons of fat from skillet and return skillet to heat. Whisk in remaining 3 tablespoons flour, cooking until bubbling and golden, a minute or so. Whisk in milk and season well with salt and pepper. Bring to a low boil, whisking constantly, until gravy thickens slightly. If too thick, add more milk. If gravy needs to be thicker, cook longer, or add a smooth slurry of flour and water a tablespoon at a time, stirring well until proper consistency is reached. Serve gravy on meat and mashed potatoes. F&D