With 25,256 square feet on two levels, small wonder it's taken Corey Sims and Tony Thomas nine months to remodel the cavernous building at 336 Pearl Street in downtown New Albany into Recbar 812, which opens for business on Monday, February 3.
For the uninitiated who may not have visited the original Recbar in Jeffersontown, Recbar 812 is an arcade, bar and restaurant — in any order your prefer.
Catering to the bar and nightlife scene is not the establishment's sole focus, according to Sims. Recbar is a destination for "all demographics," as patrons of all ages are welcome every day before 10 p.m.

Although customers under the age of 21 cannot purchase alcohol, Recbar patrons of all ages can partake in its unique "grub" menu, including favorites such as totchos (tater tot nachos) and Fruity Pebble-crusted ice cream.

"We tried to build a concept that would be fun for kids, parents and grandparents alike, [and] we try to maintain a collection of games from all eras," Sims said.
Here's an overview, courtesy of the Recbar 812 webs site.
Games: "With over 100 arcade games, 70+ pinball machines and various other games, there is friendly competition on tap every night."
Grains: "With a wide selection of beers rotating on tap and dozens of bottles & cans, there is something for everyone … Full bar and specialty drinks available."
Grub: "Enjoy some childhood delights with an adult twist. Nothing pretentious, just good food."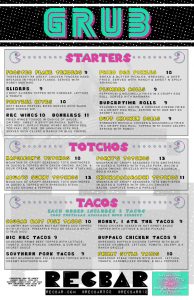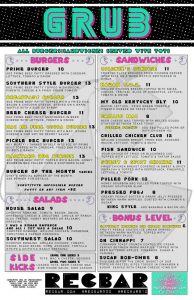 advertising content
advertising content