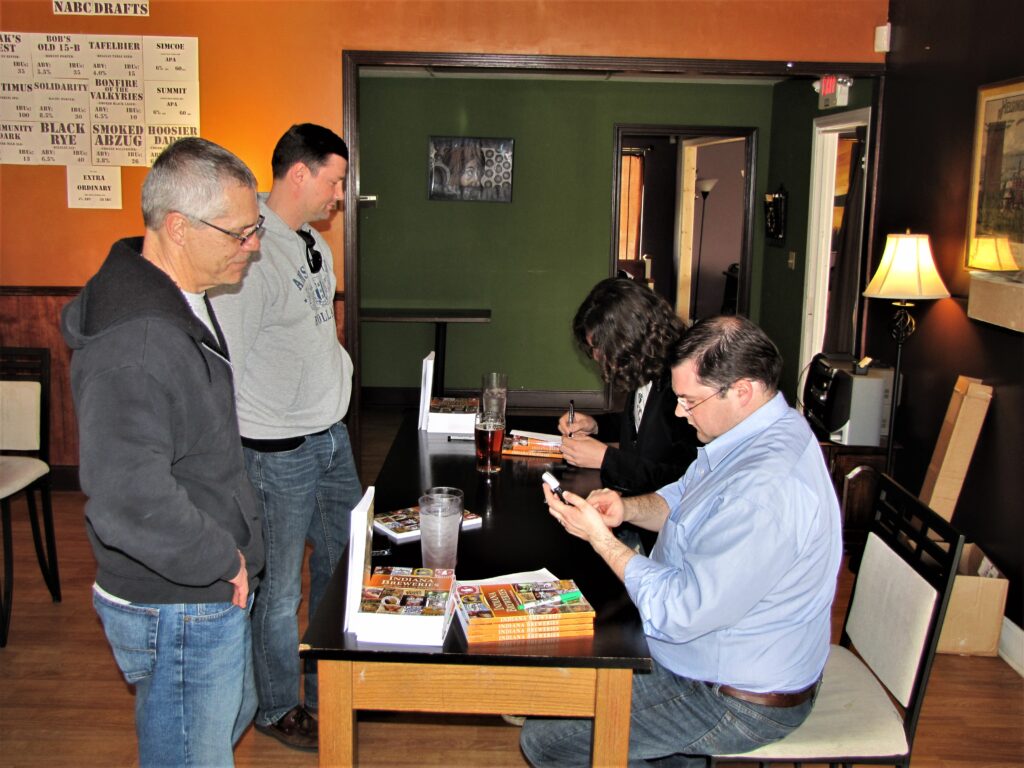 Last Tuesday afternoon (via Zoom) I joined Suzanne Schalow of Craft Beer Cellar Belmont in Belmont, Massachusetts and Chris Quinn of The Beer Temple in Chicago to record an episode of the "Drink Beer, Think Beer" podcast with host John Holl. It was great fun chatting, and I can't wait to visit their establishments some day.
The show is now live, and here's the link: Ep. 166 – State of Beer Bars 2022.
As 2022 circles the drain—speaking for myself, it wasn't so much a bad year as relentlessly challenging with requisite exhaustion—allow me to refer to the Fall 2022 issue of Food & Dining Magazine (Vol. 75), in which I compiled a feature snapshot of craft breweries in the Louisville metropolitan area.
No sooner had this magazine rolled off the printing press than updates began popping, the first of which came on September 12 when Germantown's Monnik Beer Co. abruptly shuttered its recently minted New Albany location, which many readers will know as the former NABC Bank Street Brewhouse.
Since then Monnik has continued brewing in New Albany, and the holiday season passed without a Christmas market materializing in the wonderfully rendered outdoor seating area. I've heard numerous rumors about the building's future disposition, although without verifiable corroboration they're not worth citing.
Monnik's experience in New Albany was a rare setback for Louisville metro's brewing business sector. It had been one of six new breweries I visited two years ago in preparation for a Hip Hops print column, which called for my first pandemic-era excursion across the Ohio River since the inception of the unpleasantness.
One of these was TEN20 Craft Brewery, where I fell under the gracious and passionate spell of brewmaster Larry Horwitz, who responded to my question about his brewing system's large size by saying the goal moving forward was to expand far past the mother ship and establish taprooms throughout the region.
Consider Horwitz's words a "Mission Accomplished But Ongoing," with a second satellite dispensary open in 2022 on Bardstown Road at the Dundee Loop (the first landed in Anchorage in 2021) and yet another coming in early 2023 to SoIN at Clarksville's burgeoning new riverfront development.
However, all of this great beer, of which the Vienna lager is my hands-down fave, will be crafted by the hands of another, as Horwitz has relocated to the East Coast in pursuit of fresh challenges. I wish him the very best.
According to TEN20, "Robert 'Berto' Freeman, who has been brewing alongside Larry from the start, will continue to manage day-to-day operations and the team will be looking both inside and outside of the Louisville market to bring in a new head of brewing operations."
Two other brewing concerns appearing in my post-pandemic roundup are back in the news as of late. Gallant Fox Brewing's production brewery and taproom in Mt. Washington (155 N. Bardstown Road) have opened, and Atrium Brewing in Shelby Park (1154 Logan Street), has announced its first satellite location in Norton Commons, coming in 2023: Norton Commons is getting a new brewery, with a name many in Louisville will recognize (Courier Journal).
Apologies to the newspaper for negating its characteristically annying click bait title tease.
Checking in with a duo of newbies, the Louisville taproom of Pivot Brewing Company has gotten underway at 1753 Bardstown Road, next door to the Purrfect Day Cat Cafe. Pivot, which is a signatory to the Brewers' Climate Declaration, brings its beers, ciders and community outreach initiatives from a solar-powered home base in Lexington, Kentucky.
Also, as recently highlighted at F&D, Epiphany Barrel House is operating at 1525 Highland Avenue as a brewery without a brewery, at least for the time being, with an opening emphasis on cocktails and guest drafts as the owners await the arrival of brewing equipment in 2023.
Farm-to-glass cocktails at Epiphany, with brewing soon to come
Finally, my colleague Kevin Gibson reports a "suite" Butchertown Brewing Co. maneuver and expanded hours at Mellwood Art Center.
On the heels of celebrating its first anniversary, Butchertown Brewing is relocating its taproom and bar to the first-floor courtyard in Suite 187 at Mellwood Art Center (1860 Mellwood Ave., Louisville, KY 40206). The new 1,200-sq.-ft. taproom will begin serving its barrel-aged stouts, distinctive sours and other small-batch beers to patrons and members beginning Friday, Dec. 16.
Butchering Brewing's expanded hours will now be: Tue-Thur: 4-9 PM; Fri and Sat: 12-10 PM; and Sun: 1-8 PM.
Now for the global bits, and a blast from the past.
Porter didn't die; old beer enthusiasts and craft brewing farts like me kept the beer style alive. You'e welcome.
Meanwhile those Belfast ship builders and dock workers cozying up to pints of Plain at lunchtime doubtless would survey the arrival of Heineken Silver's PR verbiage and pronounce it a "load of bollocks." To which I'd add: Bloated pretentiousness, anyone?
"Our research shows rising consumer demand for mindful consumption with accessible, premium and lighter style, lower alcohol drinks; a trend growing at 40% in the last five years, across all age groups and especially notable among millennials, Gen Y and Gen Z drinkers."
And:
Silver is balanced to provide a lighter drinking profile that "works across a wide spectrum of drinking occasions". The company believes that no other beer has been developed with such a precise focus on the specific needs of its target audience.
Jeeebus, that reeks. The target audience in question? That'd be "the cruise and ferry market…Heineken has adopted a holistic approach to the Silver launch, with activations for consumers, end customers and crew."
Someone had best alert the cadres of cruise ship cicerones. Wait: There ARE cruise ship cicerones, right? It can't ALL be Heineken Silver, Corona Refresca and Mich Ultra aboard these environmentally destructive floating hotels?
But cicerones? They're all right by me.
The growth of the "cicerone" shows how craft beer is thriving, at from The Economist
The growth of the "cicerone" reflects the ever increasing complexity of American beer…More complicated beers require better-educated bartenders to sell them, says Ray Daniels, who first invented the concept of the cicerone.
Cicerones know gruit almost as well as Heineken understands pandering to denizens of cruise vessels. Today's lesson: It wasn't ALWAYS about the hops.
The Brewer Updating an Ancient French Beer for Modern Drinkers, by Emily Monaco (Atlas Obscura)
Ancient Celtic inhabitants of modern France likely did indeed drink cervoise, an unhopped beer sometimes referred to as a gruit in English  and whose consumption dates back to antiquity through the Middle Ages. Traditional cervoise recipes, according to Malcolm F. Purinton, a professor who teaches the history of beer and alcohol at Northeastern University, were likely sweetly herbaceous, infused chiefly with a trio of yarrow, wild rosemary, and sweet gale or bog myrtle—though they could also include other herbs and spices, depending on what was available.
As finale, a quick glance at Indiana brewing along with a reminder that with Barley Island's passing, New Albanian Brewing Company Pizzeria & Public House is now the 9th oldest brewery in the state in terms of continuous operation, having arrived at the advance age of 20 in 2022.
---
Roger Baylor is an entrepreneur, educator, and innovator with 40 years of beer business experience in metropolitan Louisville as a bartender, package store clerk, brewery owner, restaurateur, writer, traveler, polemicist, homebrewing club founder, tour operator and all-purpose contrarian.
As a co-owner (1990 – 2018) of New Albanian Brewing Company Pizzeria & Public House in New Albany, Indiana – founded in 1987, 1992, 2002 and 2009 – Baylor played a seminal role in metro Louisville's contemporary beer renaissance. He currently is beer director at Pints&union in New Albany and Common Haus Hall in Jeffersonville.
Baylor's "Hip Hops" columns on beer-related subjects have been a fixture in Food & Dining Magazine since 2005, where he currently serves as digital editor and print contributor. He is a former columnist at both the New Albany Tribune and LEO Weekly, and founder of the NA Confidential blog (2004 – 2020).