Mozart didn't need a little hack to chart
Warhol didn't need to ask De Kooning about art
Frank Lloyd Wright always ate à la carte
Wish I had been that smart
Wish I had been that smart
Naturally collaborations do work, hence the 2015 album by FFS (the bands Franz Ferdinand and Sparks), and any number of tasty beers on a theme of cooperation released by local breweries during Louisville Beer Week 2021.
Louisville Beer Week has now concluded, with Tailspin Ale Fest's special spooky edition on Saturday serving as an appropriate exclamation mark.
Just reading the calendar of events for Louisville Beer Week exhausted me, even if I only took part in one of them (the excellent and well-attended beer history panel discussion last Monday).
Posterity will note that Louisville Beer Week's 2021 incarnation was a celebration of optimism (relief?) given the pandemic's disruptions during the preceding 18 months.
It also functioned as an extended, affectionate goodbye to the late Scott Hand in the form of Scruffy Outlier Pale Ale, a special collaboration beer brewed by multiple breweries, and dedicated to a brewer who left us far too soon.
A round of applause for Louisville Ale Trail, please, as well as for Louisville Beer Week's many sponsors.
Trust me; I've been there, done that, and drank too many compensatory, medicinal beers to still squeeze into the tattered t-shirt. Planning, organizing and coordinating such an event is plain hard work, and the crew members at Louisville Ale Trail are performing wonderfully. Give 'em a hand.
—
Last week I finally made it to Philadelphia for three days, proving that a Europhile can be his own worst enemy when it comes to native attractions.
Diana and I wandered around the central district, glancing at the Liberty Bell and Independence Hall, savoring a lunch of oysters and crab cakes at the food lover-packed Reading Terminal Market, enjoying the Philly skyline view from the "Rocky Steps" at the art museum, and being amazed by the urban mosaic/sculpture project known as Magic Gardens.
When we reserved the AirBnB, I had no idea it was a short 10-minute walk from Monk's Café, since 1997 one of America's premier Belgian beer bars with mussels, frites and Trappist ales.
Or, the same distance on foot to The Dandelion Pub, founded in 2010, for superlative fish and chips, Madras curry deviled eggs and pints of Bombardier Ale.
Or, a longer but perfectly attainable stroll to Brauhaus Schmitz, home to 34 imported German beers on draft and the first authentic Schweinshaxe ever to pass through my lips in the States, washed down with an Ayinger Altbairisch Dunkel (among other choices).
We also dropped into Victory Brewing's brand new downtown taproom, which I subsequently learned was open a scant three days before we polished off a beer sampler and cheesesteak. Victory launched 35 years ago in Downingtown PA, and remains a standard-bearer for quality.
Yes, I still consider myself by and large a pescatarian, except when on holiday. First learn the rules, then joyfully break them, although in the case of the volleyball-sized Schweinshaxe big enough for two people, it broke me.
As in Chicago, Munich, Manchester, Antwerp or any other metroplex, a half-dozen pit stops in Philadelphia for food and drink can't possibly do justice to the breadth and diversity of the city's dining and drinking scene (did I mention the dim sum joint with Dan Dan noodles and Yards Pale Ale? And the Montreal-style bagels?)
But damn, just let me riff on W.C. Fields for a moment and say it was good to be in Philadelphia, pretending like it was still February of 2020, with COVID never intervening to disrupt our lives.*
Coming off the Louisville Craft Week high, then diving into the City of Brotherly Love, felt like invigorating, cross-cultural, grand old times. More than anything else, the juxtaposition of these experiences, here and there, have collaborated in my noggin to make me prouder than I was before as to what we have on offer in Louisville, which obviously is a far smaller city than Philadelphia.
We punch above our beer weight, and I love it.
Don't ask me to explain this conclusion rationally. I may have majored in philosophy long ago, but for me the philosophical context of beer has always been gut-feeling instinctive, and it's a sensation only barely definable. It's something you live.
Granted, brewers must be inescapably scientific in terms of their approach, with science enabling artistry so long as circumstances allow. Happily, they almost always manage this high wire act.
Thanks to the skill of this planet's brewers, I'm permitted to be Dionysius, as opposed to Mr. Spock.
So, allow me to close an admittedly abbreviated column by extending heartfelt thanks to EVERYONE whose efforts throughout the year make a difference for beer and brewing in Louisville and environs. We've come a long way, and have the talent in place to go further, still.
* It must be noted that a strict face-covering mandate indoors remains in effect in Philadelphia, with compliance far exceeding norms in Louisville.
(Cover photo: City Tavern in Philadelphia, an 18th-century hotbed of revolution)
---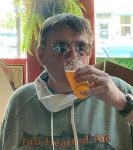 Roger Baylor is an entrepreneur, educator, and innovator with more than 35 years of hands-on experience and expertise as a beer seller, restaurateur, and commentator. As the co-founder of New Albany's Sportstime Pizza/Rich O's Public House (which later became New Albanian Brewing Company) in the 1990s and early 2000s, Baylor played a seminal role in Louisville's craft beer renaissance. Currently he is the beer director at Pints&union in New Albany. Baylor's "Hip Hops" columns on beer-related subjects have been a fixture in F&D since 2005, and he was named the magazine's digital editor in 2019.