Copper & Kings Distillery, 1121 E Washington St., is hosting the third year of The Ideal Bartender school, a free training program that hopes to increase diversity in the hospitality industry. They offer the program with the hope to introduce more bartenders to the industry who might not enter otherwise and identify as LGBT, African American, or Hispanic to name a few minority groups. Deadline to apply for this program is noon on July 3. They are hosting a free information session tonight. See below.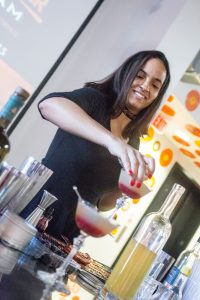 The program launch coincided with the 100-year-anniversary of The Ideal Bartender, a cocktail book by famous Louisvillian and African American bartender Tom Bullock. Copper & Kings founder Joe Heron said he finds the book being used 103 years later impressive for anyone but especially for an African American because of the political climate during the time the book was released.
"The truth is some of our country's best bartenders were African American. We started doing small things around Tom Bullock and making cocktails and serving them at events to honor him," said Heron. "I was sitting at an airport with Mayor Fischer once and he said something I thought was very important. He said, 'We have to find a way to bring more people along for the ride.'"
So, Copper & Kings decided to launch a free bartending school. The 15-week course teaches the essentials of hospitality, spirits education, cocktail creation, bartending skills and techniques. Heron said that the first class is about hospitality because 30% of a beverage experience is inside the glass, which means the rest of the experience is outside the glass. The program does not focus on brandy, either. The class also teaches vodka, whiskey, wine, and all the major categories. The first half of the program is about theory and the second half is practical where students learn to make cocktails and learn about the other practical aspects of bartending like glassware.
Interested parties can attend the free open house events at Copper & Kings to meet the educators and previous students, ask questions and fill out an application tonight, June 11, or on July 2 from 6-9 p.m. Attending one of these sessions is unnecessary. Applications are also available at www.idealbartenderschool.com or at the distillery. Interviews will be completed by July 15 and the class will run August 6 through November 5 from 6 to 9 p.m. on Tuesdays.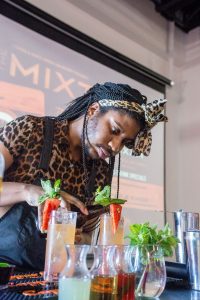 "This isn't a hobbyist class; it's a professional course," Heron said, explaining the reason for the application and interview process. "Your position is that you have to have the discipline to be a good bartender. You're going to have to put in the effort to put in an application and sit down and articulate why you want to be a bartender."
That discipline includes attendance. If you miss two classes in a row, you have to exit the program, but Heron said they take 15 students per year and have only ever had one dropout.
"This is a hard job. There is a high expectation of skill, of knowledge and there are long hours, but this is a lifetime career and we want to introduce this to people as a career worth considering."
The final exam for the class is to perform at one of Copper & King's Mixt&pe events where bartenders choose bands and songs and mix drinks for those songs. The students are judged by top Louisville bartenders. He went on to say these students are 100% employable after, and that the distillery employs six of their previous students at their bar Alex&nder and at events.
"If you are a hotel or someone who has a server, etc who fit the profile, please send them to apply," said Heron. "In the tourism boom, we as a city are going to need more bartenders."
Photography Top of page: Ideal Bartender School 2018 student and Mixt&pe finalist Kerry Hinkle Jr