In March 2020, just as Barn8 Farm Restaurant & Bourbon Bar at Heritage Farm in Goshen was preparing to open, the pandemic arrived and this unique destination restaurant's business plan became a series of smudged post-it notes on a pathway to on-the-fly reinvention.
Barn8's fascinating coronavirus coping mechanisms after a delayed opening
Since then, Barn8 has settled into more of its originally envisioned cadence of service. In January a new monthly dinner event, Sunday Supper Series, was inaugurated with a sellout. A second dinner featuring guest chef Jonathan Searle of Proof on Main takes place on February 21.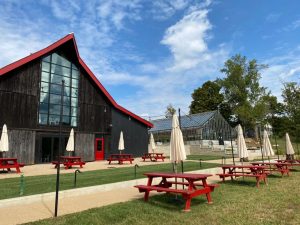 Chef Searle will serve a Kentucky Southern Winter Feast slated to include duck and Kentucky-raised bison with a variety of winter vegetables, seasonal citrus and buttermilk biscuits.
Dinner at Barn8 on the 21st begins at 6:0 p.m. with cocktails and passed hors d'oeuvres, then the four-course dinner unfurls with wine pairings. As befits pandemic imperatives, seating is extremely limited (25 guests) and reservations are required. Additional beverages will be available for purchase.
The cost is $150 per person, which includes appetizers, drink pairings, four-course dinner and gratuity. To make a reservation, call 502-398-9289 or email cconlin@hermitagefarm.com. A credit card is required to hold the reservation; cancellations must be made 72 hours in advance or the card will be charged the full ticket amount. All events will be held with safety precautions in place and are subject to change.
The roster of featured chefs for upcoming installments of the Sunday Supper Series at Barn8 include:
March: Sara Bradley of the freight house restaurant in Paducah (she's a Top Chef runner-up)
April: Samantha Fore of Lexington's Tuk Tuk Sri Lankan Bites
TBA: Oldham County native Stephen Williams of Covington's Bouquet Restaurant
TBA: Dickie Brennan of New Orleans landmarks Palace Café, Dickie Brennan's Steakhouse, Bourbon House, Tableau and others.
Here's an overview of Barn8 Farm Restaurant & Bourbon Bar, courtesy of an information release:
Established by 21c Museum Hotel co-founders Steve Wilson and Laura Lee Brown, Barn8 Farm Restaurant & Bourbon Bar, located at 10500 W Highway 42 within the historic working thoroughbred and sport horse farm, Hermitage Farm in Goshen, Kentucky, opened May 2020. As part of Wilson and Brown's overall conservation efforts to expand the farm's agritourism destination experience and preserve Kentucky's rural heritage, Barn8 offers a seasonal and sustainable menu crafted by executive chef Alison Settle. Settle, who built a hobby out of foraging, incorporates natural ingredients from the restaurant's on-site gardens, three-tier climate-controlled greenhouse, as well as Hermitage's own 683 acres of land. The Bourbon Bar & Lounge utilizes these same fresh ingredients in its craft cocktail program. In addition to an extensive list of rare whiskeys and aged bourbons from its small batch program, Barn8's Bourbon Library features bottles of whiskey for purchase. Barn8 is open for dinner Wednesday through Sunday from 5 to 10 p.m. For more information or to make reservations, call (502) 889-1835, visit HermitageFarm.com or follow on Facebook and Instagram.