Our Ron Mikulak considers two questions. First, how did Lenten Friday's piscatorial calendrical tradition begin? And second, besides, frying it in oil, what are some other ways to cook fish?
I remember from my childhood that Catholics were once required to abstain from eating meat on Fridays — thus creating a vibrant market for fish sticks in American high school cafeterias. This dietary proscription is no longer in effect, of course. But to some extent the tradition endures, and most Catholics continue to eat fish on Friday during Lent. Elsewhere in this issue, F&D offered a guide to the myriad parish Lenten Fish Frys around the Louisville Archdiocese.
(Originally published in the Spring 2020 issue of Food & Dining)
Tracing the Tradition
The 40 days of Lent alludes to the 40 days of fasting and prayer that Jesus underwent in the desert. Until recent times, fish was regarded as poor peoples' food, for anyone could, supposedly, fish for free in rivers or oceans. Thus, eating "poor people's food" was regarded as an emulation of Jesus's life of poverty.
Nowadays, avoiding meat in favor of fish seems an odd way of emulating the humility and poverty of Jesus, what with commercial fish stocks declining and prices rising. Cod, sole, and farmed catfish, trout and salmon are still moderately priced, but wild-caught sea bass, cobia, haddock and orange roughy have become luxury items demanding premium pricing.
However interesting the historical argument that equates "fasting" with eating fish, or the economic status of the contemporary fishing industry may be, for today's home cook the most important culinary question is: With all due respect to the socializing and fund-raising potential of parish Fish Frys, what can I do with fish beyond deep-frying it?
Frying is Fine, but not for All Fish
Frying fish in oil, usually coated in batter, breadcrumbs or cornmeal, is a universal method of cooking. Done correctly, using very fresh fish, hot clean oil and careful technique, fried fish can be tasty indeed. But frying is not the best cooking method for all fish, nor is eating lots of fried foods a notable component of a healthful diet. To add a bit of variety to the Lenten menu, let's consider a few ways to prepare other fish than white-fleshed cod, in ways other than frying.
Three Alternatives for Lent: Tuna, Salmon, and Mussels
Tuna, for example, is a fish you don't even have to cook to enjoy — if you buy it in a can or jar. And if you do buy fresh tuna, it can be prepared quite simply and quickly by sautéing, grilling, or broiling it with minimal oil. Many find it is best when seared on the outside with the interior left barely cooked. Of course, fresh tuna is delicious whether as sashimi or cooked well done. For a light meal, the classic Provençal dish salade niçoise (French pronunciation: [niˈswaz]) accommodates tuna as its focal point, whether canned or cooked in any manner.
Salade niçoise is composed, not tossed, allowing for a range of creative arrangements of ingredients. It is as common a luncheon choice in southern France as chicken salad is in the southern United States. Served with a bowl of mussels as a starter, perhaps, and crusty bread to sop up the cooking juices, it makes a sophisticated, light Lenten supper. We picture below a salade niçoise made with high-quality canned tuna, but we also explain how to cook a fresh fillet if you prefer.
Salmon is another fish that does not take well to frying. Poaching is a good way to cook salmon, for you can easily judge the level of doneness as the poaching liquid burbles gently around it. Using coconut milk flavored with Asian herbs is an easy way to make salmon exotic.
Shellfish are allowable as Lenten fare, and few seafood choices are as easy to prepare as mussels. Mussels are also a good choice because they are farmed sustainably in cold tidal waters, mostly around Prince Edward Island, Canada's smallest province (reduced to the initials P.E.I. on restaurant menus). To prepare, you need only to rinse them well, check to see if any need beards trimmed (beards are the durable threads mussels exude to attach themselves to rocks), toss them into a pot with a few cups of liquid and steam for five minutes or so until the shells open. The steaming liquid is variable, ranging from white wine to beer to cider. The recipes here give a few specific suggestions about what to cook them in. The steaming liquid becomes a sauce to mop up with crusty bread, so choose as your tastes direct.
---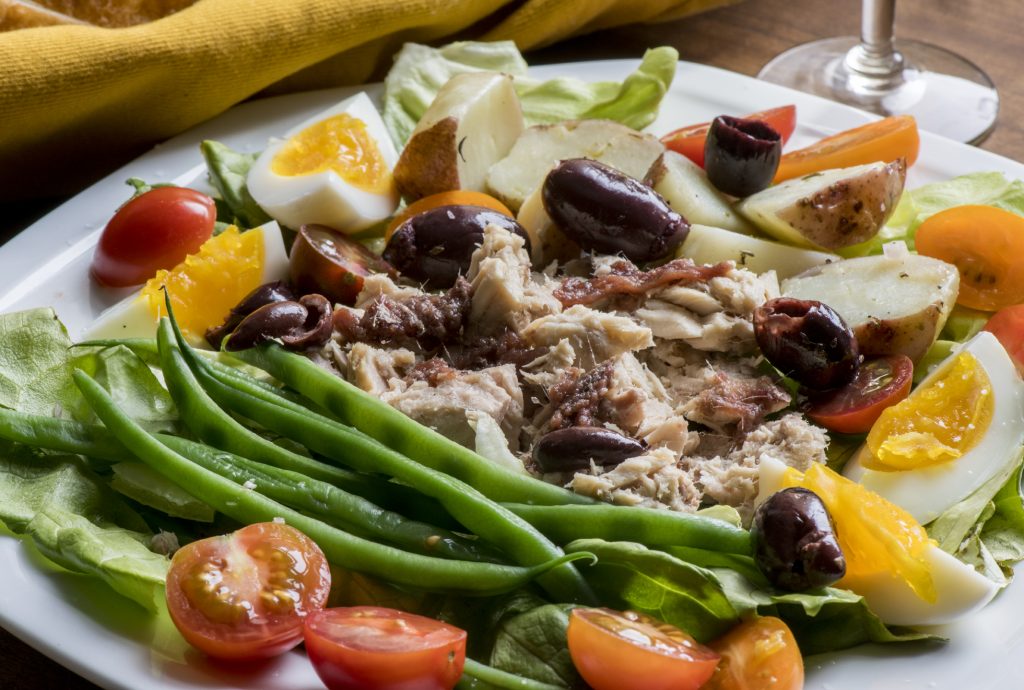 Salade Niçoise
(Serves 2 — quantities can be easily multiplied)
Like most salads, there is room for lots of variation with a niçoise salad. Start with a bed of lettuce. The kind of lettuce is a matter of personal taste (I like Boston or other butter crunch varieties here). Tuna is necessary, of course, and so are small black olives. Steamed green beans and new potatoes are usually called for, and hard-boiled eggs. This is most typically a summer salad, so ripe tomatoes are often included; out of season look for grape tomatoes or the small tomato medleys you can find at various markets (try Trader Joe's). This recipe includes anchovies, but if that taste and texture is not your cup of tea, leave them out.
For the vinaigrette:
¼ cup white wine vinegar
1 small shallot, peeled and minced (about 2 tablespoons)
2 teaspoons Dijon mustard
1 tablespoon chopped fresh thyme
¼ teaspoon pepper
¾ cup extra-virgin olive oil
Whisk all vinaigrette ingredients together in a small jar or bowl.
For the salad:
1 pound red-skinned potatoes sliced into bite-sized chunks
8 cherry tomatoes halved or quartered
4 large eggs boiled, peeled and quartered
½ pound haricots verts or thin green beans, trimmed
1 head Boston lettuce, leaves separated
2 5-ounce cans tuna, drained
½ cup niçoise olives, halved and pitted (Kalamata olives will also work well)
Canned anchovies (optional)
Cook potatoes until fork-tender, 8-10 minutes. Drain and transfer to a medium bowl; drizzle with ¼ cup vinaigrette and let cool. While potatoes are cooking, cut tomatoes and toss in a small bowl with salt and pepper and set aside.
Blanch green beans in boiling water until crisp-tender and bright green, 3-5 minutes. Drain and immediately plunge into the ice water to cool; drain and pat dry.
Divide lettuce among two plates. Arrange the potatoes, tomatoes, eggs, green beans and tuna on top. Drizzle with dressing and top with the olives and anchovies, if desired.
Using fresh tuna on salade niçoise
For two servings, buy a 4 to 6 ounce tuna steak. Rub both sides with olive oil, season to taste with salt and pepper. Heat a sauté pan well. Add tuna and sear each side. Cook tuna to your taste — the salad will accommodate everything from barely cooked to medium (fish is still pink in the middle) to well done. Slice tuna and arrange on salad.
---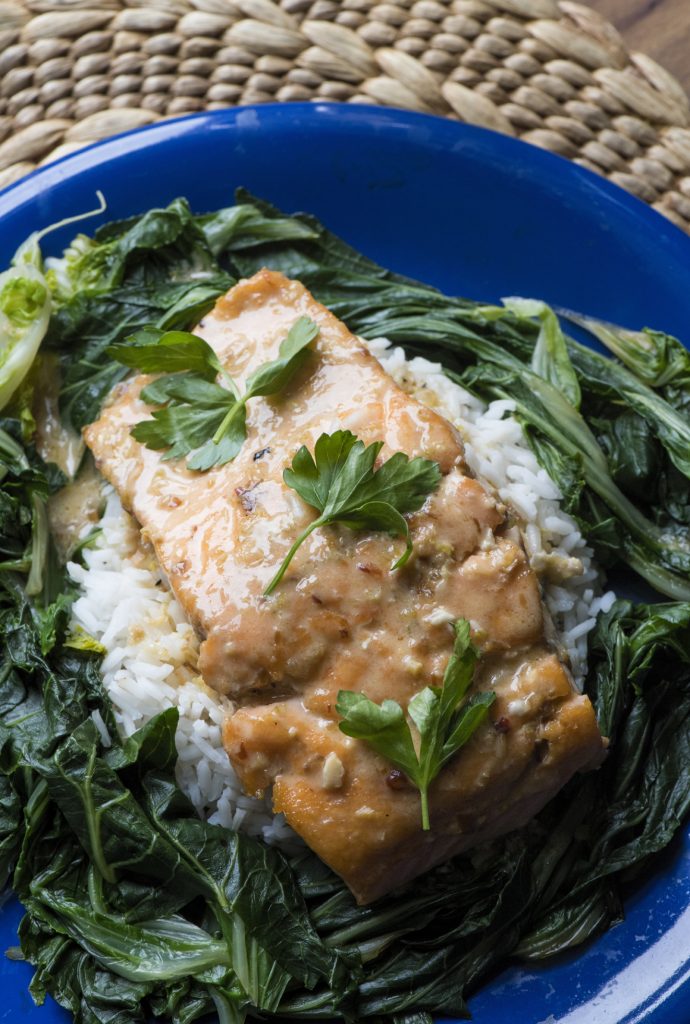 Thai salmon
(Serves 4)
4 small salmon fillets or steaks, 4 to 6 ounces each
Salt and pepper
2 tablespoons oil, divided
2 garlic cloves, finely grated
2 teaspoon ginger, finely grated
1 lemongrass stalk, peeled, finely grated
1 tablespoon brown sugar
1 teaspoon chilli garlic paste (such as sambal oelek)
1 14-ounce can coconut milk
1 tablespoon fish sauce
Zest and juice of 1 lime
For garnish:
Finely chopped cilantro leaves, finely sliced red chillies or spears of chives
Rice
Steamed Asian greens (such as bok choy leaves) or chard
Sprinkle both sides of salmon with salt and pepper. Heat 1 tablespoon oil in a non-stick pan or well-seasoned skillet over medium-high heat. When oil shimmers, add salmon, skin side up, and sear for 2 minutes until golden. Turn salmon and cook the other side just for 1 minute, then remove onto a plate. The tuna should remain almost raw inside.
Heat remaining 1 tablespoon oil. Add garlic, ginger and lemongrass. Cook until garlic is light golden, about 1 minute. Add sugar and cook for 20 seconds until it becomes caramelized. Stir in chili paste. Add coconut milk and stir, scraping the bottom of the skillet to dissolve any bits stuck on the base into the sauce. Stir in fish sauce, increase heat to medium. Simmer for 2 minutes.
Place salmon into the sauce, lower heat and simmer gently for 4 minutes, or until just cooked. (Carefully slice open salmon to check on degree of doneness.)
Remove salmon, stir in lime zest and juice to taste. Adjust saltiness with more fish sauce if desired. Serve salmon over rice. Spoon over sauce, garnish with cilantro and chili if using.
---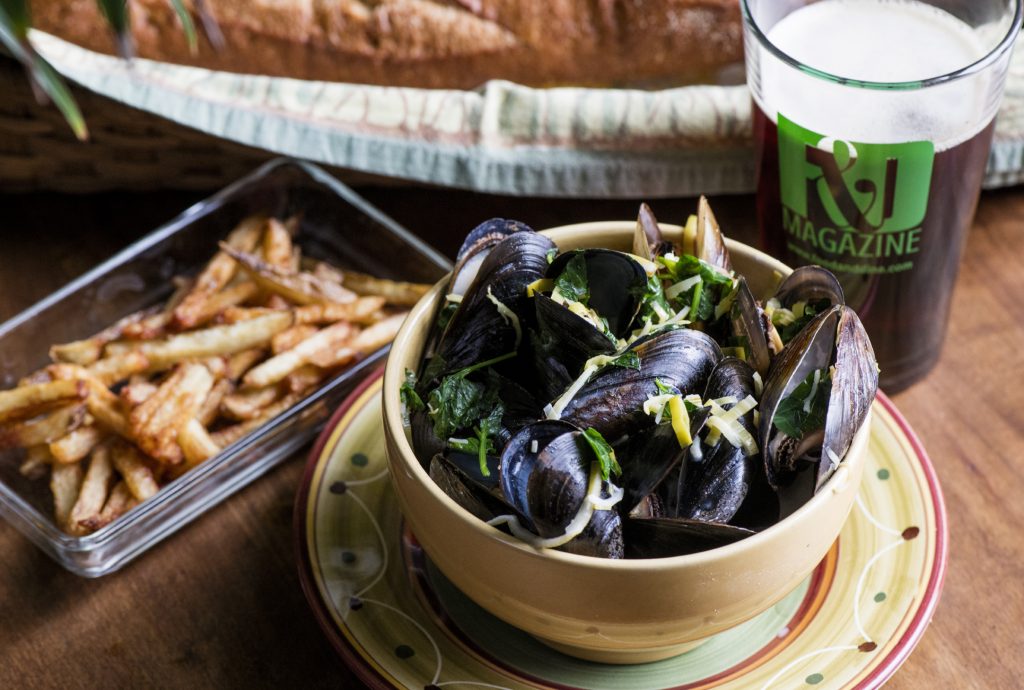 Mussels three ways
(Serves 2)
All recipes here call for 2 pounds of mussels, which will serve 2. The recipe can be easily doubled or tripled. Serve with crusty bread and a green salad for a low-calorie meal.
Mussels steamed in cider:
Use a dry hard cider for this, such as Angry Orchard. Do not use non-alcoholic sweet cider.
3 medium garlic cloves, smashed
1 teaspoon kosher salt
¼ cup finely chopped shallot
2 tablespoons unsalted butter
1 cup hard cider
1 tablespoon country-style Dijon mustard
1 teaspoon chopped fresh tarragon
2 pounds mussels, scrubbed and debearded
Heat oil in a Dutch oven over medium-high. Add shallot and butter and cook a few minutes, stirring often, until shallots soften. Stir in cider, mustard, tarragon and salt; bring to a simmer. Add mussels; cover and simmer until mussels open, 3 to 4 minutes. Remove and discard any mussels that do not open. Ladle cooking liquid over mussels in serving bowl. Serve hot with bread.
Mussels in white wine cream sauce:
1 tablespoon butter
1 small leek, halved, thinly sliced (white and pale green parts only)
2 pounds mussels, scrubbed, debearded
1 cup dry white wine
½ cup whipping cream
4 tablespoons chopped fresh parsley
Melt butter in a large, heavy pot over medium
heat. Add leek and sauté for 3 minutes. Add wine and mussels. Cover and simmer until mussels open, about 4 minutes (discard any that do not open). Using a slotted spoon, transfer mussels to 2 bowls.
Stir cream and 2 tablespoons parsley into liquid in pot. Simmer uncovered 3 minutes. Season sauce with salt and pepper. Pour sauce over mussels.
Mussels steamed in beer:
All beers will work fine, from light lagers to stouts. Keep in mind that the choice of beer will influence the flavor of the cooking sauce.
2 tablespoons extra-virgin olive oil
6 garlic cloves, peeled and finely chopped
1 teaspoon red pepper flakes
2 tablespoons salted butter
½ bunch flat-leaf parsley, leaves and stems chopped
1 teaspoon sea salt
2 pounds mussels, scrubbed and debearded
1 12-ounce bottle of favorite beer
10 basil leaves, torn
1 teaspoon dried oregano
1 lemon, juiced
In a large pot over medium heat, heat the oil. Add the garlic and red pepper flakes and cook, stirring, until the garlic just begins to brown at the edges, 2 minutes or so. Add the butter, parsley and salt and heat until the butter melts. Add the beer, and when
it begins to boil, lower heat to simmer, add mussels and cover. Steam 3 to 5 minutes. Discard any mussels that don't open. Scatter on the basil and oregano, if desired, and add the lemon juice. Serve mussels with cooking liquid. F&D
advertising content
advertising content