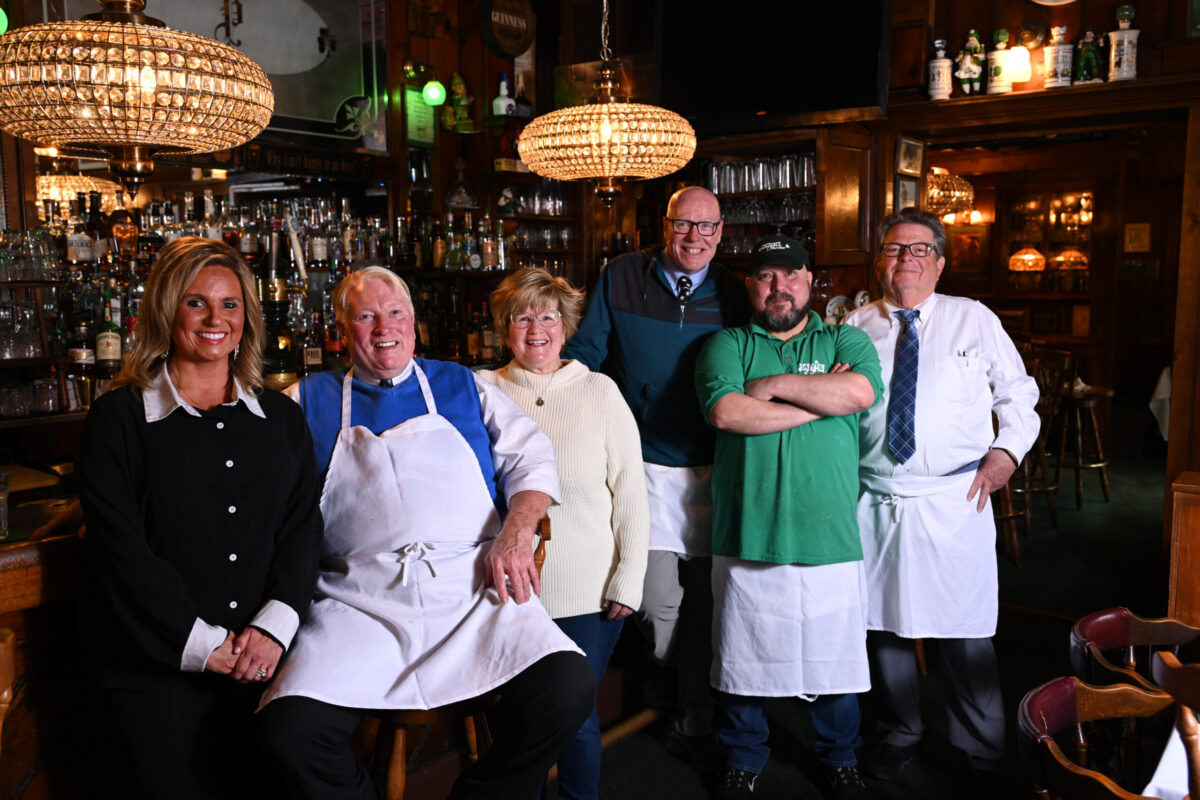 Pat's Steak House | 2437 Brownsboro Rd. | 502.893.2062
(This story originally appeared in the Spring 2023 print issue.)
A Family Affair Since 1958
The distinctive Z-shaped sign shines shamrock green as motorists whoosh by on lower Brownsboro Road every evening, a landmark in the Clifton Heights neighborhood since 1958.
The building on which the sign is mounted, a former coach house that provided a stop-off for travelers in the 1800s heading west from Cincinnati, with its green and white motif, beckons still to hungry people traveling by.
But unlike a coach stop that was founded to cater to traveling passersby, Pat's Steakhouse is perhaps the ultimate mainstay in the city when it comes to dining and tradition, with many of its regulars having been circling back to the unique restaurant for decades. Pat Francis, the affable, do-it-all owner, began working part-time at the restaurant when he was 11, back when the eatery was known as Min's Steak House, operated by his father, Michael.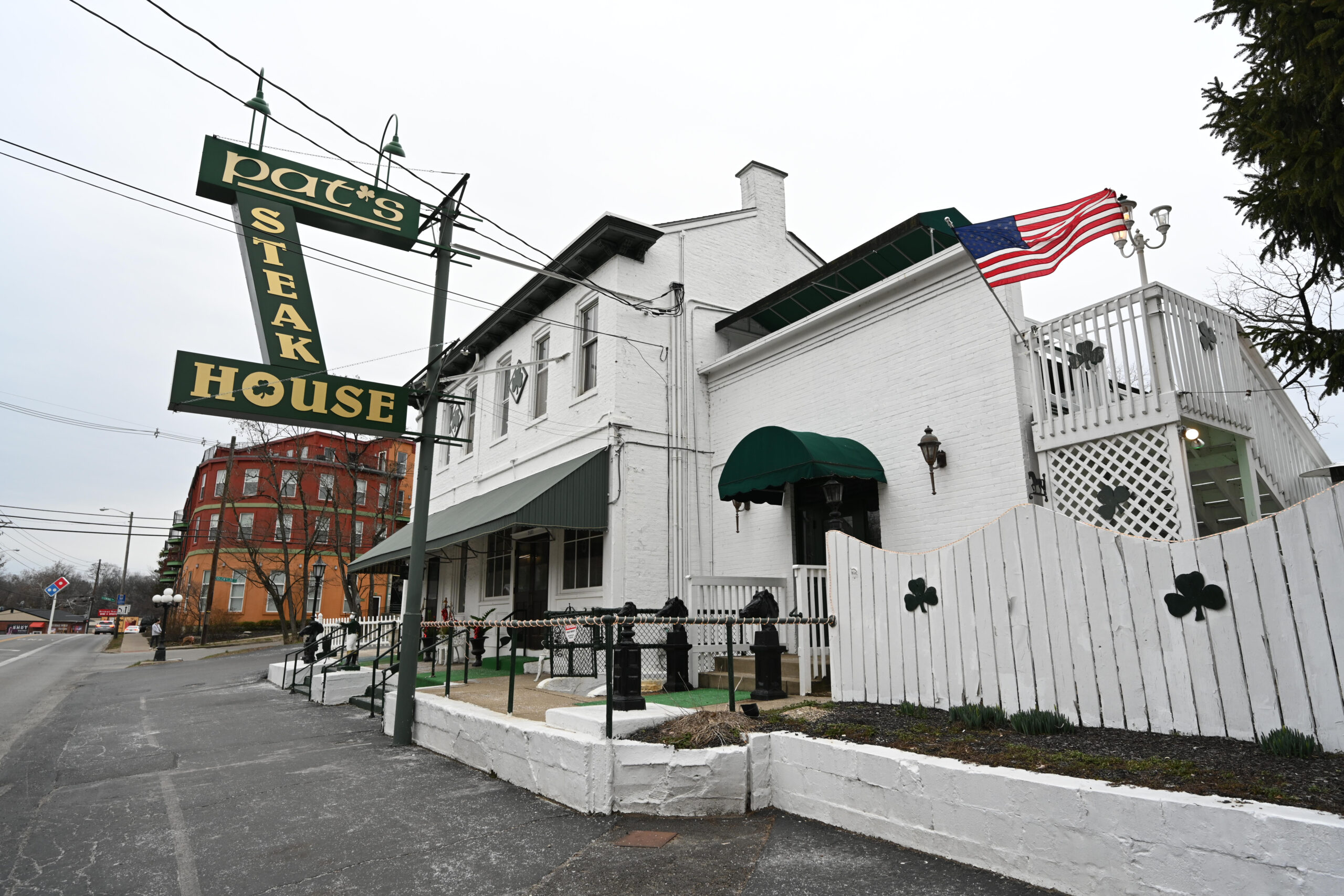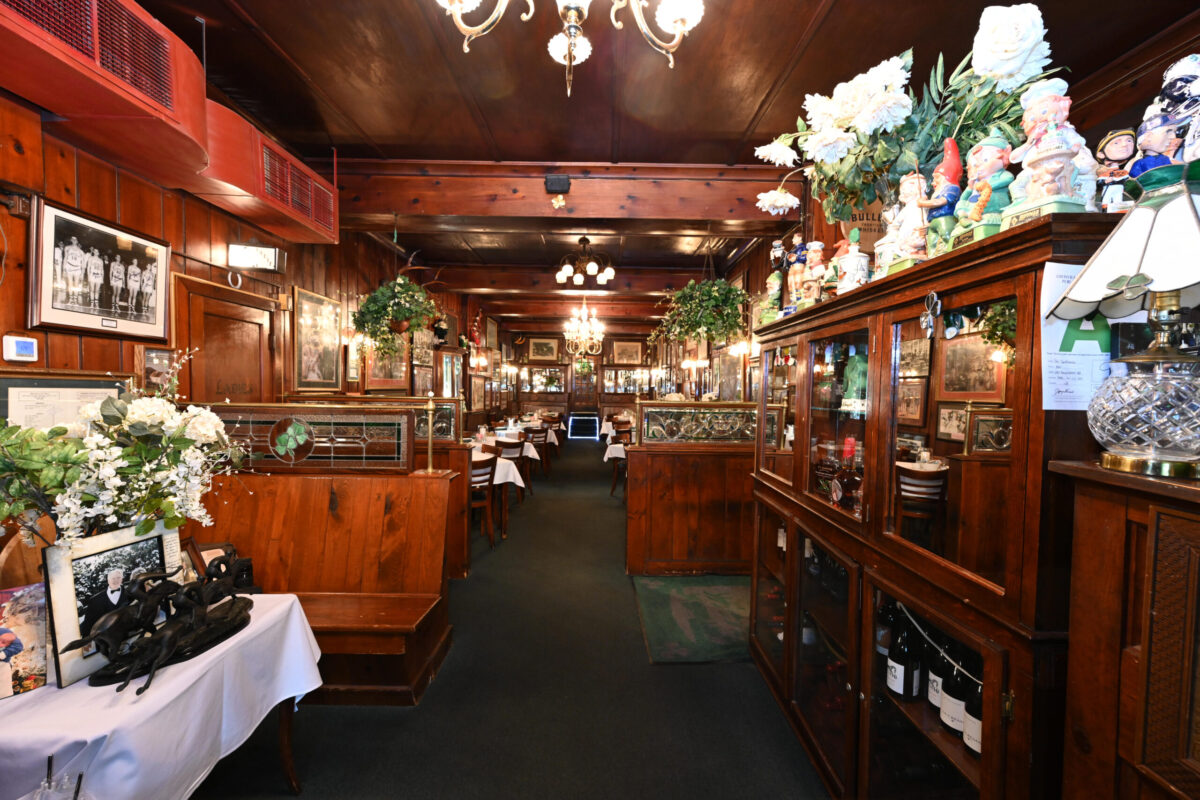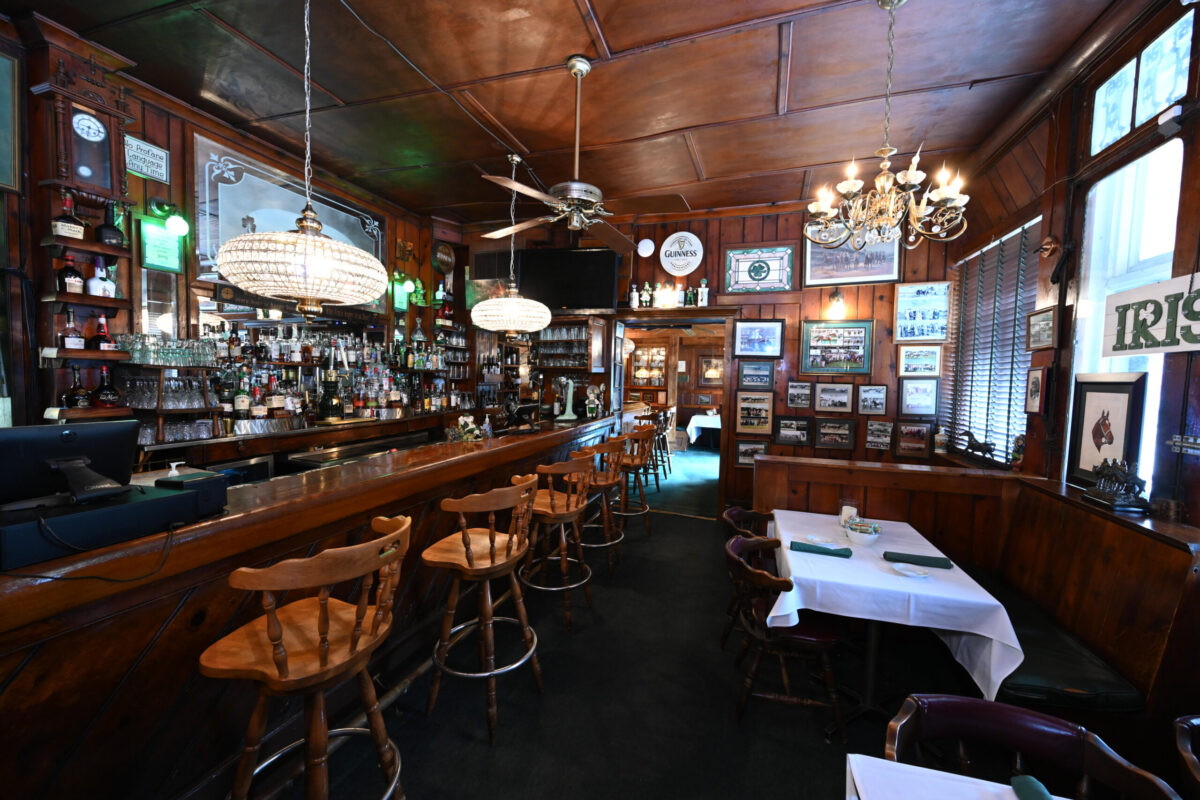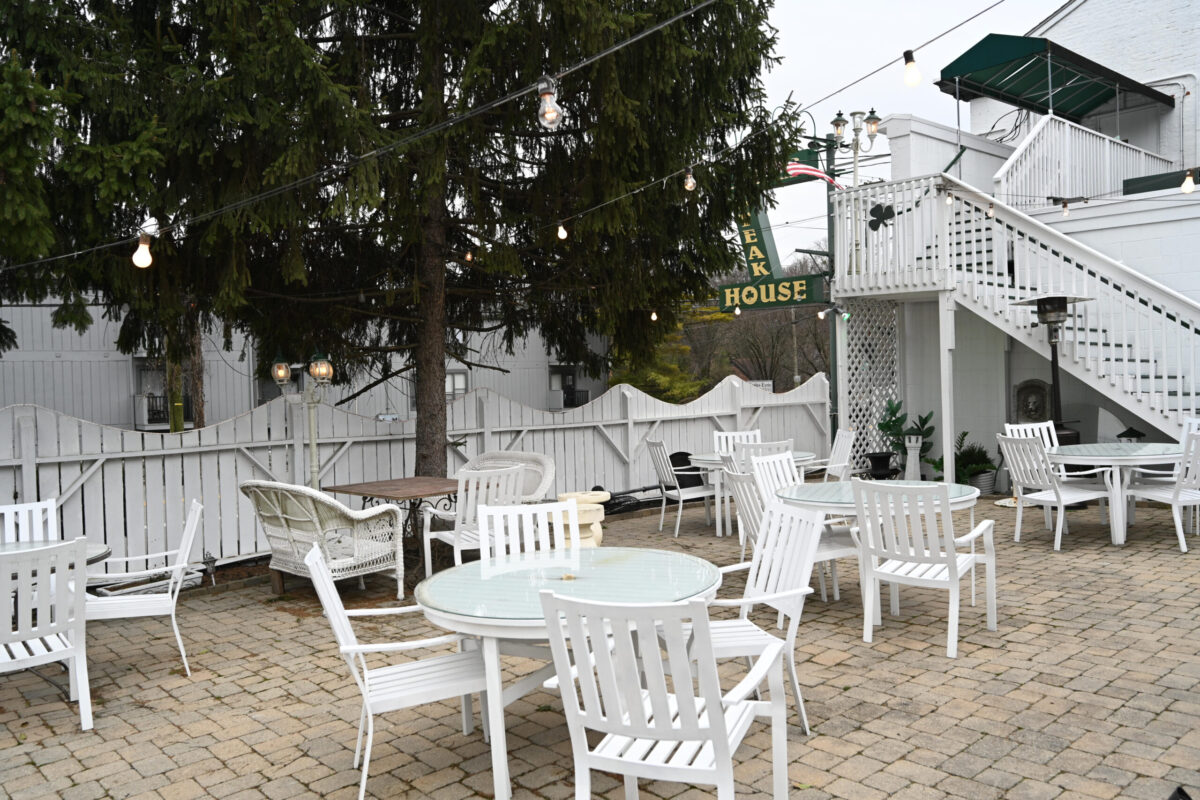 Pat himself took the reins in the 1970s — and apart from the name change, the restaurant has hardly changed in the years since it was Min's. There are even employees who have worked at the restaurant for decades — including Pat's own family. And while many diners might think of a modern steakhouse in terms of high-end establishments like Jeff Ruby's or Le Moo, Pat's is a place rooted in tradition, blending the elements of a classic steakhouse, an Irish pub and a neighborhood tavern.
Patrons may come in for a romantic dinner, a family celebration or simply to sit at the bar, enjoy a beverage and nibble on baby frog legs or the famous oyster cocktail. And they'll be treated each time to friendly, family-style hospitality and, quite possibly, a greeting from Pat himself. When it's a large group, sides are served family-style – and that's not a convenience for the staff, it's about coming together for a family meal.
For Pat, it's that welcoming feel of home which keeps the many regulars returning, generation after generation. "It's the people that make the place," he said.
And when he says "people," he speaks with a generous inclusivity that embraces his employees, his family, and his customers, whose tastes and loyalties are part of the restaurant's identity.
FROM MIN'S TO PAT'S
The building located at 2437 Brownsboro Road, which Pat dates at 161 years old, was originally much smaller than the one patrons visit today. Pat said when it started as the coach house, the main bar was there, and what is now the main dining room was a small grocery and sundries store where travelers could pick up whatever necessities they might require for their travels. For many years, there were apartments upstairs in quarters where the original owners of the building no doubt lived in the late 1800s.
Prior to being opened by Pat's father, the structure changed hands as a restaurant, with names like Schwartz's Garden, Zeit's Bar and later Brownsboro Gardens, which served dishes like steaks, chicken, frog legs and country ham, much like Pat's does today. The property was purchased by restaurateur Minnie Perryman, who got her start selling steaks from a filling station in the early 1930s and who would become best known as the proprietor of East End Café (now the home of Sergio's World Beers) in Butchertown.
As Minnie, or Min, and Michael Francis were friends, Pat said, the restaurant was given the name Min's – and it stayed that way for nearly 30 years. Perryman retired from the restaurant business in 1973, and The Courier-Journal hailed her at the time as the "green-bean stringing champion" of Butchertown. But the name "Min's Steak House" stayed, even after the Francis family had acquired the property. Later, the East End Café, which continued operating, altered its name to Min's East End Café. A second Min's location was added on Preston, and that started causing confusion with Min's Steak House. Having taken over the business from Michael in his early 20s, Pat thought a change was needed.
Per a Courier-Journal account, Pat changed the name in October 1985, ultimately replacing the word "Min's" on the iconic sign to "Pat's;" the feel of the place, however, never changed. (Unfortunately, about a year ago, a delivery truck felled the original sign, so a replica was made.) But gradually, Pat realized his own vision for the restaurant, converting the apartments to dining and special events space, expanding the bar and expanding the garden.
The vision included essentially creating several concepts in one, with the Leprechaun Room being available for large parties of 25 or 30; the Outdoor Garden ready for casual dining or an outdoor party; the Blarney Room, offering an intimate bar with sports memorabilia and much of Pat's Waterford crystal collection; the Dublin Room, a private events room seating about 50; Paddy's Pub, an upstairs bar connecting three of the private events rooms, and the Patio Room, an enclosed patio seating about 25.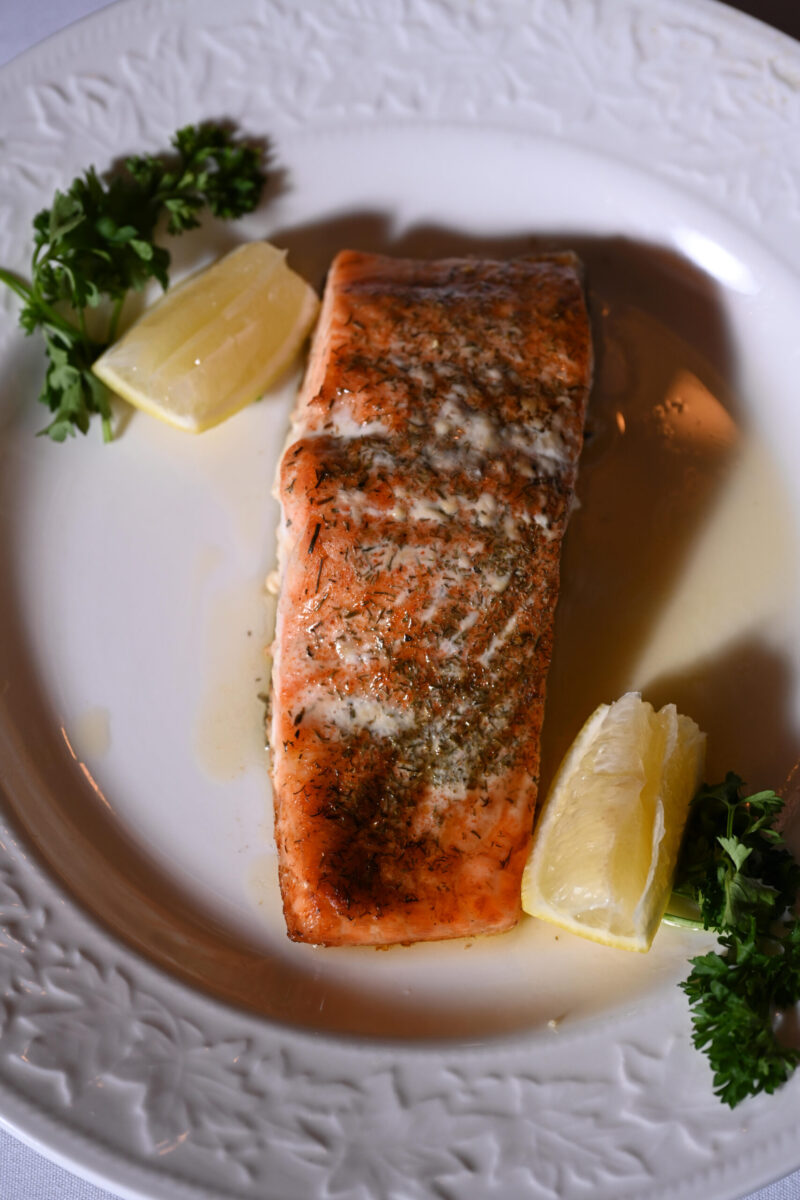 The menu was gradually expanded as well, although Pat estimates the last food addition was the now-popular baked salmon entrée about 25 years ago. And that addition still feels new to some.
"For 15 years, people would still ask, 'When did you put salmon on the menu?'" Pat said.
But as he noted, so many of his customers have been regulars for so long that most of them walk in knowing exactly what they plan to order; therefore, the menu is often an afterthought. And many of the second- and third-generation customers, children and grandchildren of regulars who have become regulars in their own right, grew up ordering a certain go-to that is part of why they come back.
For many, Pat said, it's the Lady Filet, which he identified as the menu's top seller, by far. And, yes, the original 1950s nomenclature of "Lady" cuts of house steaks — Pat still cuts the steaks himself every morning — also hasn't changed, no matter what a politically correct world might think. Asked if he ever considered changing it, Pat smiles and explains why he likely won't ever change it.
"Because we don't find it condescending," he said. "I had a customer, he said, 'Pat, I used to eat the Special Filet. Now that I'm older, I'm back to eating the Lady Filet. And you're going to make me say 'Lady Filet' aren't you?'"
But Pat said he's never received a complaint, adding, "To us, it wasn't meant to be offensive at all, and I don't think it is. But men sometimes will say, 'Give me the small filet.'"
And while some still identify Pat's Steakhouse as the restaurant that is cash-only, well, that changed too — about a dozen years ago. The ATM by the door is gone now, and people are free to use a debit or credit card to pay for dinner. Part of that, Pat said, was because many corporate groups needed to use company cards when entertaining clients; his sister Michele Francis — who also works full-time at the restaurant — also said that during a break-in, the ATM was stolen. But the cash-only policy was a holdover from Michael Francis' work ethic and distaste for the concept of credit cards.
"He said, 'That'll ruin this country!'" Pat said of his father. He chuckled and added, "In a way, he was right."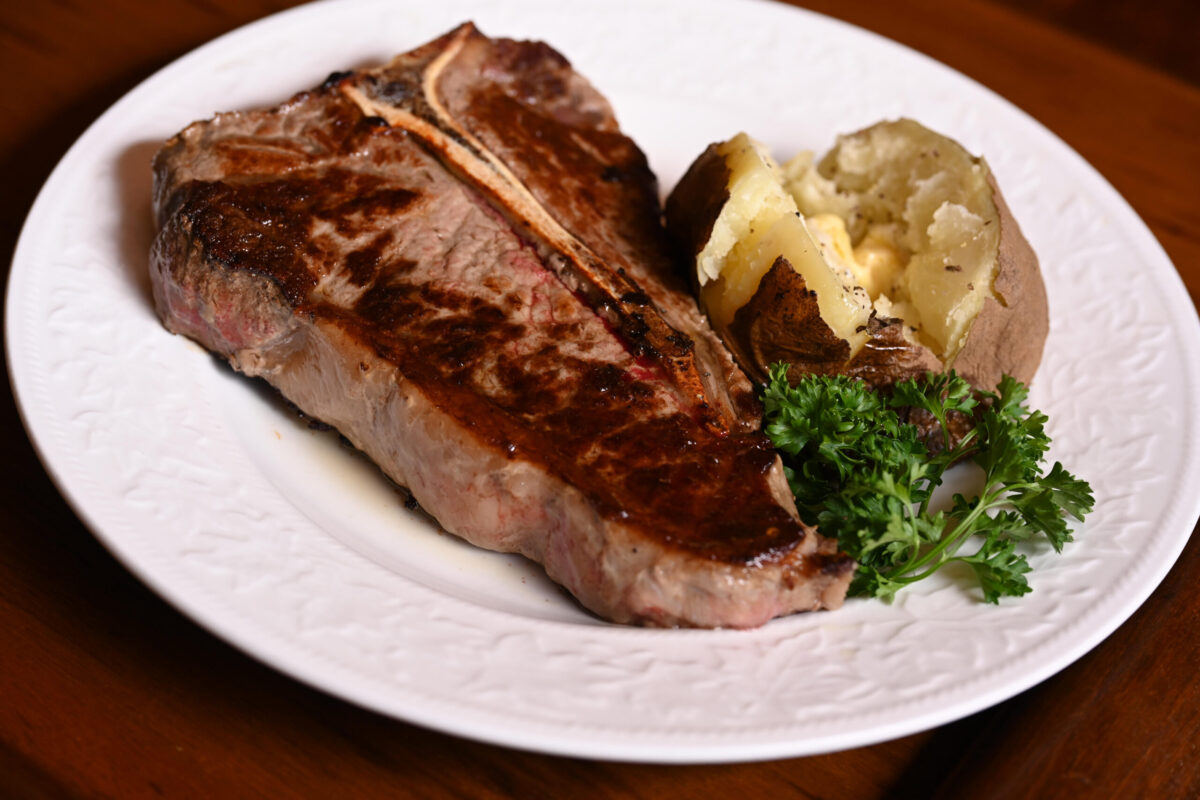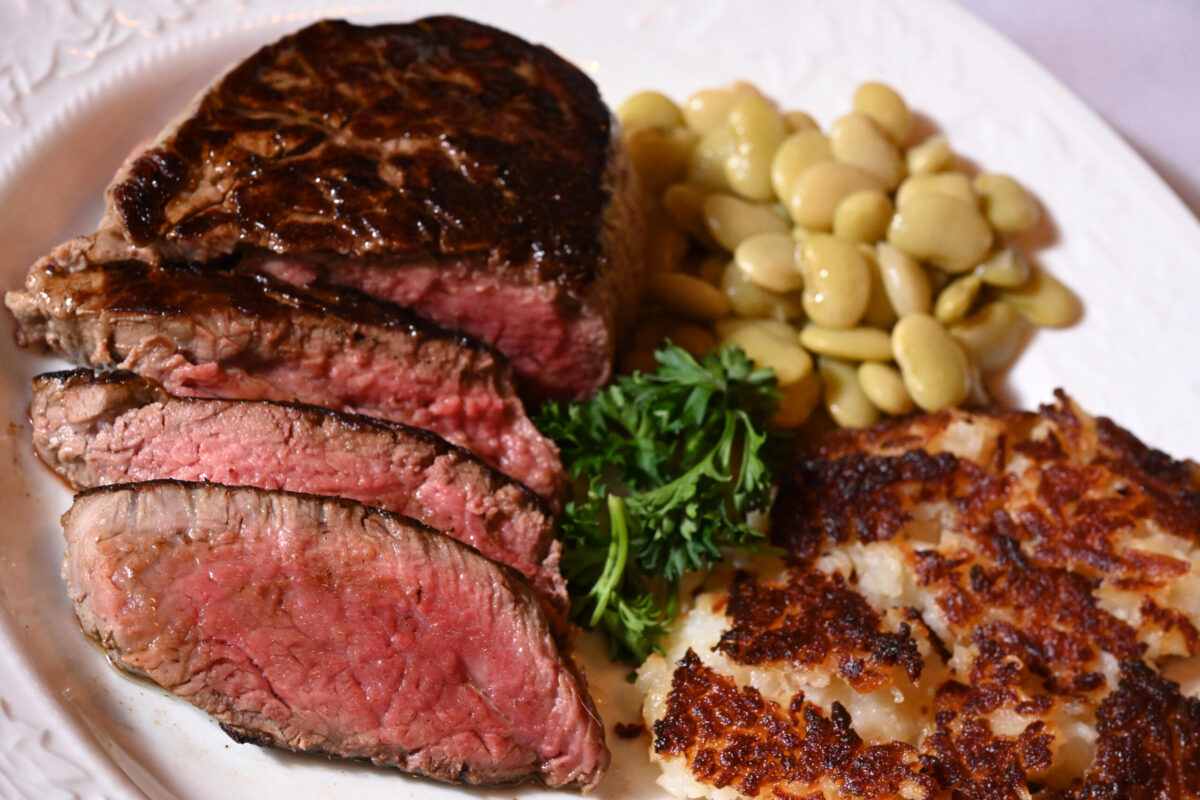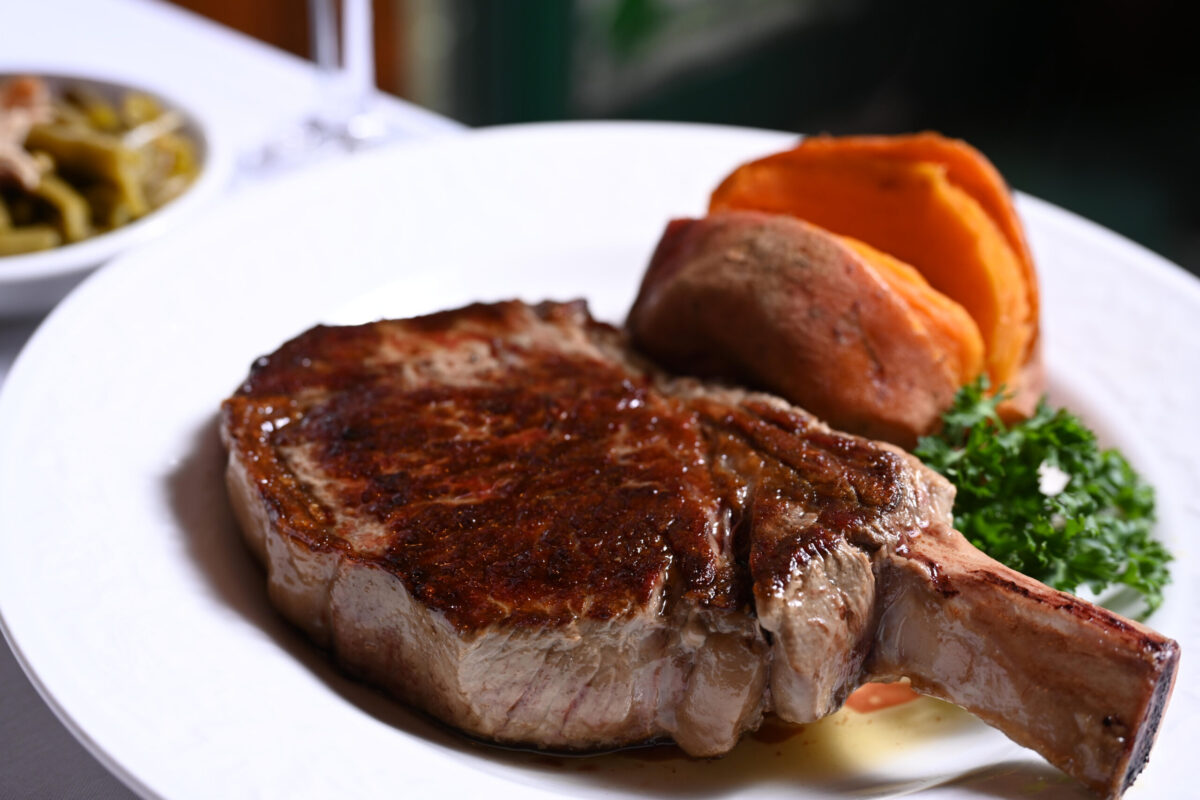 And speaking of work ethic, it bears noting that Michael Francis and his siblings grew up in the St. Joseph Orphanage and also lived during the Great Depression, which instilled a drive in him to succeed against difficult odds, Pat said. It also helped drive his loyalty to family.
"All he knew was to work hard and he taught that to us," Pat said. "He always told us, 'Do it the right way, because I'm going to make you do it again if you don't.' I learned so much from him. When you went through [the Depression], you never get that out of your mind. You're so afraid it's going to come back. He just worked all the time. But I think he enjoyed it."
Pat also works nearly every day (although Mondays are set aside for his grandchildren). Asked how many hours per week he puts in between cutting meat, greeting customers and doing whatever else needs to be done, either front of house or back of house, he said, "I've never bothered to count them."
Fair enough. And it's work ethic like that which will keep any business chugging forward.
FAMILY
But Pat Francis is quick to credit those around him. His sister Michele has worked there since she was just out of eighth grade and Pat's daughter Erin Gosney has worked there off and on since she was old enough to hold a bus pan. They all identify Pat's Steakhouse as a family atmosphere, and that includes the non-family employees.
"It's so much teamwork," Pat said. "I've had so many good people over the years that have been such a big part of it. I feel blessed."
Walter Tries is an example — he has worked at Pat's Steakhouse for going on 43 years, after having been the restaurant's newspaper delivery person as a teenager. He would drop off a newspaper every morning and often have conversations with Pat; this led to his being hired as a waiter. About a year and a half ago, Tries was badly injured and hospitalized when a driver struck him in a hit-and-run. He was out of work for some time, but Pat held his job for him.
"When I came back after the car hit me," said Tries, "he said, 'However you want to do it. You can work as little or as much as you want to.' That helped me out emotionally."
Tries is back on his feet and was able to vacation in Ireland last year. Experiencing the welcoming Irish pubs struck him as familiar.
"I can really see where Pat's approach would fit right in Ireland," he said. "Those people working in those pubs — it's a family atmosphere for the employees."
And for the customers.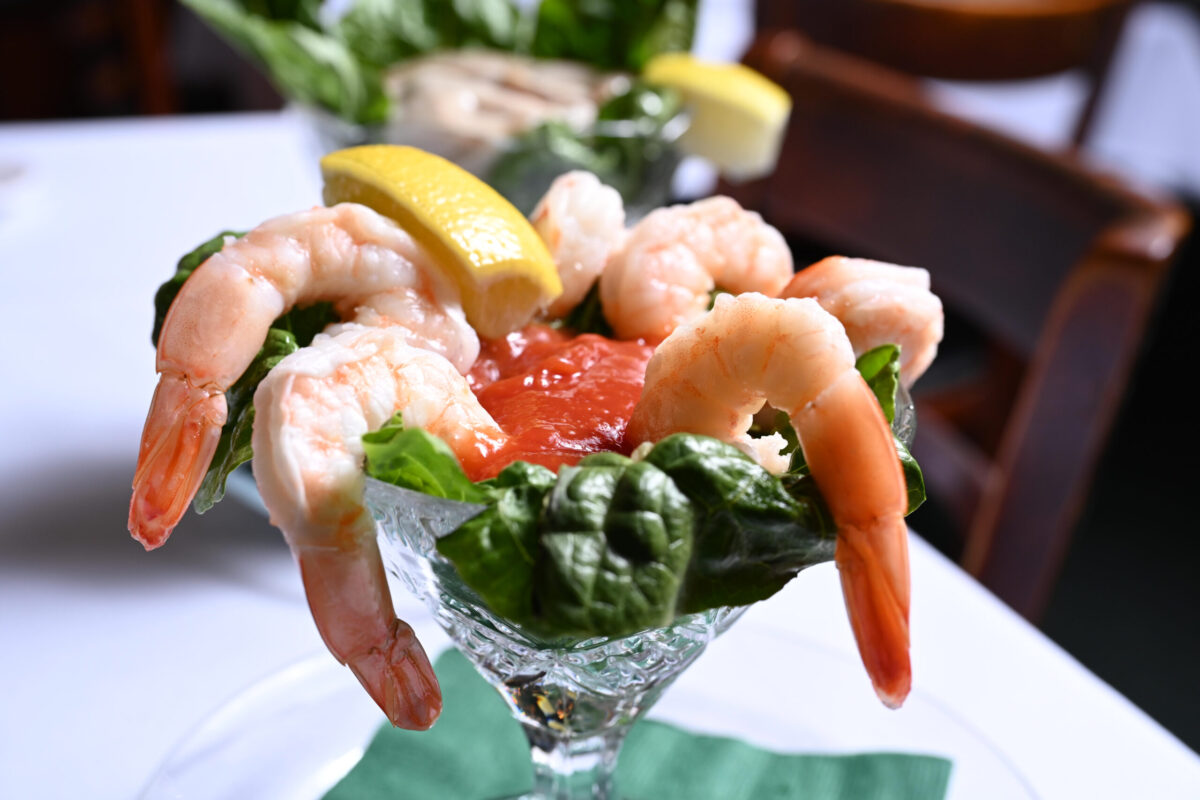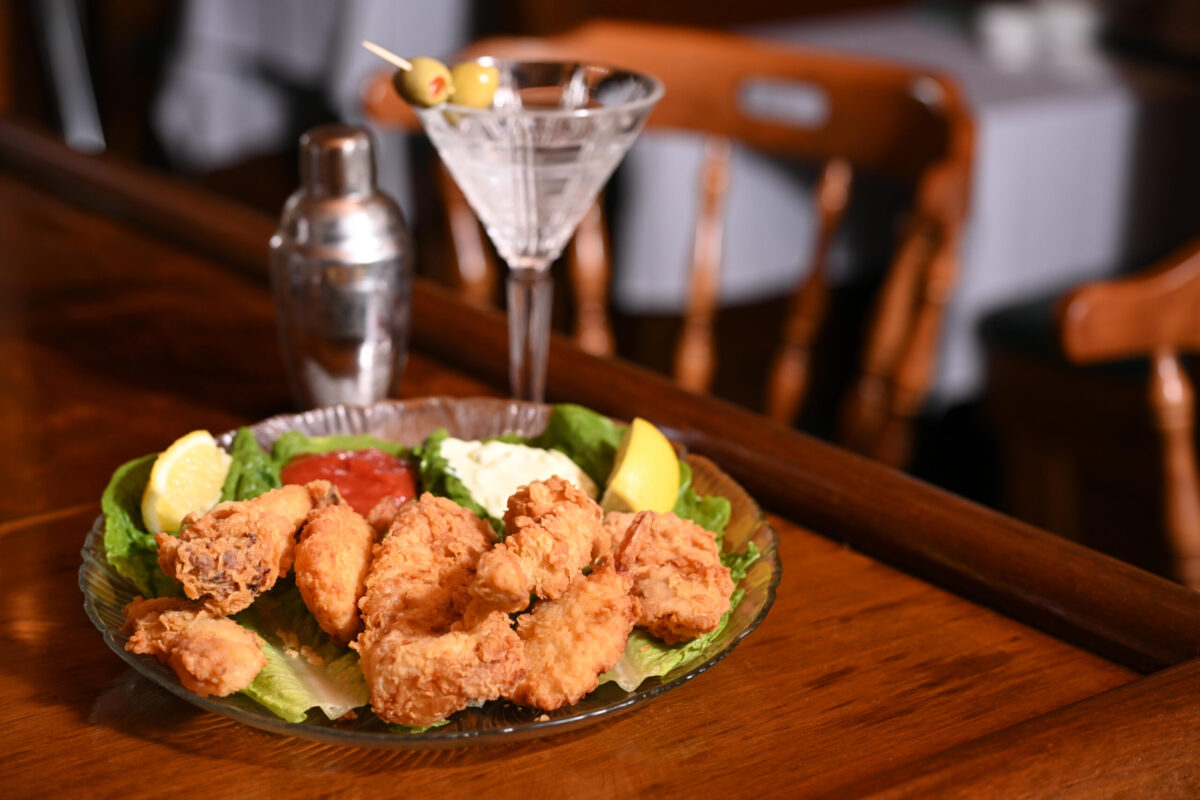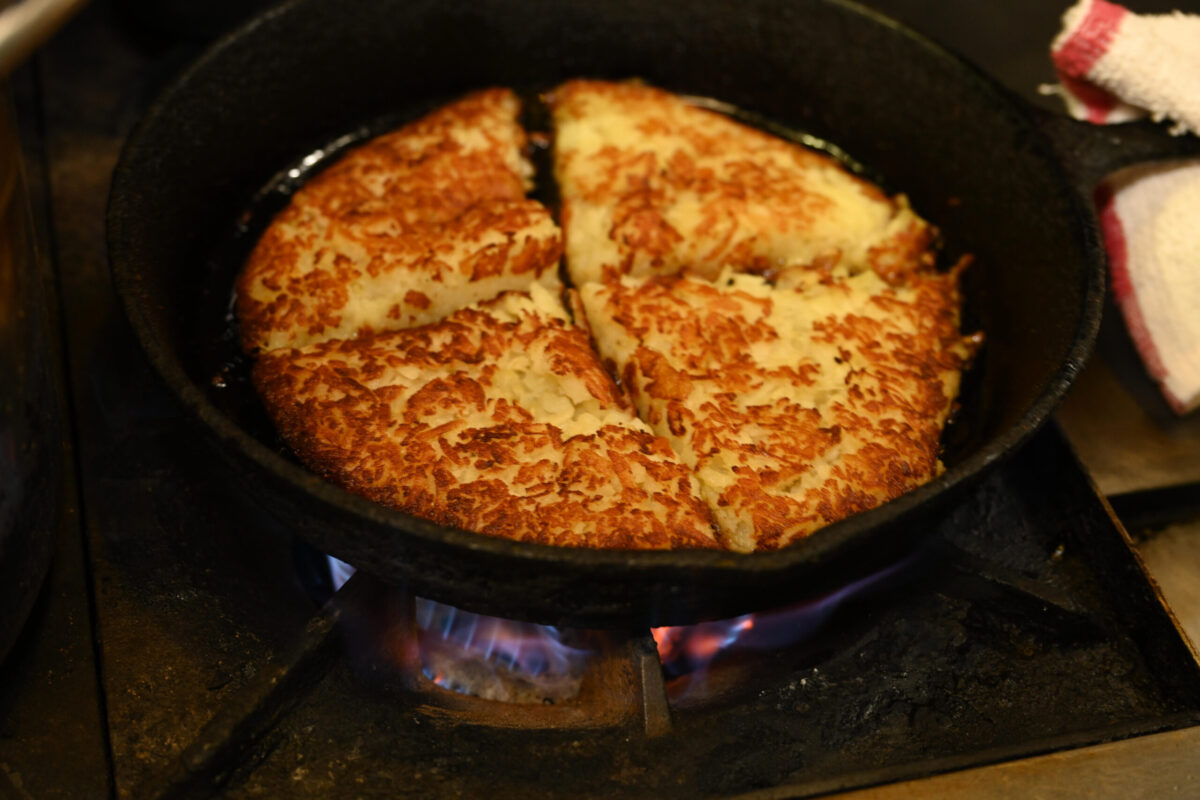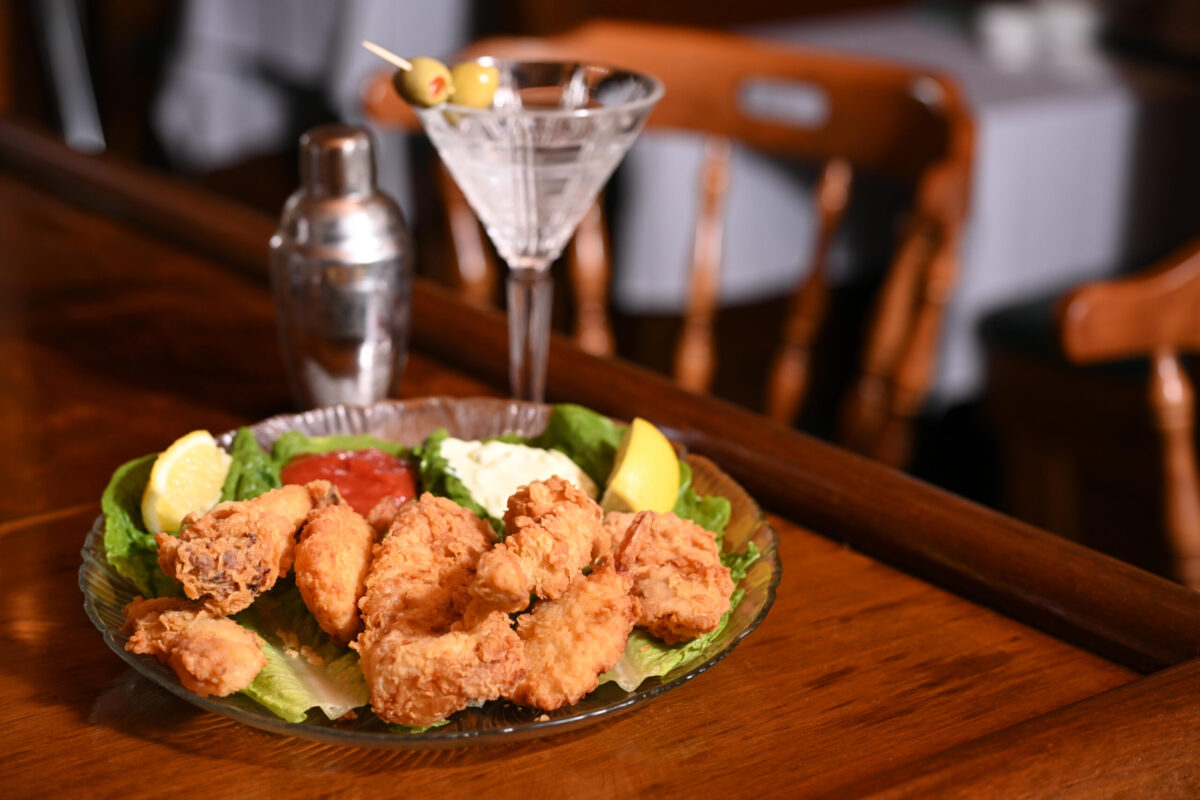 "He's always told me the best part of the business by far are the people you get to meet, the customers," Gosney, who has worked full-time at the restaurant for 27 years now, said. "I'm starting to see what my dad always said was so special. And I learned from the best. I take for granted that I get to walk through those doors every day — it's a privilege."
Gosney offered the example that the 70-year-old Francis has never gone to the Kentucky Derby. Why? Because seeing the Derby-going regulars who come in for dinner after the races is his Derby Day.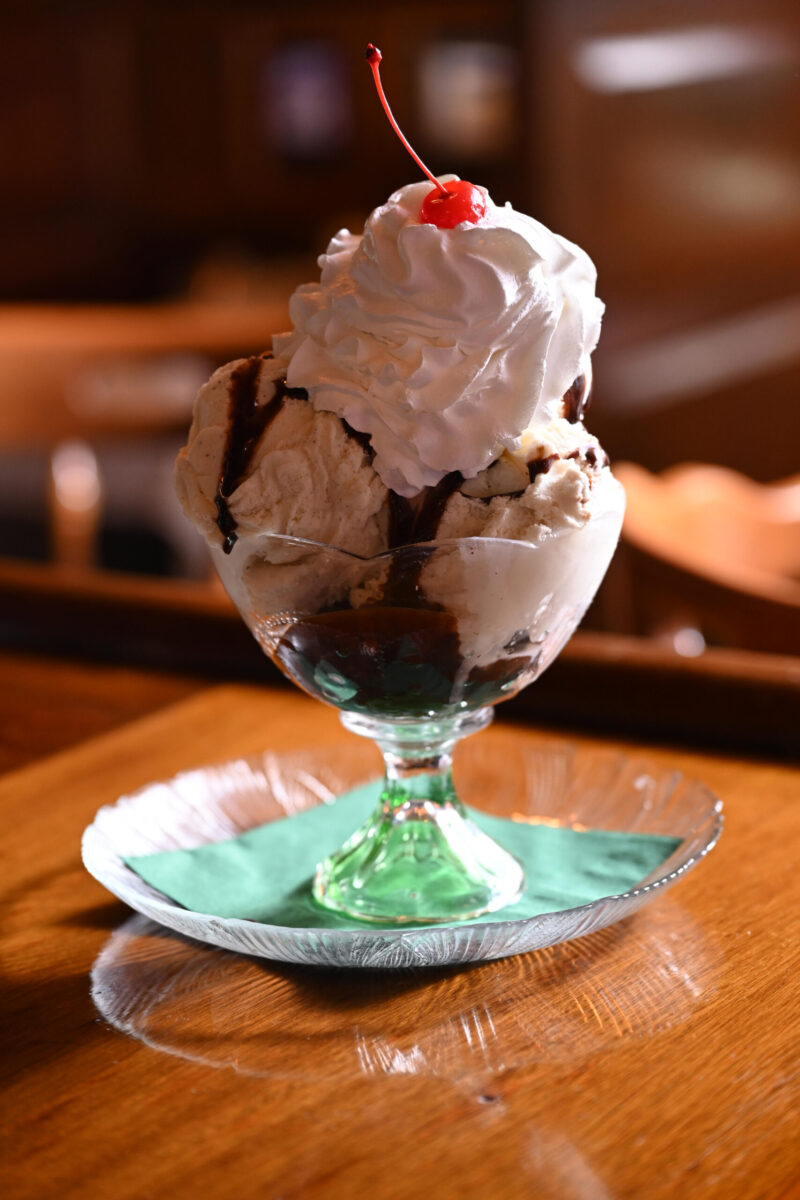 "He's so good with people," Michele Francis said. "He's such a great ambassador. Pat's just an awesome guy to work for."
Pat, who refers to his customers as "good friends," revels in seeing third- and even fourth-generation regulars dining in his restaurant. He said he tries to get out onto the floor every night to talk with them, hear their stories.
"Sometimes, like on Valentine's Day, you'll get younger people in here, and they'll say, 'Mr. Francis, you know my grandfather,'" Pat said. "It's rewarding to see the next generation coming in. You've got to take care of them and give them an atmosphere where they feel comfortable."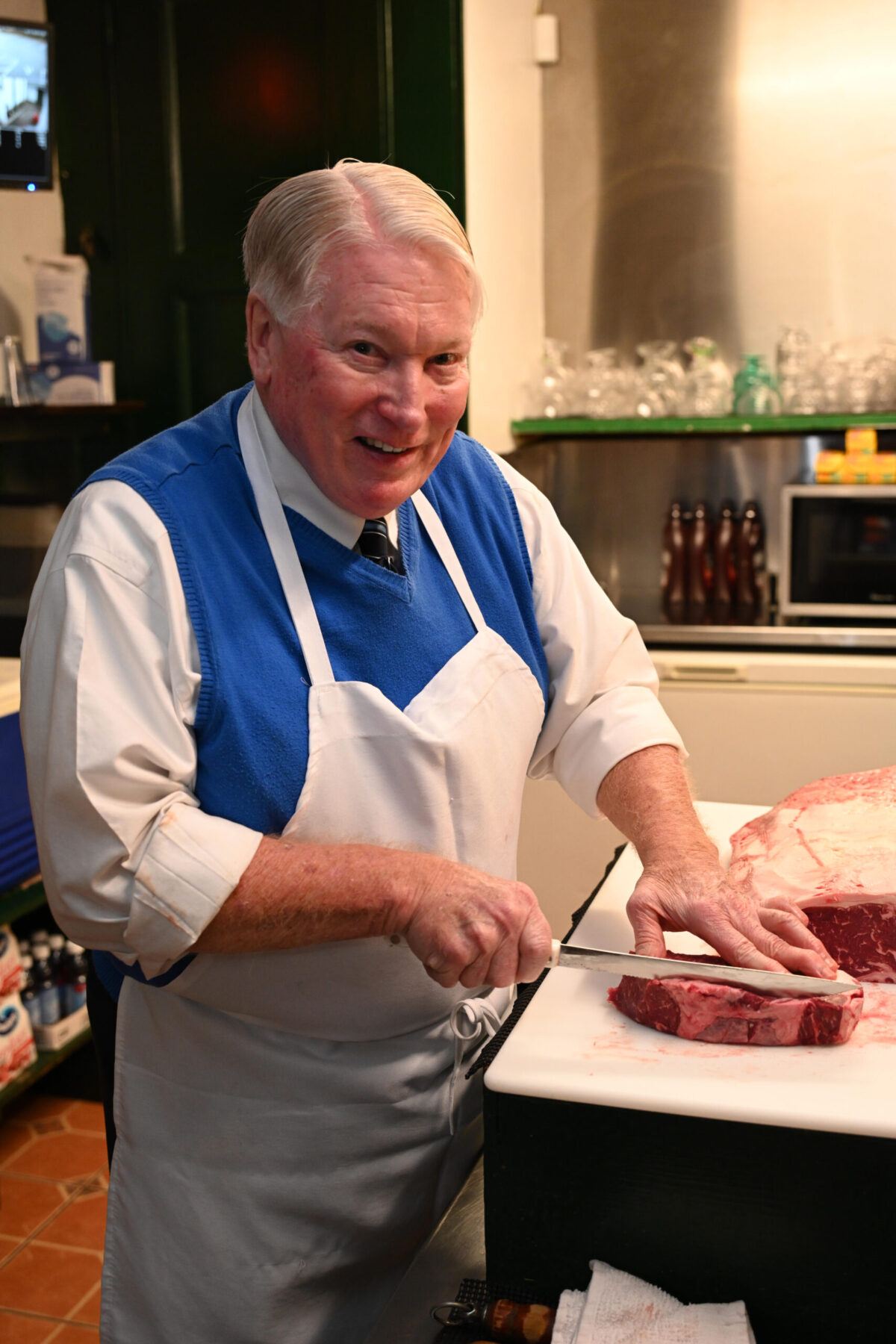 Not that Pat will ever retire from the job he loves, but Gosney said she doesn't think Pat's Steakhouse will close, even if he does. She said her 1-year-old nephew Lincoln, one of Pat' beloved grandchildren, loves eating at Pat's Steakhouse, adding, that he "eats a full Pat's meal at least once a day," often including steak and lima beans.
Not long after Lincoln started walking, he made his first visit into the kitchen at the steakhouse.
"That kid started walking, and out of the corner of his eye, he saw the steak platters," Gosney said with a chuckle. "It was like he saw a pot of gold."
The inside joke in the Francis family now is that the steak-loving 1-year-old is destined to take over Pat's Steakhouse one day. Heck, on his current trajectory, Lincoln may be cutting steak with his grandfather in the family restaurant by the time he's 5.
And they won't even have to change the sign this time. Lincoln's middle name? Pat.   F&D