Louisville's newly expanded NuLu Fest returns to the 600, 700, and 800 blocks of East Market Street from 11:00 a.m. to 11:00 p.m. on Saturday, September 28. The family-friendly street festival's 11th edition features local food, craft beers, bourbons, local and regional vendors, and live music on two stages, the latter "bookending" the fest's footprint on East Market Street.
We are also extremely excited to announce our presenting sponsor for this year's festival; Royal's Hot Chicken, Feast BBQ, and bar Vetti. All three of these restaurants are locally owned by HiCotton Hospitality. Royal's Hot Chicken and Feast BBQ are both located on East Market Street.
Accordingly, Royals Hot Chicken will host a Hot Chicken Eating Contest at NuLu Fest.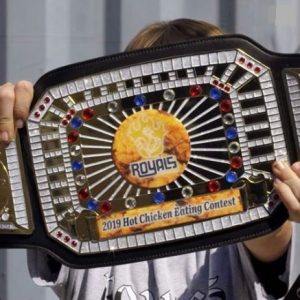 The event starts at 3:30 p.m. on the main stage in front of Feast BBQ, with a grand prize of Royals Hot Chicken every week for a year, $250 in cash, and a trencherman's Hot Chicken Eating Championship Belt.
Says HiCotton founder Ryan Rogers, "While we prefer our customers take their time and enjoy the flavor, we'll make this exception once a year and see who can take home the title."