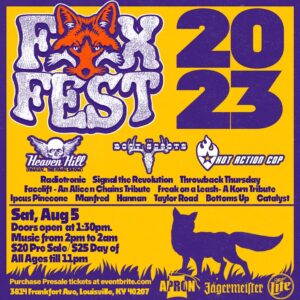 Jared Fox Matthews, owner of The Fox Den (3814 Frankfort Avenue), used to book the bands for the St. Matthews Street Fest.
"The St. Matthews Street Festival was always so much fun," Matthews says. "Every year more and more bands were hitting me up about playing that event, bringing thousands to the streets and creating commerce. Talking to the St. Matthews Chamber, I am not sure this event will ever come back. That's when I came up with the idea for Fox Fest."
The 2022 inaugural edition was a corker, and so the 2nd Annual Fox Fest will take place on Saturday, Aug. 5 in St. Matthews at The Fox Den. Our friend and colleague Kevin Gibson offers a preview of the event at his blog: Second Fox Fest Set for Aug. 5. Go there, check out the musical lineup, and support localism in writing, playing and dining.
Fox Fest will continue to be an annual event featuring local artists, local food trucks and three music stages of music. A portion of sales will go towards APRON Inc., which is an organization that helps our service industry workers in times of need. The event is 2 p.m.-2 a.m., and gates open at 1:30. The outdoor portion of the festival is all-ages until 9 p.m.