"I just thought about how there are lot of women on the bottom of management and not the top. That's because if you're treated like garbage during your first job in a restaurant, you'll leave. (The LEE Initiative) wanted to be an incubator for more women to push through and stay in this industry."
That's Lindsey Ofcacek, executive director of The LEE Initiative, quoted in Bon Appétit. The LEE Initiative is an acronym for Let's Empower Employment, and on Saturday, October 26 you can help support this mission with an evening of bourbon, food, music, and friends at Maker's Mark in Loretto, Kentucky.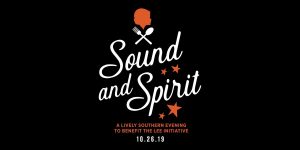 The event is called Sound & Spirit: A Lively Southern Evening, and 100% off the proceeds will go toward funding next year's class of chef mentees.
We strive to bring more equality and diversity in the restaurant industry through work programs and continuing education. Recently, it has become more and more apparent that leaders in the culinary industry need to work to bring about change in the opportunities available to female cooks and chefs.
An information release details the Sound and Spirit itinerary.
Guests will begin their evening with a luxury bus ride from Louisville to Loretto, along the way enjoying champagne and delicious canapés. Upon arrival, guests will have time to explore our National Historic Landmark distillery.

Chef Edward Lee and The LEE Initiative mentee chefs will then re-create the incredible meal they recently served at The James Beard House in New York City. And, of course, the evening's unique and inventive fare will be paired with handcrafted Maker's Mark cocktails curated by our very own Thomas Bolton and Erin Delaney.

After dinner, guests will be treated to an exclusive performance by acclaimed singer-songwriter Maggie Rose. With its captivating distillery backdrop, the performance is sure to be the highlight of an already amazing evening.

Finally, Chef Lee will host a live (and lively) auction, full of unique gifts and experiences, each sure to please even the most fervent foodie.

After dinner, guests will once again board the luxury bus for a safe ride back to Louisville, complete with coffee and chocolates for the road.
Tickets for the full evening, including transportation, are $300 per person or $2,500 for a table of 10, and to reiterate, all proceeds go directly to The LEE Initiative. For more information and to purchase tickets, please visit The LEE Initiative website.