Putting the Urban in Bourbon
(Originally published in the Fall 2019 issue of Food & Dining)
"Irish Hill is the Louisville neighborhood you find when you're lost."
It's an old-time Louisville saying about a relatively small, richly historic patch of ground shoehorned between Baxter Avenue, Lexington Road and Beargrass Creek, and Eastern and Cave Hill Cemeteries.
On Irish Hill's northeast side is Breslin Park, formerly the site of Louisville's fortress-like City Workhouse, where minor offenders were incarcerated while they paid their debt to society through menial labor. Across Payne Street is a collection of imposing old brick warehouses known since the 1980s as Distillery Commons, used nowadays as offices, businesses and creative spaces.
Once this was National Distillers and Chemical Company's Kentucky Distillery Warehouse & Bottling Plant. The mighty National Distillers owned some of the country's most venerable bourbon brands, like Old Grand Dad, Old Crow, and Old Taylor, and by the 1940s it controlled 70% of the American market for bourbon and rye.
At its peak National Distillers had a work force of 1,400, most of whom lived within walking distance. Numerous families depended on these jobs, but consumer trends were unkind to the whiskey market and the plant closed in 1975.
"Headliners (a music venue) used to be the lunch hall for National Distillers, which was just down the street from us. I call it the UPS of the time; it was the economic engine for our neighborhood and others nearby, like Phoenix Hill and Clifton, even Butchertown."
Meet Jason Brauner, who grew up in Irish Hill and was in knee pants when National Distillers was shuttered. Brauner's great aunt and great uncle both worked there. So did business partner John Morrison's father and grandmother.
Brauner and Morrison opened Bourbons Bistro in 2005. Call it cosmic, karmic or just a well-turned business plan, but their Frankfort Avenue refuge became an instant classic, primarily because Brauner and Morrison scanned the cluttered landscape of gimmicky bar and restaurant concepts, settling on a unifying principle so incredibly obvious as to be invisible: Bourbon.
Remembers Morrison, "When we were still in construction I asked Jason, 'what bourbons are we going to carry?' and he said 'all of them.' "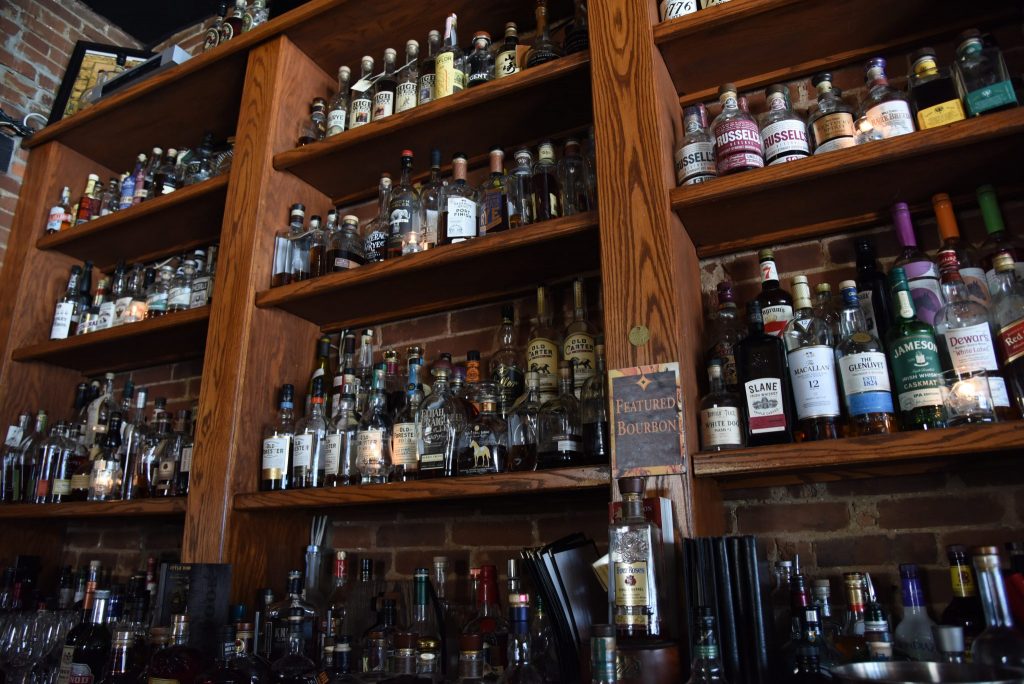 "We were out to educate the world about bourbon," Brauner adds. "I had a restaurant background (as the former owner of Clifton's Pizza), and John had an accounting background." Morrison didn't stay in the office. "It was all hands on deck," he laughs. "I got a crash course in the restaurant business in 2005."
Their timing proved astute. If bourbon was Kentucky's legacy spirit — the state's curriculum vitae internationally and the onetime backbone of enclaves like Irish Hill — then wasn't it about time someone made a bistro all about the bourbon?
Perhaps Brauner and Morrison were fated to restore the soul of the bourbon culture Irish Hill lost so long ago – the spirit, the history and the community. It seemed a revival was in the offing, and they were about to lead it.
Barrels, Bottles, and a Binder Full of Tasting Notes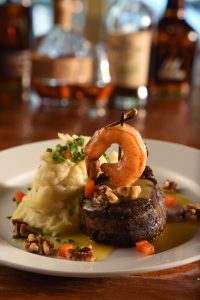 A vitally important distinction about Bourbons Bistro is that "Bourbons" is a plural noun, not "Bourbon's" in the possessive sense. Bourbon does not own the Bistro; Brauner and Morrison do, and as Brauner reminds us, Bourbons Bistro is about "all the bourbons" — with the noun "Bistro" purposefully attached, because what's a mellow glass of pure Kentucky liquid heritage without fried green tomatoes, a Kentucky-raised filet and bread pudding?
Bourbons Bistro turns 15 years of age in April 2020, and yet it seems older, as though 130-odd brands of bourbon have always reposed there, hushed and respectful, a veritable corn-mash phalanx massed behind the custom-designed bar, crafted from barrel staves and hoops by Brauner's father.
Were any of these bourbons on hand in 1895, when the bistro space was known as Spect's Saloon? A working man's staple in the Clifton neighborhood, Spect's was long gone in 2005, when the new business partners began cleaning up after the building's most recent occupants.
"This had been a bar called Rascal's," notes Morrison, "and it was in pretty bad shape." The subsequent metamorphosis yielded a barroom and dining area largely unchanged since, with ample exposed brick, dark ceilings, a beige and brown color scheme, subdued lighting and ample visual flourishes of bourbon history, ranging from mounted bourbon barrel heads to photographic reproductions sourced from the University of Louisville's Ekstrom Library.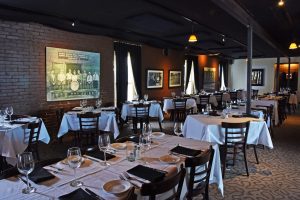 Characterized by Brauner as "four star food in a three-and-a-half star joint," the Bourbons Bistro kitchen would be chef-driven and rooted in the cooking of the South. "We wanted to be a casual place, more like dining twice a week than once a month for our customers."
Prior to assembling the bourbon list, Brauner and Morrison put themselves back into the classroom with Michael Veatch, who is Bourbon Historian at Louisville's Filson Historical Society. Veatch became a friend and supporter, gradually assembling the bistro's legendary three-ring binder of bourbon tasting notes.
"I first met (Brauner and Morrison) at a class I was teaching as part of an adult education program at Bellarmine University," writes Veatch in a web post. "Bourbons Bistro was the first Bourbon-themed, white table cloth restaurant to open in Louisville, and has been the inspiration for many of the Bourbon-themed restaurants that have opened since."
Finally it was time to stock the bourbon. By Brauner's preliminary reckoning there had been at least 200 distilleries in Kentucky before Prohibition, with ten major ones remaining in 2005. He sought to carry at least one of each brand produced by them: "I'd hate for somebody to say their uncle used to work for J.W. Dant, and they'd come into a place called 'Bourbons' and think, what, you don't have Dant?"
Brauner also pulled representative examples from bourbon's amazing, varied matrix of differing mash bills, proofs, ages and cooperage positions, all the while searching for those brands he calls "sleepers," or the undervalued brands "hiding in plain sight."
Two early examples were Elmer T. Lee and Ancient Age, although as the years passed both distillers and consumers became savvier. For Brauner this meant forever scouting the next sleeper, and more recently, developing relationships with the new generation of "craft" distillers, like New Riff and Wilderness Trail, O.Z. Tyler and Castle & Key.
The list of "firsts" at Bourbons Bistro's is far too long to itemize, but its pioneering barrel program deserves prominent mention. Picking a barrel from the rickhouse has become fairly commonplace (a barrel yields 200 bottles), but when Bourbons Bistro plucked its own barrel of Woodford Reserve soon after opening, it was the first time a Louisville on-premise establishment had ever done it.
Numerous others followed. "We've done 24 barrels with Four Roses," Brauner says. "The next one will be the 25th, and that's a milestone. We've done a barrel program from the start, and we'll try to do it with these younger (craft) guys and keep the relationships going."
Southern Bistro Cuisine – Simple and Classic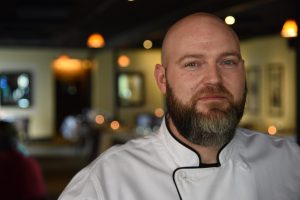 Executive Chef Jereme McFarland was born and raised in Louisville's South End. As a teen he helped his mother with her catering business, then joined the Marine Corps, becoming a full-time cook. Military service took him around the world and back to Louisville for culinary studies at Sullivan University, followed by a succession of corporate jobs before joining Bourbons Bistro as a line cook.
Since taking the lead position in 2016, McFarland has built on what he inherited from his predecessors. "I take what I've learned and I've added my own spin," he says. "We do mostly Southern cuisine, dress it up (but) keep it simple and classic — bread pudding, layer cakes, shrimp & grits, our pork chop. It's a little French and a little bit Asian, really a little bit of everything."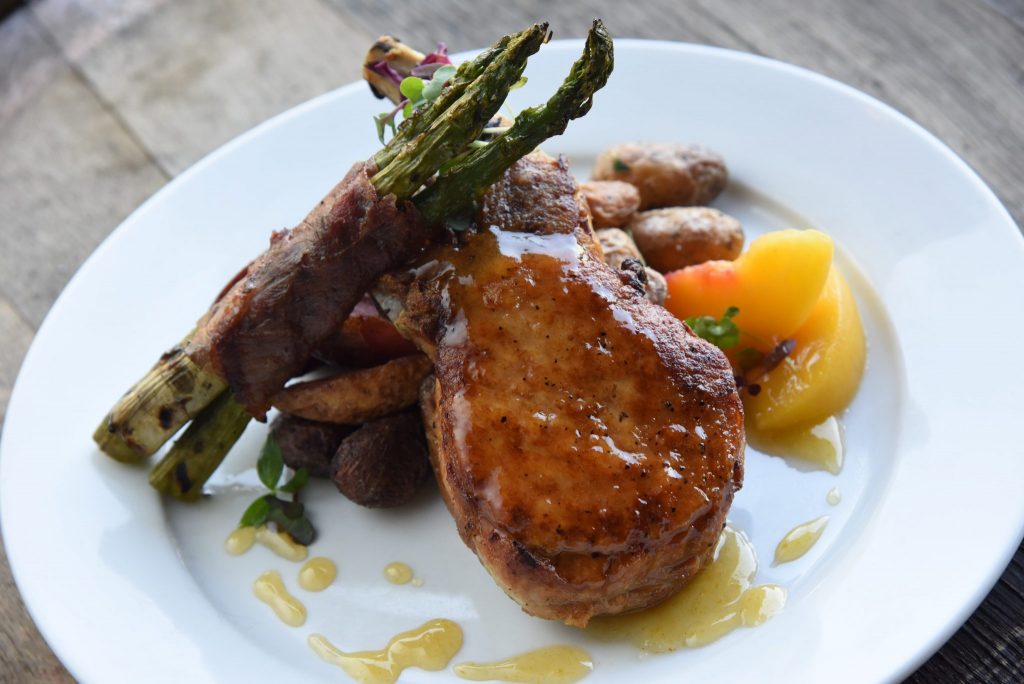 Incorporating bourbon into every dish actually isn't among McFarland's kitchen mandates, although whiskey works well in some desserts and sauces, like the veal demi-glace. He advocates a light touch, typically using brands like Maker's Mark, Old Forester and Four Roses (yellow label) because they possess consistent flavor profiles from recipe to recipe.
For example, Four Roses pairs with peaches in the glaze for McFarland's "light and summery" seasonal variation on the popular Bourbon's Peach Pork Chop. He adds "a tiny bit of horseradish to make it more like chutney," and first brining the chop for at least 12 hours.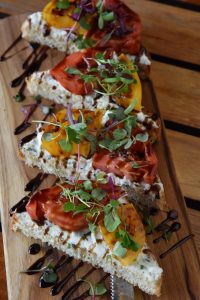 McFarland's father and grandfather specialized in homegrown tomatoes. "When I was a kid I'd be running around eating their tomatoes like apples. I loved them and still do," he explains. Now they're the inspiration for Willie's Tomato Toast, a popular appetizer.
When the kitchen's Fried Green Tomatoes appetizer seemed "too cakey," McFarland relied on a line cook's suggestion to solve the breading riddle by using two layers, first a thin coating of rice flour, then a dredging in seasoned flour and blue corn meal just before frying.
The Waygu Burger is a staple. "I always use Black Hawk Farms beef from Paducah," says McFarland. "They've been good to us and we like to use Kentucky Proud products. It's a simple, classic burger." McFarland hesitates to modify his Filet of Beef — "if it's not broke, don't fix it" — but to lighten the cut for warmer weather he prepares a citrus beurre blanc (lemon, orange and white wine), further enhancing a beautiful shrimp skewer.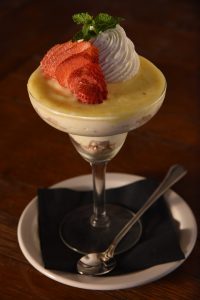 McFarland gives full credit to sous chef Justin Shewell for the Savannah Smile Martini dessert. Shewell doubles as pastry chef and created the recipe for a Girl Scouts of the USA cooking competition — which he won. "It's Southern and it reminds me of my mom's lemon meringue pie," says McFarland, who adds that sadly, Savannah Smiles have been discontinued.
"We're lucky to have gotten two of the last three cases of them. We'll run this dish until we run out of cookies."
For McFarland, it's all about teamwork: "This is what I've always wanted to do. It's not a glamorous life; certain aspects are amazing, but nothing I do can be done without my staff — Margot, Jason and John, the kitchen staff, my sous chefs, the bartenders — it takes the whole team to really make this thing work, and if we lose one piece of the puzzle, we run into serious problems really quickly.
"I totally appreciate everything the staff does from top to the bottom."
An Ironclad Commitment to Explaining Why Bourbon Matters
"John and Jason have always told me there's no bad whiskey, only better whiskey."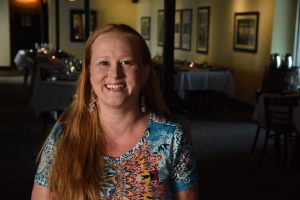 That's Margot McMillen, who has been working at Bourbons Bistro since inception, currently serving as front-of-the-house manager. Staff retention is good, and McMillen is clear about the value of employee education when it comes to a bar serving 130 bourbons.
"My favorite social media reviews are the ones that say, 'the bartender and servers were knowledgeable and well-educated about the products they were serving.' "
McMillen believes one secret to the longevity of Bourbons Bistro is an ironclad commitment to explaining why bourbon matters. "That's what we always set out to do," says Brauner. "We did our staff trainings; we're here to educate." If bourbon is Brauner's single favorite topic, teaching is a close second.
Morrison adds, "We ask customers what they normally drink, what they're used to; if they're from out of town, maybe they'd like something they can't get where they live. (For) beginners, you have to walk them through it. You have to build up that palate."
Universal bourbon education obviously is the common denominator at Bourbons Bistro, predating bourbonism, a term cleverly coined by three-term mayor Greg Fischer during his first campaign in 2009. Fischer defines bourbonism as the sum total of bourbon, hospitality, distillery experiences and local food, as exemplified by Louisville's Urban Bourbon Trail.
The trail was conceived by Stacey Yates at the Louisville Convention & Visitors Bureau, which was looking for a marketing promotion to position the city as a bourbon destination in its own right given the increasing popularity of the Kentucky Distillers' Association's trademark Kentucky Bourbon Trail.
In 2008 Yates was jogging in Crescent Hill when the epiphany hit; an ad agency's use of the euphonious phrase "urban bourbon" set her to thinking about Bourbons Bistro, and out came "urban bourbon trail," a phrase linking tasting and culinary experiences.
"Had Bourbons Bistro not existed, the Urban Bourbon Trail wouldn't have existed, either," says Yates, "because I don't think the other pieces would have come together without this quintessential prototype of a bourbon bar."
Few establishments are regarded as "quintessential" a mere three years into their journey; then again, Irish Hill stood for bourbonism before bourbonism was cool, and if bourbon was lost, Brauner and Morrison found it, right where it was, hiding in plain sight.
Brauner enjoys reminding listeners of the wording on Bourbons Bistro t-shirts, circa 2005: "Bringing bourbon back one sip at a time."
Mission accomplished." F&D