If you're aware of our colleague Kevin Gibson's "The Taste Bud" column, you already know that several terms regularly spring to mind when considering Kevin's ongoing exploration of hot peppers, sauces and wings, including masochist, glutton for punishment and flagellant—in fact, our secret words today are "bloodied lip."
Clearly Kevin undertakes to suffer so that we, as mere voyeurs, might be entertained. It is a noble pursuit, and so again today we link to the King of Pain's chronicles, which find him in Green Bay, Wisconsin: The Taste Bud: Hottest Wings I Ever Ate (A True Story of Pain).
After eating those four, Scary Larry was the clear winner, so I shifted back and ate the final DOA wing. By this point, my nose was running, eyes watering and I could feel a lingering burn, oddly, in the skin beneath my eyes. The edges of my nostrils also had begun to tingle. Both sets of wings, served inconspicuously in a black plastic basket with parchment paper, were robustly sauced. The smoldering sauce pooled in the bottom of the basket, begging to be used as dip. As I moved back to the final two Scary Larry wings, my face began to feel unusually flushed, my head felt hot. My mouth and throat flamed. Oddly, my earlobes even tingled. But the chicken was so delicious that I couldn't — nay, wouldn't — stop to come up for air.
Photo credit: Kevin Gibson.
—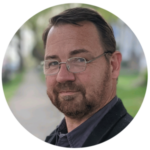 Kevin Gibson has been a professional writer for more than three decades, having written about restaurants, beer, bourbon, sports, night life, music and plenty more. He has won numerous awards from The Associated Press, Society of Professional Journalists and Indiana State Press Association, among others, but can't remember where he put most of them. In addition, he has written for publications like LEO Weekly, Bourbon+ magazine, Thrillist, Alcohol Professor, Louisville Magazine and many more, including various newspapers. When he's not busy writing books or stories about Louisville, he's likely hanging out at a brewery with his dog, Atticus.