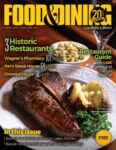 The Spring 2023 issue of Food & Dining Magazine is now available in all the familiar places: Louisville area eateries and food shops, newsstands and online.
Last week on St. Patrick's Day morning (March 17), there was a fire at the Roosters restaurant located at 7405 Preston Highway.
Second Louisville Roosters location catches fire in past month, by Shea Van Hoy (Louisville Business First)
A Louisville Roosters restaurant caught fire this morning — the second area location of the chain hit by a fire in less than a month…at the end of February, the Clarksville location burned to the ground. No one was hurt in that fire either.
Obviously the most important thing is that no one was injured. The Roosters franchise at Preston Highway appears to be the area's oldest. There are thought to be five others, not counting the one in Clarksville.