Wednesday afternoon update from Beau and Lindsey Kerley: "We want to sincerely thank all the fire fighters, police officers, EMS, utility workers, and everyone else that showed up last night to help during the fire in our strip center. We have had an overwhelming amount of concern and support from the community and we are truly grateful for that. Some of our business neighbors were not as lucky as we were in last night's fire and our thoughts are with them in this difficult time. We will temporarily be closed during this time to fully evaluate any damage and make all needed restorations to the restaurant. Thank you again for your support."
—
As the saying holds, no good deed goes unpunished. Add to this a "multiplier" effect of pandemic-borne business disruptions, most recently meat supply concerns, and some restaurant operators might be feeling a bit like Joe Btfsplk.
Just ask Beau Kerley and wife Lindsey, owners of Tucker's American Favorites (2441 State Street, New Albany). The Kerleys spent the lockdown period remodeling the interior of Tucker's, also offering curbside carryout; just last week they finally returned to limited dine-in service. Then last evening the restaurant suffered smoke damage after a fire broke out at a nail salon in the strip mall they share.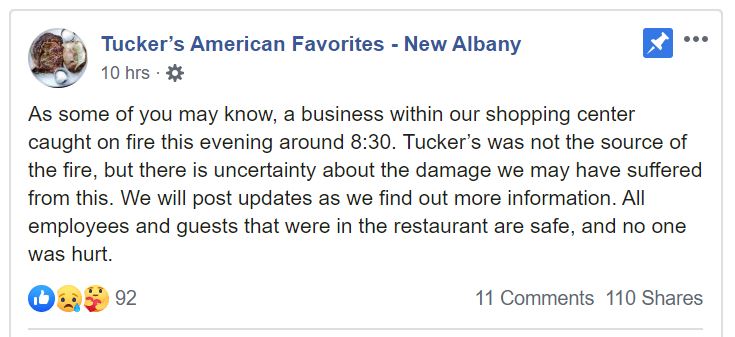 As some of you may know, a business within our shopping center caught on fire this evening around 8:30. Tucker's was not the source of the fire, but there is uncertainty about the damage we may have suffered from this. We will post updates as we find out more information. All employees and guests that were in the restaurant are safe, and no one was hurt.
WAVE-3 has more about the blaze: Crews extinguish fire at New Albany strip mall on State Street. We'll update this post as the situation clarifies.
Tucker's was acquired by the Kerleys in September 2019. They also co-own four Southern Indiana restaurants with business partners Tim and Angela Smith: 812 Pizza Company in Georgetown; The Standard Plate & Pour in New Albany; Dos Gringos in Jeffersonville; and Early Edition, which shares the building with Dos Gringos.
Early Edition is open for breakfast and brunch in downtown Jeffersonville