BOURBON NEWS & NOTES – for 28 May 2021, by Susan Reigler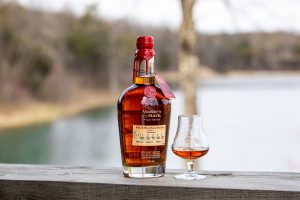 The Black Bourbon Society, the Spirits Network & Maker's Mark Combine Forces
The Black Bourbon Society (BBS) has partnered with the Spirits Network, and Maker's Mark® Bourbon to launch the Spirits Network's latest program, Barrel Select. Hosts are Samara Davis, Founder of BBS and Wine Enthusiast "40 Under 40" Tastemaker, and her husband and partner in BBS, Armond Davis. The show, which debuts 20 May, was filmed at the Maker's Mark Distillery on Star Hill Farm in Loretto, Kentucky where the couple documented the selection of their second custom barrel from Maker's, a process that involves choosing from five customized finishing staves.
The Black Bourbon Society Maker's Mark Private Selection: Recipe 2 was finished using the following 10 staves: one Baked American Pure 2 stave, two Seared French Cuvee staves, two Maker's Mark 46 staves, three Roasted French Mendiant staves, and two Toasted French Spice staves. Recipe 2 is one of the first to include the newest Maker's Mark Private Selection stave, Roasted French Mendiant, which lends milk chocolate, buttery nut, and smooth coffee notes.
This bottling celebrates Diversity Distilled, a non-profit organization founded by Rivers and Davis to address the diversity, equity and inclusion in the alcoholic beverage and hospitality industries. Additionally, Maker's Mark® and Southern Glazer's Wine & Spirits helped fund Diversity Distilled's job fair and apprenticeship programs to focus on advancing People of Color throughout the industries.
The bottle is available in Louisville, Chicago, New York, Atlanta, and Tampa and has been released to coincide with the Black Bourbon Society's 5th Anniversary. It is also available in select markets for online purchase via the Spirits Network and will be sold in California, North Carolina, Washington, D.C., and Alabama later in the year. The suggested retail price is $69.99.

Heaven Hill Revamps Evan Williams 1783 Small Batch
Heaven Hill has restored its Evan Williams 1783 Small Batch bourbon to 90 proof, after years of being an 86 proof sip. While there is no age statement on the bottle, the distillery acknowledges that this expression of Evan Williams is a batching of six to eight-year-old barrels. The mashbill of 78% corn, 10% rye, and 12% malted barley remains the same. More importantly, this is a great value bourbon. A 750 ml bottle retails for $19.99 and it's a fine stand-alone sip or cocktail base. For more about all the Evan Williams portfolio, https://www.evanwilliams.com.
Big Girls Don't Cry from Chik'n & Mi
Chik'n & Mi, at the corner of Brownsboro Road and Mellwood Avenue on the edge of Butchertown, serves an intriguing (and delicious) menu that borrows from both Asian and American Southern influences. It has an equally creative cocktail selection which changes regularly.
Big Girls Don't Cry is fusion, too, containing as it does both bourbon and sake. It is simultaneously sweet, tart, and savory. It also goes down dangerously smoothly. To see the full list of Chik'n & Mi's cocktails, go to https://www.chiknandmi.com/menu
Big Girls Don't Cry
1 ounce Kentucky bourbon (Maker's Mark and Old Forester are used alternately.)
¾ ounce Cocchi Americano
½ ounce lemon juice
¼ ounce Vanilla Burlesque Bitters
Sparkling peach sake
Shake all ingredients except sake over ice. Strain into a coupe glass. Top with sparkling peach sake.
This week's photo credits: Maker's Mark, Heaven Hill, S. Reigler.
******************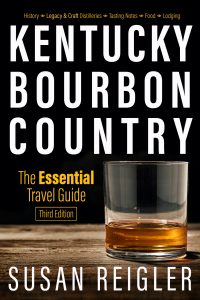 F&D Bourbon Columnist Susan Reigler is the author of several whiskey books, including Which Fork Do I Use with My Bourbon? –  Setting the Table for Tastings, Food Pairings, Dinners, and Cocktail Parties and Kentucky Bourbon Country: The Essential Travel Guide. Autographed copies are available from Carmichael's Bookstore. They can also be purchased on Amazon, or directly from the publisher: 
https://www.kentuckypress.com/9781949669091/which-fork-do-i-use-with-my-bourbon/
https://www.kentuckypress.com/9780813180311/kentucky-bourbon-country/