BOURBON NEWS & NOTES – for 26 February 2021, by Susan Reigler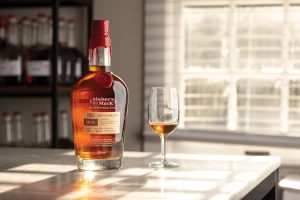 Newest Release of Maker's Mark Wood Finishing Series
If it's anything like its predecessors, the third release in the Maker's Mark Wood Finishing Series is well worth seeking out. Maker's Director of Innovation, Jane Bowie, who oversees the limited release (only two per year) says that the new bourbon, "…tastes just like a barrel warehouse smells," which sounds like a good thing.
Dubbed FAE-01 after the custom toasted wood stave used in secondary barrel finishing of the bourbon, it has also been described by Bowie as "fruit forward." This is a cask-strength bourbon, weighing in between 110.3 and 110,6 proof. Tasting notes released by Maker's Mark state that it is heavy with wood, dark, fruit and tobacco on the nose matched by dried dark fruits, strong tobacco and "barrel extractives." The finish is "creamy, lingering, and round."
Given those tobacco notes, it would make a good sip with a fine cigar, should you be so inclined. Maker's Mark Wood Finishing Series FAE-1 will be on store shelves March 1st. Suggested retail price is $59.99. The distillery says the next wood finishing release will be in the fall. For more information, https://www.makersmark.com.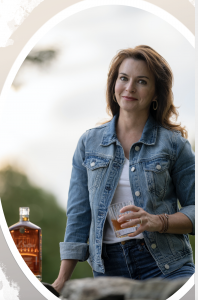 Paul Sutton Bourbon Makes Its Debut
Myra Barginear is a seventh-generation removed from her forebear who first made whiskey a century ago. That's significant because she has just released a new bourbon based on her family's recipe. Paul Sutton Small Batch Bourbon was recreated with a little detective work. Barginear is a physician and had the chemical background to analyze some bourbon-filled Mason jars left behind by her late grandfather. R.M. Sutton. Based on her findings, Paul Sutton is contract distilled and aged in central Kentucky.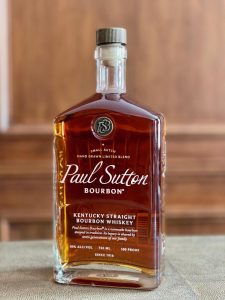 Barginear graciously provided me with a sample, which has a warm, nutty caramel nose ringed with some citrus. On the palate that citrus reveals itself as orange accompanied by rich caramel and warm brown sugar with a touch of cinnamon and cloves. It has a very smooth, honeyed finish.
Quite accessible neat, even at 100 proof, Paul Sutton has been aged more than four years. The suggested retail is $64. To find out more about this new whiskey, https://paulsuttonbourbon.com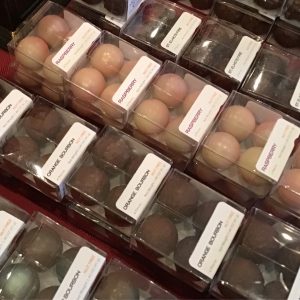 Check Out These Caramel Shots from Art Eatables
Bourbon lovers know that chocolate can be a magical partner with the whiskey, but caramel is all-too-often overlooked, which seems a bit odd given that caramel is one of bourbon's defining flavor notes. Kelley Ramsey of Art Eatables, one of the country's premier bourbon chocolate confectioners, also gives caramels the prominence they deserve with Caramel Shots.
Each of the candies is infused with particular spirts and flavors that mingle beautifully on their own, or better yet, can be enjoyed with, and amplify, a bourbon. Experiment pairing your personal favorites with the likes of Bourbon Orange (Creamy orange caramel in a milk chocolate shell), Bourbon Smoked Sea Salt (Bourbon caramel infused with ShellBee's™ Bourbon Smoked Sea Salt in a dark chocolate shell), and Ginger Bourbon (Smooth with a bright lingering spice in a sweet milk shell.)
Lots of other flavors, as well as the full line of whiskey-infused and non-alcoholic treats from the candy maker, can be found at https://www.arteatables.com. The best part is that they can be shipped directly to your door while the weather is still cool enough to keep them from melting.
This week's photo credits: Maker's Mark, Paul Sutton Small Batch Bourbon, and Art Eatables.
******************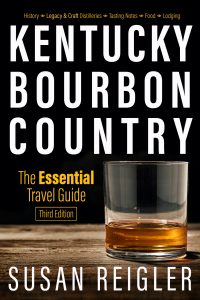 F&D Bourbon Columnist Susan Reigler is the author of several whiskey books, the most recent being Kentucky Bourbon Country: The Essential Travel Guide, 3rd edition.
Autographed copies are available from Carmichael's Bookstore. It can also be purchased on Amazon, or directly from the publisher at https://www.kentuckypress.com/9780813180311/kentucky-bourbon-country/