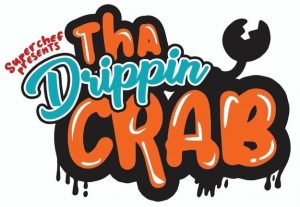 "They have been asking for years for somebody to open a sit-down restaurant in the West End, but nobody would. I felt like if I did it first, and I am successful at it, then other people will come after me."
— Darnell Ferguson
Work on Ferguson's Tha Drippin Crab (1219 W. Jefferson in Russell) was underway in January, when we took a glance: Darnell "SuperChefs" Ferguson previews his new West End seafood eatery.
The time has come, and today is the day. Tha Drippin Crab opens at 11:00 a.m., and the ever informative Dahlia Ghabour has a preview at the Louisville Courier Journal.
'Come here and think bigger': Celebrity chef Darnell Ferguson opens West End seafood spot, by Dahlia Ghabour (Louisville Courier Journal)
"This is a mixture between Pappadeaux and seafood boil restaurants," Ferguson said, referencing the popular seafood restaurant based near Cincinnati. "We combined them together. Everything is super unique, the corn, the potatoes, even the egg is different. We really just went all out: the details that you will see in the best restaurants are here. I wanted to make sure the quality was second to none. Nothing was skipped."
Tha Drippin Crab's hours: Wednesday and Thursday, 11:00 a.m. to 9:00 p.m., and Friday, Saturday and Sunday, from 11:00 a.m. to 10:00 p.m.