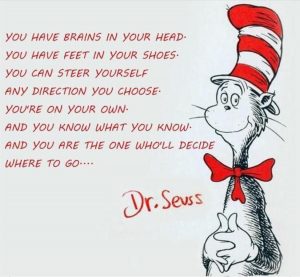 When you're old and jaded, and receive an information release that has you scrolling through quotes from books you haven't read in so many decades you don't really care to think about it, that's the sort of day when it's lots of fun doing your job.
"Be who you are and say what you feel because those who mind don't matter and those who matter don't mind."
The place is Morning Fork (1722 Frankfort Avenue), the dates are Wednesday, August 4 through Friday, August 6 (7:00 a.m. to 3:00 p.m.), and the topic is Dr. Seuss-themed brunch for back-to-school month.
Enjoy specialty dishes inspired by some of Dr. Seuss's most popular tales, including Green Eggs & Ham and Thing 1 & Thing 2 pancakes, as well as drink specials. Favorites from the regular menu, like buttermilk biscuits and gravy, jumbo cinnamon rolls, and the smoked salmon sandwich with house-made Boursin cheese spread on a flaky croissant, will also be available.
Reservations are recommended; call 502-830-9500.
Dr. Seuss said, "Think and wonder. Wonder and think." If you're wondering how Morning Fork came to be — after all, "It is better to know how to learn than to know" — visit our archives (December 15, 2020).
2nd Fork on Frankfort; the brunch-oriented Morning Fork opens Dec. 18