On Friday and Saturday, October 30 and 31, Chef Michael Hargrove brings his ongoing River City Supper Club pop-up project to Bourbon Barrel Foods – Eat Your Bourbon Marketplace (2710 Frankfort Avenue) for two very special evenings.
It's called Grazie Maestro, a tribute to Louisville culinary legend Ralph "Bim" Deitrich, who died on August 28 at the age of 70.
Grazie Maestro is a ticketed event with limited seating owing to COVID, and Hargrove recommends reserving as soon as possible at the River City Supper Club web site.
https://www.facebook.com/rivercity502/posts/2978827908886015?__xts__%5B0%5D=68.ARD8iNxjQFnq0dnIdhxej4_E2UB2QsJ0GEu-lfSFIO1RNk3hBk693riZhd2Uz4-2eLefka8SpwnUysjpLM8uoo8aWaSD_gQz38WbFRZU2wcrcb3U-ZjCjYxgzTJfOkldXcAceI2JVWTyzu77ume4Oh084FcOwZfrsjdaUJXukFD1WqBQpTOc8nu_f9unOdbZX3m_ZP_-R15Zp024zY9dzArsqJuHhEQJdOGBw858l4NqOF1XsVUF3hPMXFyqPyJTG8JLw9ithG8Eccne5LjtpdL03nX_PMeBV-IsKNkafNhl2f-JJmdYne2XEtTYp8CzyvXrncNXhL48ghu7-dMu4F7O_XbZ&__tn__=-R
For two nights we are taking over the Bourbon Barrel Foods marketplace to pay tribute to a mentor to myself and countless others, local hospitality legend Bim Deitrich. We will be serving a four course pre fixe menu inspired by the weekly menus from Primo, Bim's final restaurant, and my first executive chef position. 30% of our profit from this event will be donated to the Leukemia and Lymphoma Society in Bim's name. Bourbon Barrel Foods has also pledged to donate a portion of retail sales from the event.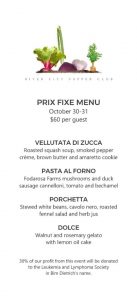 In addition to Primo, Hargrove has put in kitchen time at several popular Louisville bricks 'n' mortar eating establishments (including L & N Wine Bar & Bistro and Mojito's Tapas Restaurant), and he is a fixture when it comes to lending a hand for food-related charitable functions. I asked him about his time with Deitrich.
"My relationship with Bim was very much a student-teacher relationship," Hargrove messaged. "I had a lot of learning to do, being my first executive chef position, but it was dotted with these extremely personal moments. Bim turned me on to my favorite film (The Cook, the Thief, His Wife & Her Lover) cook books and art, and tried to teach me to enjoy moments as they come.
"Professionally, he was constantly pushing me to simplify my cooking, at a time when molecular gastronomy was the 'in' thing. The simplicity in my cooking today is the direct influence of Bim, and something I constantly work on to strip away the unnecessary. I didn't realize how much Bim meant to me until it was too late to tell him."
—
Photo credits: Style Blueprint (cover; Brasserie Deitrich); Louisville Business First (Bim Deitrich)