[adrotate group="3"]
On Monday we hazarded an informed guess that bar Vetti's "turnkey" commercial real estate listing was the precursor to a relocation.
"We're very excited about the future of bar Vetti and will be able to share that news with everyone in the coming days."
— Ryan Rogers

The reason why Food & Dining Magazine asked Rogers about the future of bar Vetti is this listing at the Kentucky Commercial Real Estate Alliance's commercial property search.
Today a press release provided confirmation.
bar Vetti Announces Spring Relocation to AC Hotel in Downtown Louisville

Success and Need for Larger Space Sparks Move to NuLu

In order to accommodate growing crowds, bar Vetti announced plans to move to the first floor of the AC Hotel in the NuLu neighborhood of Downtown Louisville by late Spring 2020. The new restaurant space will be approximately 3,300 square feet allowing bar Vetti to double its current seating capacity. The new location will also feature an expanded menu as well as outdoor seating on Market Street.
Another reason why this relocation makes sense can be seen at a satellite's glance.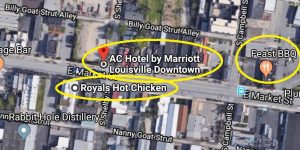 According to Andrew McCabe, bar Vetti's executive chef and partner, "With nowhere to expand in the 800 Building, we were forced to look for a larger location. The new spot in the AC Hotel on Market St. will give the restaurant a huge upgrade in size and bandwidth while still keeping us in the Downtown Louisville area."
The forthcoming NuLu address will be 727 E. Market Street; bar Vetti will remain at the corner of South 4th St. and York St. until the new digs are completed in late Spring of 2020.
At his personal Facebook site, Rogers added:
Andrew Arvin McCabe and I are really excited to finally publicly announce the upgraded bar Vetti experience we've been working on since last winter. We greatly appreciate the support we've received in SoBro & old Louisville over the last two years and we look forward to applying those learnings to an exciting new location that allows us to better serve our guests.
McCabe gets the last word.
"We want to give a huge thank you to our guests and staff for making bar Vetti at the 800 Building the success that it is today," he said. "We're confident both loyal fans and newcomers will enjoy our NuLu location and appreciate its new perks, such as off-street parking, while still maintaining the same level of quality."
Food & Dining Magazine profiled bar Vetti in our Summer 2018 issue.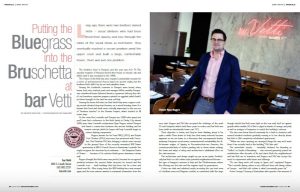 (bar Vetti is about) a way of thinking about food, not a hidebound template or inviolable collection of recipes.

To help understand bar Vetti's aim, Rogers and McCabe sketched the parameters of this thought process, starting with why they chose Italy as inspiration.

"It's what we talked about for a long time," said McCabe, "Ryan wanted to do pizza, and we might as well consider pasta, too, because I love making pasta."

According to Rogers, it's an Italian thought process in a regional setting.

"If this is where we live, and these are the foods we're getting in, what would I make? That's how it is in Italy," said Rogers. At bar Vetti, we do have pasta and pizza – very typical Italian things – but we use what's available, what's in season, what's speaking to us, what makes sense being in our region, this being Louisville Kentucky.

"Then we make Italian food from that."