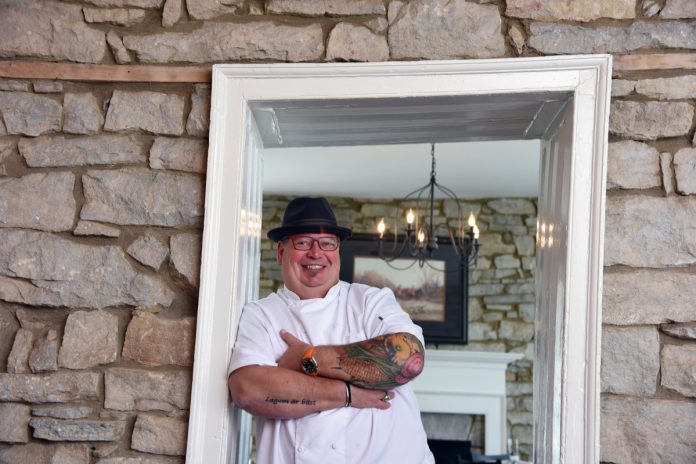 Bringing History to Life
The 200-year-old Old Stone Inn lives again
The stone building in Simpsonville has seen pioneers, early attacks from Native Americans, stagecoaches, slavery, presidents, students, and Civil War battles. It's been a restaurant since the 1920's, but never before has Old Stone Inn had someone at the helm with such an impressive resume. Churchill Downs Executive Chef David Danielson is resurrecting this historical landmark through a myriad of powerful collaborations.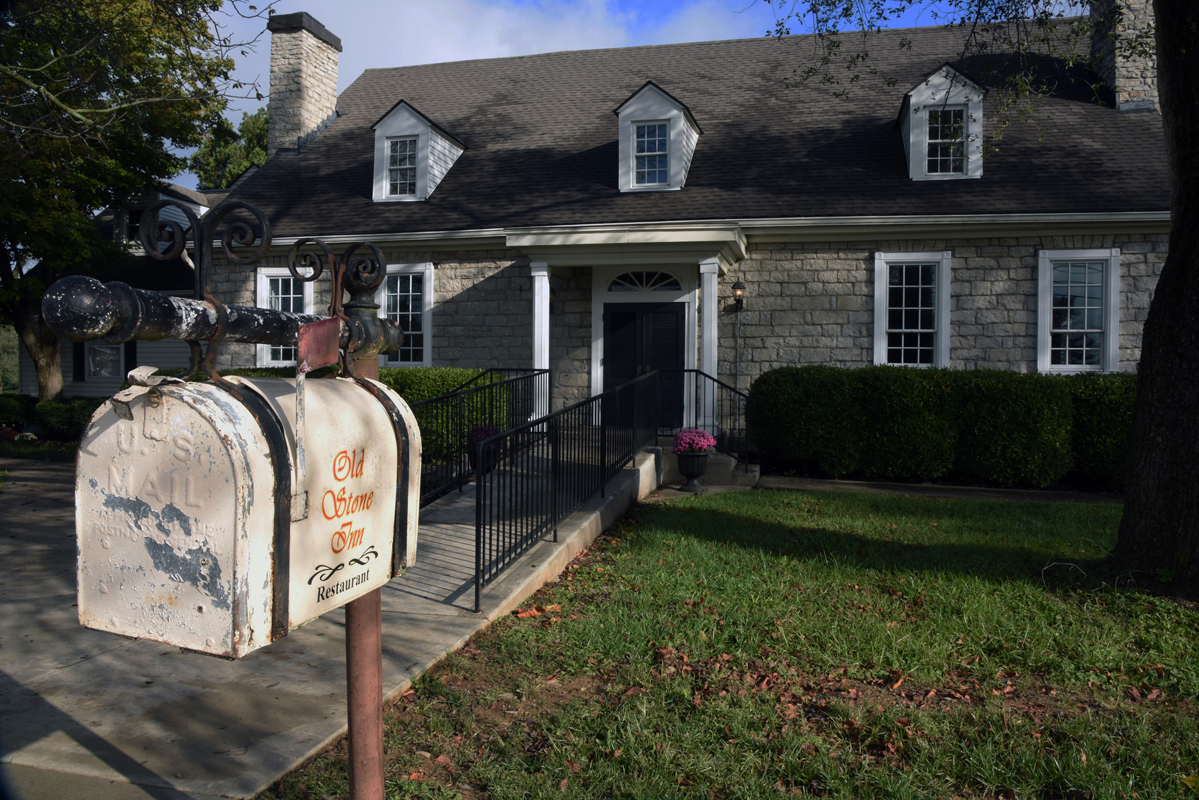 The History
The Old Stone Inn sits at 6905 Shelbyville Rd., in Simpsonville, a waypost to those throughout history who have pioneered their way to something new. Like the many people who have passed through its doors, the building itself has passed through many roles — and it looks pretty good for being over 200-years-old.
"Several years ago, I moved to the area and fell in love with the building," Executive Chef David Danielson said. "I wanted to take the restaurant back to what it was and tell the history of the Old Stone Inn and Shelby County and this part of the country."
Those stories are all intertwined. According to the Shelby County Historical Society, people already lived in surrounding areas, but Daniel's brother Squire Boone led pioneering settlers into the Simpsonville area in the late 1700s. By the end of 1790, Simpsonville had over 100 men, women and children, and Kentucky became a state two years later, Danielson said a farmer purchased about 300 acres with a limestone quarry for about $1700 at about that same time.
It took almost 20 years for stones to be drug up from the quarry and assembled into the building that remains on that property today. It was finished around 1817, making it the second oldest standing stone building in Shelby County.
During the early 1800s, the building originally served as a stagecoach stop known as Stone Tavern, providing food and shelter for travelers along the old Midland Trail. It was during this time that President Andrew Jackson and Revolutionary War General Lafayette visited. Fast forward a little and oral histories and speculation claim that Abraham Lincoln must have also stayed there due to family nearby.
The building survived the Civil War, and stood silently as the railroad pushed its way across the nation.When Midland Trail became a coast to coast "auto trail" in the early 1900s, the 100-year-old establishment was right there on the newly named Route 60, ready to evolve into a new life as a restaurant for the next century.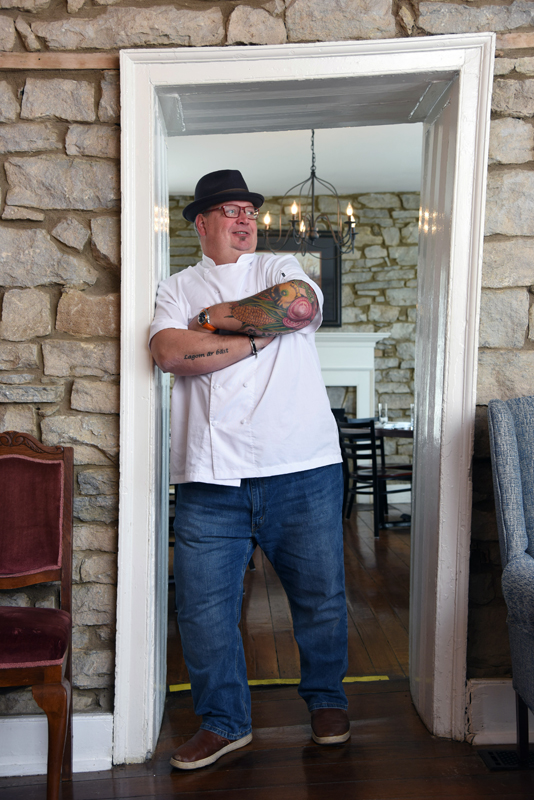 The Future
It's been almost 100 years since the structure became the first Old Stone Inn restaurant owned and run by a pair of sisters whose name seems to be lost to history. When the sisters could no longer manage the restaurant, the Purnell brothers at the neighboring "Old Folks" Sausage farm wanted to keep the restaurant tradition alive. They purchased the property in the 1980s and leased it to a variety of proprietors with a lease that stipulates the name may have variations but must always include "The Old Stone Inn." The brothers have always had a vision to restore the restaurant to what it once was, and now they believe they've found the man for the job.
Maybe it was destiny for a building that once housed and fed horsemen and guests to be adopted by a culinary expert from the most famous horse track in the world, but Chef Danielson is bringing a wealth of experience and just as colorful a history to the table for some pioneering of his own. Despite working internationally, appearing on television, and catering large scale events — like the Grammy's, the Superbowl, and multiple Olympics to name a few — before running the kitchen at Churchill Downs, this is his very first restaurant.
Danielson says he was a normal kid playing hockey as he grew up in the western suburbs of Chicago. His earliest food influences were his mom, Dorothy, and grandmother, Alice, who were always cooking for family and guests. Holidays were a really big tradition in his family with Swedish smörgåsbord and other recipes he would help cook.
"I think there was always something there," he explained. "I remember going to Crate & Barrel with my mom. It was a mesmerizing place to be with all the gadgets. It was my favorite store, and I loved watching Julia Child and cooking shows. So, I didn't know yet how to say 'this is what I want to do,' but it's something I've always been drawn to."
A wicked grin spread over his face, and his eyes lit up as he spoke about the first time he thinks his eyes were opened to a future in food. He was washing dishes in a pastry shop, watching the pastry chefs make their tarts and croissants.
"I tasted things I've never tasted before," he recalled. "That's when I was old enough to really understand and say, 'This is something that's very cool and intriguing to me.'"
He enrolled in a two year program at Dumas Pere School of French Cooking in Chicago, where all the classes were taught in French. At the end of the program, he began an internship at the Ritz Carlton which led to him working as a personal chef for the British Consulate General. After that, he went to France to continue to work and learn at the renowned hotel school Ecole Hotelier Tain l'Hermitage and at two different Michelin starred restaurants.
When he returned to the States, he held Executive Chef positions at Rockefeller Center in New York, the United Nations Plaza Hotel, and The Palmer House Hilton Chicago before consulting led to co-owning a catering company that serviced the Olympics, which brought him all over the world.
In 2011, he became the Executive Sous Chef with Levy Restaurants at Churchill Downs, where he is now (and will remain) the Executive Chef, overseeing all of the planning and execution for the Kentucky Derby as well as daily operations and special events. He's also appeared in numerous press and media outlets like Top Chef, Travel Channel, People Magazine and Conde Nast Traveler. He also co-authored "The Bourbon Country Cookbook" with F&D's Easy Entertaining Editors, Tim and Lori Laird.
So, after such a big worldly and mostly city-focused career, why would he make his first restaurant one outside city limits in little ol' Simpsonville? He wanted to put his personal touch on the landmark and make a connection with people to provide heartfelt hospitality.
"A lot of people said 'Oh you're crazy,'" he said about his decision. "The biggest challenge right now [in the restaurant business] is finding staff. I was told 'you're never going to get any staff to come out there,' but I don't think people realize how close we are. I've looked at historic places that have inspired me over the years like The Inn at Little Washington, The French Laundry or Blackberry Farms that were built in the middle of nowhere, and they built something amazing. Not only did people come but staff came."
Danielson went on to explain that he was not waiting to open and hoping staff would come. He proactively selected the best staff he could with the intention of "making them a part of something where they could work together to create something worthy of the building." Everyone that has been hired has been targeted and recruited to create what he calls a powerful collaboration, which is at the heart of everything he envisions for this endeavor.
The Collaboration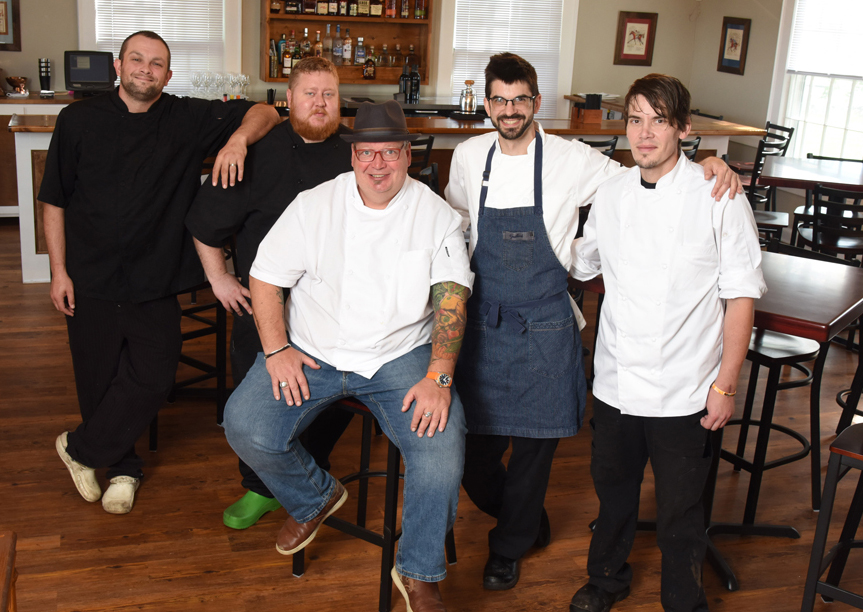 From left – Cook Josh Robinson, Chef de Cuisine Jeremiah Brown, Owner/Executive Chef David Danielson, Sous Chef Ben Stanley, Cook Jake Brockman.The family, as he prefers to call the staff, is mostly from Louisville. Chef De Cuisine Jeremiah Brown worked with him as Churchill Downs Turf Chef for five years; Sous Chef Ben Stanley moved from Pennsylvania to be part of the team. General Manager Cesar Perez-Ribas worked with the late Dean Corbett at Corbett's: An American Place for ten years, making his way from server to general manager. Some of the front of the house staff has also come from Corbett's, and bar manager Rob Huffman will collaborate with Cesar and the rest of the bar team on cocktail recipes.
Fernand Gutierrez at the Ritz Carlton, Danielson said, was the first chef to inspire in him a real sense of professionalism. "He built the foundation of what a good chef is and laid the groundwork of what a great restaurant, operation and team looks like."
That Ritz Carlton job showed Danielson how 15 or 30 people could work side by side with the same goal. "We ate together, had family meal together. It was an amazing magic to watch something like that happen and be a part of something like that. It wasn't one guy at the top barking orders and everyone else falling in line. The greatest restaurants are a collaboration of all the people working together in harmony. It's something I find truly amazing and wanted to recreate."
Staffing isn't the only collaboration Danielson sees at the heart of this new destination. He also had been in talks with the Purnells about returning the restaurant to being a cornerstone for the community. So, he went out into the community to research, build relationships, and ask others what they thought it should be. Many have a tale to share with him.
"A guy texted me the other day to tell me about his grandfather being born here when it was a stagecoach stop," he shared. "This is the kind of history we want to capture and tell the story of."
Danielson also plans to work closely with local food and drink purveyors. "That's really what drives us — stories of the farmers, of the distillers and the people out here making all these great ingredients and products," he explained. "Finding the stories of the farmers and people around me and reinterpreting them was the start of me telling my own story. Having them for neighbors only brings us closer, influencing our dishes and drinks as we bring them to our guests." He also sees this as a chance to be continually inspired and test recipes that can be scaled up for use at Churchill Downs.
The Result
[ngg src="galleries" ids="5″ display="basic_slideshow" gallery_width="1400″ gallery_height="600″ arrows="1″]If you walk into the Old Stone Inn today, you'll feel as if you've stepped back into history despite new china, furniture and awnings. Hardwood floors are solid beneath the two-foot-thick stone walls. Working fireplaces make for cozy atmosphere. Wrought iron light fixtures hang from the ceilings, and bridles adorn from the walls.
Off the left of the front foyer, diners can be seated in the "fireplace room" or pass through it to the main dining room. Off the right of the lobby is the "stone room," hosting more tables with seating in all dining rooms totaling about 74. Straight through the foyer and to the right, you can pass through a cozy lounge with fireplace into the tavern where there is seating for another 32. Beyond that, Danielson is in the process of adding a new heated and enclosed patio seating about 40 within, with another 60 seats available outside in warmer weather. Upstairs will be a private dining area and event space seating about 40.
Although all the collaborations may be focused on preserving history, they are also focused on blending it with a new story that modern diners will enjoy.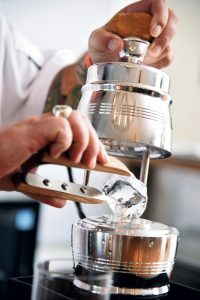 A collaboration with engineers at First Build led to just such a blended experience of history and innovation.
Danielson discovered 2 ounce barrel shaped pewter jiggers designed by silversmith Asa Blanchard in the early 1800s and wanted to use them in a unique presentation. So, he worked the team to design a similarly shaped ice press that creates an ice rock shaped like a stone Danielson found on the premises. The actual stone is embedded into the top of the press. So, anyone who orders bourbon on the rocks will receive the stone-shaped ice in a glass alongside the silver barrel of bourbon they can pour over the rock themselves. If they order at the bar, they can watch the ice press at work.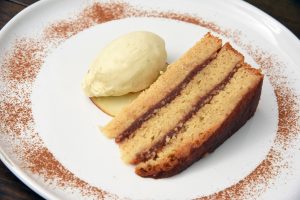 Just as meaningful is a metaphor found in one of the desserts: traditional Appalachian Apple Stack Cake. Just as Danielson has layered together collaborations, this cake is traditionally made with layers of cake baked by various people in the community who bring their individual layer to assemble with layers brought by others at social gatherings like weddings, using apple butter to bind them together into one delicious dessert. Danielson has updated this recipe with his own touch, using a roasted apple puree with bourbon, sugar, and cinnamon between the baked layers.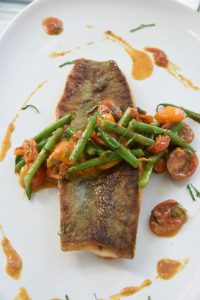 Maybe mentioning the dessert first is putting the stagecoach before the horse. The rest of the menu is just as thoughtful an expression of Southern heritage and local collaboration. Louismill grit fritters and Woodland Farm mushroom fries are just two of the appetizers, while farms like Freedom Run Farm (braised lamb in a red wine jus, fall root vegetables, and white bean puree), Joyce Farms (roasted chicken, potato, bacon, mushroom, thyme, and citrus zest) and Indiana based White Creek Farm (trout with pole beans, cherry tomatoes and mint) provide meats and fish for entrées alongside other dishes like shrimp and grits, golden and red beet ravioli, pork tenderloin, and beef strip roast. The sides and small plates feature Capriole Farms (goat cheese on the roasted fig and blue cheese salad), Kenny's Cheeses, Dayspring Orchard honey, and Courtney Farms (stewed pole beans with mint, heirloom tomato butter, and back bacon).
Danielson said they purposely did away with the white tablecloths that have graced tables here in the past. He wants the restaurant and menu prices to be approachable, so menu prices range from $6 to $12 for snacks, sides and desserts while entree prices range from $24 to $31 for dinner from 5 p.m. to 10 p.m. in the main dining area, although the tavern may stay open a bit later. (They will also be looking to add Sunday brunch and lunches in the new year.)
"We want people coming here for the first time to fall in love," Danielson said in closing. "We want them to feel like they're being welcomed into our home and walking out feeling like they've experienced something unique."
advertising content
advertising content