Bitter in Balance
Max Balliet is not bitter.
(Originally published in the Fall 2019 issue of Food & Dining)
In fact, he carries himself with a cheerful, placid calm. In conversation he is thoughtful and precise, soft-spoken and witty. Apart from an occasional self-deprecating quip, he's not prone to irony.
Those traits are vanishingly rare in an edgy, adrenaline-laden world where reviews, reputation, and good fortune are determined plate-by-plate and customer-by-customer — especially in the realm of high profile restaurants.
And the restaurant that Balliet leads, Pizza Lupo, is definitely high profile.
Less than a year after it opened, in the fall of 2017, readers of Louisville Magazine dubbed it the city's Best New Restaurant. And in the year since, expectations for Pizza Lupo have continued to grow, elevated by sustained waves of press coverage. So, in truth, Balliet has no reason to be bitter.
But bitterness is one of his culinary preoccupations. The deft use of bitter notes, he says, is one of the keys to Italian cuisine.
Balliet's first experience with traditional Italian cuisine came during a family trip to Naples in his early teens. That trip was followed by years of experiments in the family kitchen. A later trip yielded a deep enthusiasm for Neapolitan pizza.
Then came years of what amounted to an extended apprenticeship at prominent restaurants like Allan Rosenberg's Papalinos Pizza, Za's, Blind Pig, and Bim Dietrich's Primo. In fact, it could be that if there is an "origin story" about Pizza Lupo, it might date back to one of Balliet's youthful experiences at Primo, where he started his kitchen career as a dishwasher.
It seems Balliet had come across references to the Taleggio, the washed-rind (and highly aromatic) Italian cheese. He suggested that Primo, which featured pizzas made in a wood-burning oven, should consider adding a Taleggio pizza to the menu.
As Balliet recalls it, the response was, to put it mildly, incredulous. Someone asked whether Balliet had ever tasted Tallegio. He said, "No." And the idea went nowhere. Fast forward to Pizza Lupo and you'll find a luscious pizza called "Moonchild" on the menu: Tallegio, potato, Moroccan olives, and Bechamel.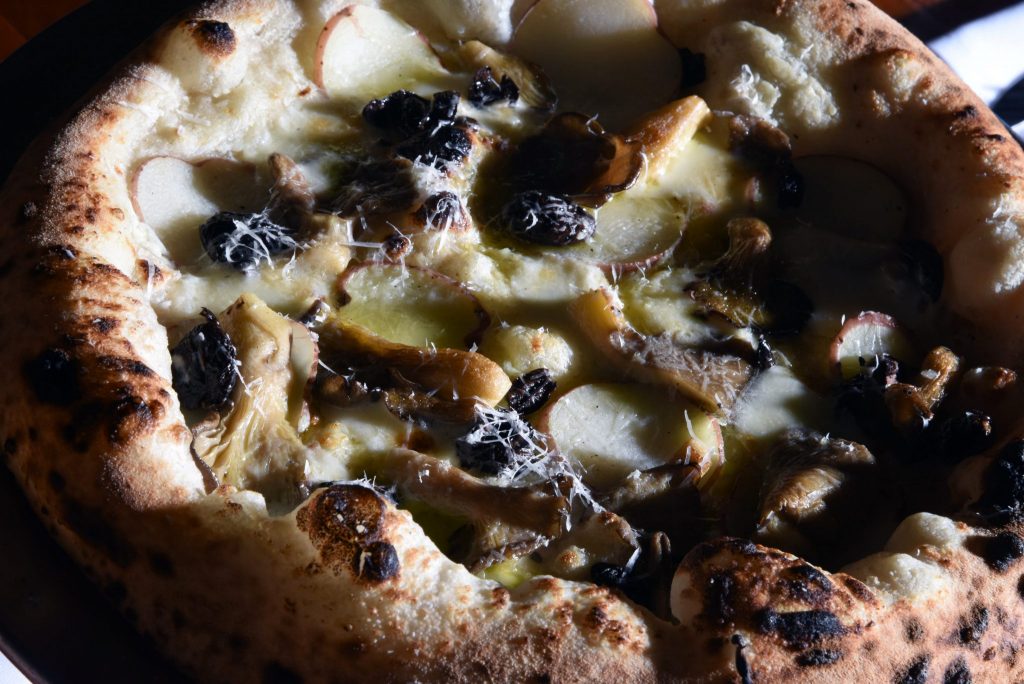 After my talk with Balliet, I reached Bim Dietrich by phone. When I mentioned the word Taleggio, he laughed and said, "What did I tell him? No?" By the way, Bim also gave Lupo a pretty strong endorsement. "I'd recommend it to anyone who is looking for an Italian-style dining experience," he said.
Balliet's first foray into the ownership ranks was the popular Holy Molé Food Truck – where his soft shell crab taco was selected by The Food Network Magazine as one of the fifty best tacos in the country.
So Balliet's vision of Lupo's cuisine has been shaped by his youthful inquisitiveness and many years of experience, reflection, study, and experiment. And he's given a lot of thought to bitterness.
"Bitter is definitely a polarizing issue," says Balliet. "For a lot of people it is inherently a negative quality. Many people think that if a dish is not salty or sweet or purposely sour, then it hasn't been properly prepared. But Italians — and a lot of Europeans — look at bitter as exactly what it is – another flavor profile. As I was growing up, and coming up in kitchens, I was super focused on balance. From early on I thought that the more balanced, you can make a dish, the more delicious it is. And to achieve balance, you have to consider bitter."
Early in his restaurant career, Balliet said, he worked for chefs who built their cuisine not by measuring out sweet, salty, and sour ingredients, but rather by tasting and trusting their palates to find the right balance.
"Bitter was something we didn't really play with," he said. "But when it is there, when you give it a presence, I think you can achieve a really harmonious blend of flavors that you can't get without it. So for a long time, I've worked consciously with bitter."
At Lupo, says Balliet, he's especially focused on ways to use bitter notes to create delicious, intriguing flavors.
"Much of Italian cooking is around flavors like arugula or rapini," he says. "These are attractive attributes in a dish because they add character and dimension, which are difficult things to create. A perfectly ripe tomato is going to be sweet and acidic and satisfying, but it won't have the intensity of a farmers' market arugula that will set your head on fire. It's futile to try to compare the 'deliciousness' of any particular ingredient. But these days people explore lots of different foods and think a lot about food, So 'deliciousness' is a matter of character and complexity. We're on a quest to find and create things that are interesting. And for a cook, bitter flavors offer a whole new artistic palette from which to create ideas that are delicious but not very familiar."
Still, those unfamiliar flavors have to be carefully managed, says Balliet. And that is one of the foundational aspects of Italian cuisine. "You have to tame those elements in a way that people who have never really appreciated bitter flavors will say, 'That's delicious."
To illustrate how that works, Balliet led me to the kitchen.
The Heat Is On
Early in the day, the kitchen at Pizza Lupo as bright and cheerful as a playground. It's one of the few commercial kitchens I've seen with a generous splash of natural light (and herbs growing in the window). The workspaces in the lovingly refurbished ante-bellum brick building near the foot of Frankfort Avenue are bright and cheerful. A brick-lined, wood-burning stove that's framed in fire engine red dominates the room.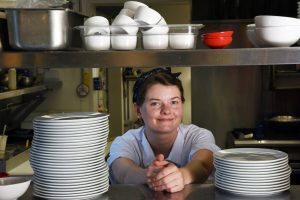 In the kitchen, Balliet works alongside Sous Chef Katie Smith, a member of this year's cohort of The LEE Initiative's Women Chefs Initiative, a program developed by Chef Edward Lee and 610 Magnolia General Manager Lindsey Ofcacek to provide mentoring, experience, and leadership development for women in the culinary disciplines.
Balliet, by the way, is certainly the Chef at Lupo. But from the way he says the word, I came away with the impression his preferred title might be pizzaiuolo. That's the name given to pizza makers in Naples, where the art of traditional pizza making was recognized a couple of years ago by UNESCO, which added Neapolitan pizza to its "Representative List of the Intangible Cultural Heritage of Humanity."
Watching Balliet and Smith work, it's clear that not only does the kitchen look like a playground, it functions that way as well. They have the kind of childlike absorption displayed by children totally engrossed in play. Every action — whether dipping freshly harvested, locally-raised green beans in a prosecco batter for the sublime fritto misto or hand-cutting the saffron pasta that's the base for the luxurious linguini and aragosta entrée — seems like a moment of meditative clarity.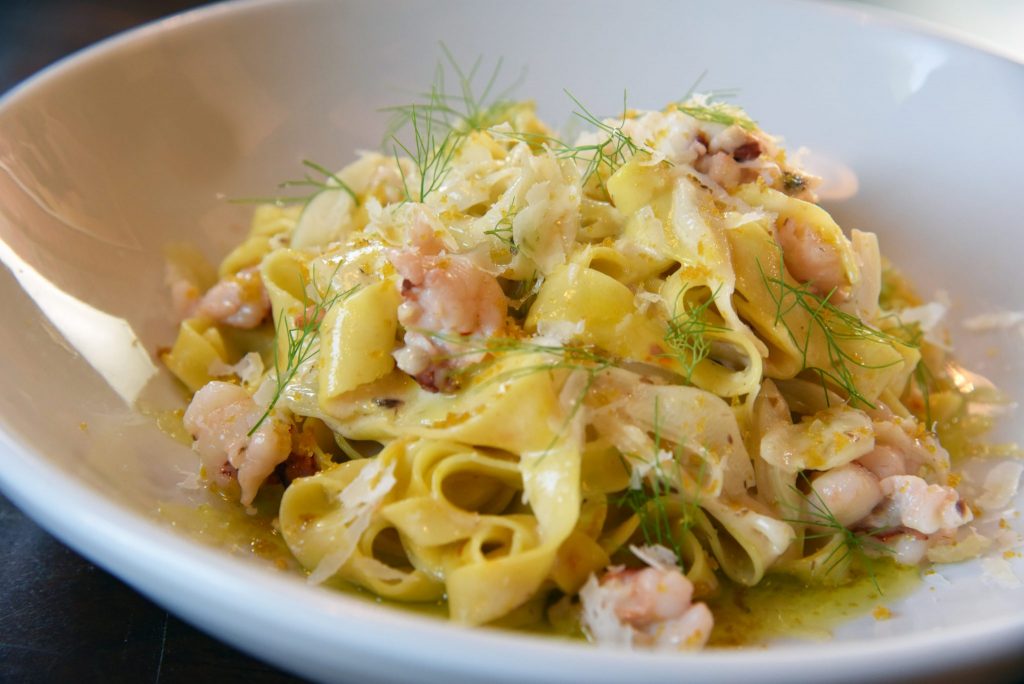 But that stove is serious business. Nominally it's a "pizza" oven. But in some measure, it's the key to everything Lupo does. Picture a tandoori oven, sliced vertically in half, then set down horizontally. Now add a fierce flame in the back corner.
That fire, which burns at nine hundred to a thousand degrees, never really goes out — and it's a particular sort of fire, says Balliet. "We like a nice tight little fire with a big flame that curls all the way up the dome. Even when we close for a couple of days, when we come back there's always a lump of coal still burning."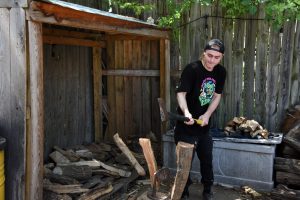 To fuel the fire, Balliet uses the wood of ash trees. And because there are no commercial suppliers of firewood in the small chunks he needs, a Lupo staffer named Keegan Gruber (who also assists with a variety of kitchen operations) spends a couple of hours a day manually chopping the wood with an ax and an antique European log splitter.
It's a stove that demands complete focus. At these temperatures, a few seconds can make the difference between a great pizza and one that's completely destroyed. "We're cooking these pizzas in 60 seconds," says Balliet. "And from the moment the pizza is conceived, it never leaves our sight until it's delivered to the customer."
For those unfamiliar with Balliet's work outside the culinary world, it's worth noting that he and his partners (his sister and brother-in-law Sarah Balliet and Adam Turla ) are all musicians. Sarah and Adam are members of Murder By Death, and Max, in addition to having played with The Ladybirds, served as guitarist in the touring band of legendary rockabilly singer-songwriter Wanda Jackson.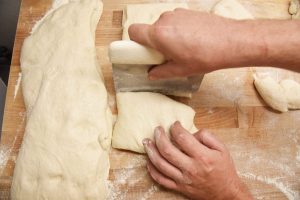 Making pizzas (and the rotating focaccias, and most of the items on the menu at Lupo) is a daily affair. The dough is made in the morning and shaped into small, pillow sized packets. When an order is placed, Max and Katie "open the dough" in graceful gestures that Max compares to playing the accordion. During the opening, the plump outside rim is sacrosanct, and must never be broken. A dusting of fine semolina is applied to the bottom (Balliet says the tiny grains act like ball bearings, lubricating the bottom of the pizza in the inferno). Sauces and toppings are added to the center. Then, using a wooden peel, they slide the pizza into the oven. Elite athletes sometimes attribute their virtuosity on the field to their ability to "slow the game down." And although Balliet's process involves a lot of steps and a searing oven, it seems to happen outside of time.
But a lot is going on during that time. As the dough is opened, bubbles form on the rim. In the heat, those bubbles will brown and blacken into dots that form the pattern known as "leoparding."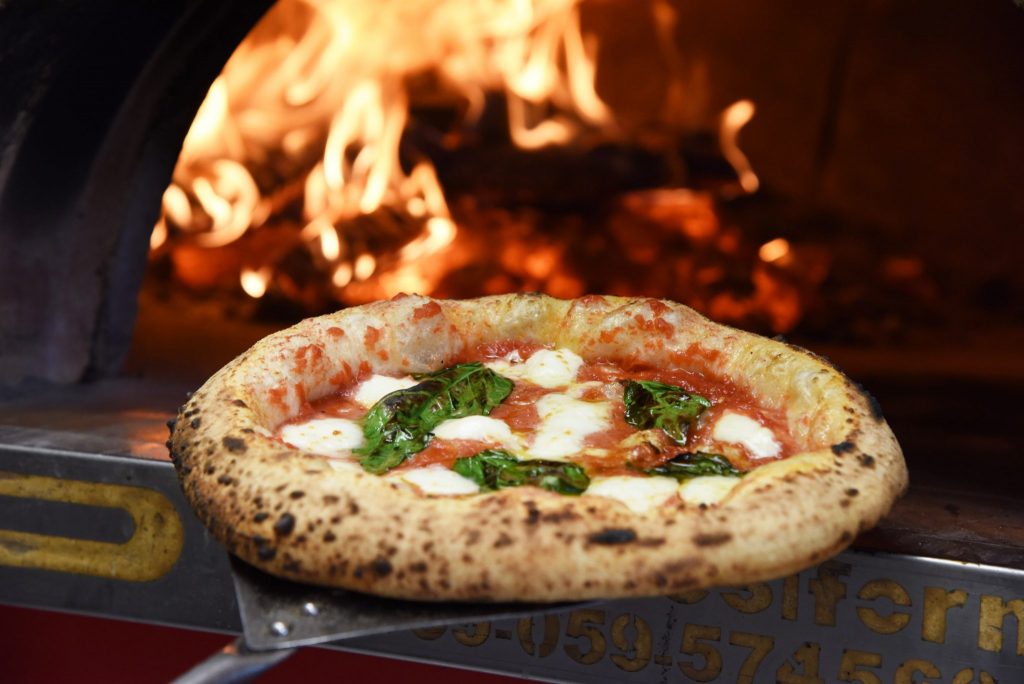 Those leopard spots are the repository of the bitter flavors uniquely associated with authentic Neapolitan pizza. So for the couple of minutes it takes from the opening of the dough to the moment Max and Katie use the pizza scissors to cut it into slices, they are constantly monitoring the bubbles with a view toward balancing the bitter notes.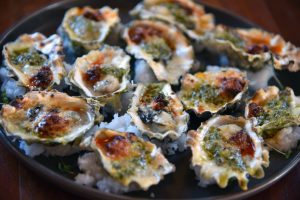 The Lupo oven gets other uses, too. The Lupo menu always offers a few other dishes that take advantage of what also turns out to be one of the finest broilers imaginable. For one menu staple, Balliet tops oysters with a smear of n'duja (a spicy, spreadable Italian salumi from Calabria in the south of Italy), horseradish pesto, and Parmigiana Reggiano. Then he runs it into the fierce oven just long enough to form a crunchy molten crust on top, while keeping the cool, melting texture of oyster intact.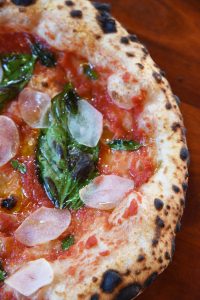 Pizza is the heart of the matter at Pizza Lupo, of course. And the classic simplicity of the Margherita pizza (a long-standing $10 Tuesday night special) or the classic Marinara with hand-milled tomatoes, garlic, basil and extra virgin olive oil) are great ways to savor the essence of this kitchen's work. But other pizzas feature ingredients like country ham, fennel sausage and braised broccoli rabe, locally-raised ribeye, eggplant, and more. One of the lesser-known aspects of Neapolitan pizza, says Balliet, is that in its native home it usually is not sliced at all. It's served whole, and diners attack it with a knife and fork – and use the crust to dip up the kinds of sauces that otherwise might be left lingering on a plate or in a bowl (of course, this might get in the way of sharing your pizza….).
The menu changes with the seasons – and Balliet is an opportunistic hunter-gatherer who on any given day may add new items as they come into season. When available, you can count on finding salads that feature the sweet crunch of watermelons. As we go to press, he's been serving littleneck clams in a country ham-inflected Japanese-style soup stock, topped off with an IPA-based foam.
Always on the menu are a wonderful assortment of shareable dishes — fritto misto, a mezze platter, pickled vegetables, an assortment of olives. Actually, everything here is shareable — including the seasonal entrée.
Although the cuisine plays with bitter notes, the dining experience is sweet, indeed. Pizza Lupo exhibits the same feel of unobtrusive excellence in a civilized Euro-style atmosphere that many Louisville diners associate with the Blue Dog Bakery and Café.
Balliet attributes the design to his sister and brother-in-law. Brick walls are bedecked with posters for Italian films (and Italian releases of films from other countries, like Ingmar Bergman's "Hour of the Wolf). And sound baffles on the ceiling (constructed of wood salvaged from the building during the renovation) create a sonic environment that reduces echoes and noise and enables audible conversations whether dining with one partner or with ten.
The Italian-influenced bar program, with its generous assortment of aperitivos and amari), is also something of a marvel (we'll be writing about that in some detail in the next issue). For the moment, we'll just note that the wine list is brief but impeccable. Jessye Ramsey, who does double duty as both Bar and Front of House Manager, mixes meticulous cocktails and leads a consistently high-performing and well-informed staff. Beverage explorers seeking out new and interesting in flavors will discover plenty of little-known treasures on this bar. F&D