In the time it takes most of us to pad into the kitchen, knock out a two-minute egg and pour some orange juice, Fernando and Yani Martinez and their Olé Restaurant Group will have introduced yet another creative restaurant concept.
In some instances two of them, as in La Bodeguita De Mima and Señora Arepa, which Olé is planning to open in NuLu in 2020.
Located adjacent to the AC Hotel, La Bodeguita De Mima (725 E. Market St.) is set to occupy the 1911 building that most recently housed Creation Gardens. There is ample outdoor space, and improvements will include a cigar lounge and rum bar, all with a 1950s-era Havana feel.
"La Bodeguita de Mima is really a tribute to my Mima, my mother, Yolanda, the unofficial mom of our entire company," said Fernando Martinez in a news release. "It will be a very casual place where Yani and I get to serve up family recipes like my grandmother's black beans and our aunt's flan."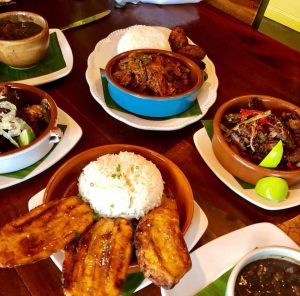 Señora Arepa (721 E. Market St.; formerly Ghyslain), situated behind La Bodequita by Billy Goat Strut alley, will be a fast-casual restaurant featuring Venezuelan cuisine, with an emphasis on the eponymous arepa, a cornmeal pocket stuffed with savory fillings like cheese, chicken, meats or avocado.
"This one is also about family to me, only this time, through marriage," said Fernando Martinez. "My wife and fellow Olé partner, Cristina is from Venezuela. We lived in Venezuela for a time before I left for cooking school in Paris, and it was there I fell in love with the food, but especially the arepas. They are delicious and not only that, but I think many will be surprised to learn that they are gluten-free."
Two other Venezuelan dishes projected for the menu at Señora Arepa: Reina Pepiada, made with cornmeal patties first griddled, then baked and stuffed with chicken salad (made with avocado mayo), and Pabellón Criollo, the national dish of Venezuela, with black beans and shredded beef under a bed of plantain chips.
The independently operated Olé Restaurant Group is comprised of Steak & Bourbon, Guaca Mole Cocina Mexicana, El Taco Luchador Downtown, El Taco Luchador Highlands, El Taco Luchador St. Matthews, El Taco Luchador Jeffersontown, El Taco Luchador Colonial Gardens and Joe's Older Than Dirt in Lyndon.
Olé sees "early 2020" for opening La Bodequita de Mima and Señora Arepa, and hopes to establish multiple locations for the latter, as with El Taco Luchador.