In 2020, coronavirus containment concerns led to the postponement of the Kentucky Derby for the first time since 1945. Just when we'd have been knee deep in the hoopla, there was only the same eerie communal silence that we'll always associate with the pandemic's early period. The race eventually was held on September 5, sans spectators, and won by Authentic. At the time, I was fascinated with the story of '45, and the Derby's delay owing to wartime constraints. Here's a reprise.
The United States entered World War II in 1941 following the Japanese attack on Pearl Harbor. Subsequently the war effort altered daily reality on the American home front as a wartime prioritization of the economy led to rationing (food, gasoline and clothing); wage and price controls; and a tightening or elimination of non-essential activities.
As with the movies, sports went on somewhat as before, as deemed useful to entertain the public but without many actors and athletes who'd joined the armed services. Horse racing also was permitted during the war years, albeit it with some restrictions.
By late 1944, with war's end approaching in Europe, horse racing was declared non-essential and shut down. However, there was a proviso to the effect that racing could begin again once the war in Europe concluded. Germany surrendered unconditionally on May 7, 1945, and racing resumed — but the Kentucky Derby date in 1945 had been May 5, and so the Derby (as well as Preakness and Belmont) were moved to June 9, 16 and 23, respectively.
(Spoiler alert: In the 1945 Kentucky Derby the legendary jockey Eddie Arcaro rode Hoop Jr. to victory over a muddy track)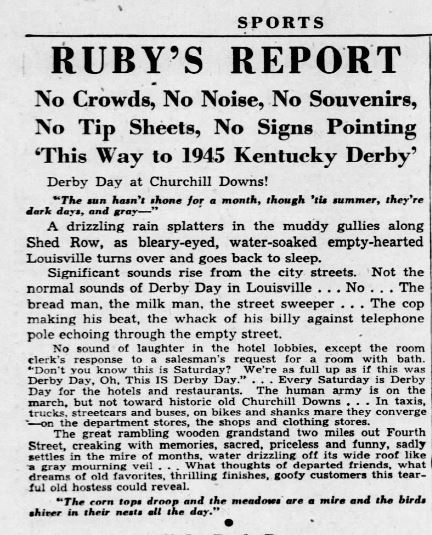 Writer Vance Hanson tells the complete story of the 1945 Kentucky Derby postponement here, and it's worth a read.
The Associated Press later reported that the temporary banning of horse racing was not an indictment against the sport by Washington, but that "the most compelling factor in the stoppage is war plant absenteeism." There might have been a lot behind these concerns. At a time when all legalized wagering was done on track, the wire service reported that tracks in 17 states had generated more than $1.1 billion in handle during 1944, the equivalent of nearly $16 billion today.
America in wartime offered a far different reality than our pandemic-stricken nation in 2020, but there are parallels and similarities, too. Through it all, human beings remained much the same.
I've often wondered how rationing during WWII affected bills of fare at restaurants, diners and eateries. Specific to the Derby, what was being served before and after the race on June 9, 1945, and where were the city's dining hot spots? Juleps are forever, and even then Prohibition was a bad, if fading memory.
What were they eating? If you're reading today and have access to this foodie-centric information, let me know and I'll revisit the topic.
(Cover photo credit: Life.com; check out the photo essay "Kentucky Derby Hats of 1945")