Over the coming weeks, Food & Dining Magazine will be collecting and posting updates about delivery and pickup dining options across the entire area. A catch-all carryout post is coming soon; as work proceeds, we'll be revisiting some of the restaurants featured in past issues.
Marty Rosen: "Creative and resilient restaurateurs all over the region are already figuring out new ways to business"
Since 2005, Bourbons Bistro has been the place "to go" for fine food and an expertly maintained stock of bourbon. The coronavirus may have put a temporary halt to on-premise nibbling and sipping, but the entire Bourbons Bistro food menu is available for carryout.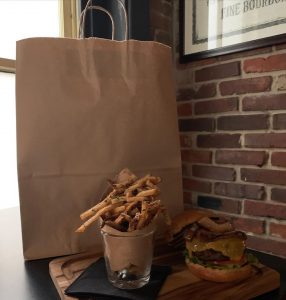 Here's the menu link.
Bourbons Bistro's curbside hours are Tuesday through Saturday, 4:00 p.m. to 10:00 p.m.; customers can call or text their orders — and gift cards also are available.
Call: 502-894-8838
Text: 502-299-9189
In F&D's Fall 2019 issue, Bourbons Bistro was profiled.