The resumption of dine-in service as an option at Louisville area restaurants begs a question: will those eateries choosing to welcome diners the old-fashioned way continue to offer their newfangled curbside, carryout and pantry programs, as developed during the period of pandemic restrictions?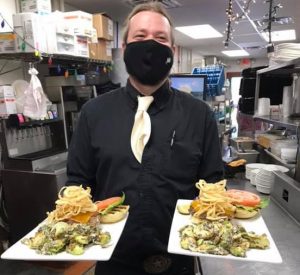 If anything, COVID has taught us that any advance planning is a coin flip; this said, it appears that most establishments are retaining takeaway improvisations. Will these ramp down as permissible seating percentages ramp up? It's too early to tell.
To cite one example, on March 27 we observed that John Varanese was adding grocery service to the arsenal at River House Restaurant & Raw Bar.
As of May 27, the daily grocery list remains in place; carryout comfort food is still available (to go only) and River House has reopened for dine-in seating.
https://www.facebook.com/riverhouselou/posts/1676859672469767?__xts__%5B0%5D=68.ARBO_RXu1UWeVwudRh-5UH5oc4_yWdnNWMpYs87C-Ec7KY0TVoewTM9qQkdk_-9ESUUIfKP4CY1ATLSk43DbwrThLzm1rxxzUXWi7VOIpOLok6BLaknrQTlHbhg5P8_bvzq68u85z064xVwuA1nJGGWcGq_GsVNqqu-0yzh3yDojhe5egGEFWYjiDwOiZ9SdZMu6M5uOFSbz2Uo3W-9ITjw_fcwkGH8hzVJdsUU47NTRzQz_rAX29Pq_g-zCKriChnUuBzS4YBXLY2v8RZT5vR1QJANZVmNtcnZzrZbKL6qkTXimUCrXqbO3ZoFfJoDe9Ut7-9y2S8eeGZz5AoDjfA&__tn__=-R
Meanwhile at the chef's namesake flagship restaurant Varanese, indoor and patio seating has returned, but carryout family meals have not gone away.
https://www.facebook.com/dinevaranese/posts/10157058956551160?__xts__%5B0%5D=68.ARDIS6ohRFoqH3awS8WFcoxbw3VE8wseGiJo1JYQW9ebD4vI79NGYNl4Md5Wprzs7A7-nSBCfmUNR__JdDacQYLDx3Qow2pWMd3l4d3_cjLK9bIJv-7UpEVSppUz9AMYgnbJ-C_dkVMGlts_ufNkwfYmkUAXOobVtOPHIkg-MwhtCSyCNG4ld6mGoexe_4WlJAMDhZZQrfqIQkND2XMzmip0zduJkj5lGGbO2176y1zLxId1uNSYdCCbgdeAk0FcobPdUq6BnAExuK_6NnnFy-6GoLnGZEn1Ng0GnMUGJPbYD3qVX8a7ywFx1MDn9Eded0nrUJTl9uAPvg&__tn__=-R
Varanese and River House are just two such examples of savvy marketing to a customer base that likely will be divided for a while. Some diners want their regular seats back, while others won't leave their cars. Many are waiting and watching, eager for a degree of normality to return, but maybe not quite yet.
What do you think? We'd love to hear about your experiences since May 22. Write to Food & Dining Magazine and tell us: info@foodanddine.com
advertising content
advertising content