To put it mildly, Jason Brauner thrives in a social setting, effortlessly reading the room at Bourbons Bistro and somehow divining the best bourbon to suit diners and sippers, but now, with Louisville restaurants restricted to offering carryout food and drink during the time of coronavirus, Brauner will bring his conviviality to your small screen on March 26 (Thursday) as the host of a virtual dining experience.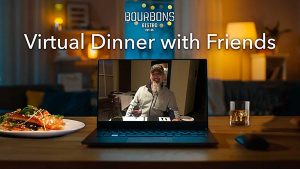 Here's how to join in:
Order your 3-course meal online at bourbonsbistro.com/virtual-dinner by 8 p.m. on Wednesday, March 25.
Pick up your order at Bourbons Bistro (2255 Frankfort Avenue) on March 26, between 6:00 and 6:30 p.m. Come to the side parking lot, text us at (502) 794-7879 to let us know you've arrived, and we'll bring it right to your car.
Join the party at zoom.us and enjoy your dinner with friends! You'll receive an email with your join link about a half-hour before the dinner, plus we'll include written instructions with your order.
Follow us on Facebook and Instagram for some bourbon recommendations that pair well with each of the featured entrees. We miss seeing our customers and look forward to sharing some great food and conversation with all of you!
WEDNESDAY UPDATE: "Bernie Lubbers, known by many as The Whiskey Professor, is the Whiskey Ambassador for Heaven Hill Brands. He is well-known for advocating Bottled in Bond whiskeys and educating through bluegrass music. Bernie will be joining Jason at our Virtual Dinner with Friends."
The carryout meal costs $35 per person before tax and gratuity.
Choice of Salad:
Spinach and Fig
Caesar
Choice of Entree:
Salmon
Pork Chop
Lamb Shank
Dessert:
Mud Pie
In 2019, Food & Dining Magazine told the story of Brauner, business partner John Morrison and their iconic creation.