BOURBON NEWS & NOTES – for 14 May 2021, by Susan Reigler
Buffalo Trace Distillery Continues Adding Warehouses
Thanks to the bourbon boom, Buffalo Trace Distillery in Frankfort has been steadily increasing production, which has necessitated the addition of warehouses, lots of warehouses, to store all that whiskey.
In spring 2018, the distillery began filling new warehouses it had built on the 292-acre farm overlooking the distillery it had purchased as part of its expansion. Now, the seven-story warehouses AA through JJ are filled. Each has a capacity of 58,800 barrels, bringing the on-site inventory to over one million aging whiskey barrels.
KK and LL are standing by and Warehouse MM is under construction. Buffalo Trace will continue to add future warehouses of the same size at a rate of one new warehouse every four months, until storage catches up with production.
Unlike most other distilleries, Buffalo Trace warehouses are temperature controlled. And the new facilities have patented heating systems in their floors. They have been carefully monitored to assure the conditions are as similar as possible to those in the older warehouses on the main distillery grounds. Two graphs showing a comparison between temperatures of one of the new buildings and an older one illustrates that the distillery seems to be achieving that goal.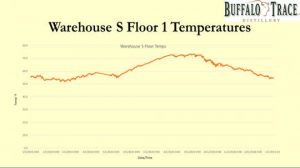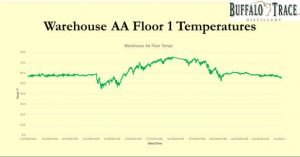 For more information about all of the expansion taking place at Buffalo Trace, go to https://www.buffalotracedistillery.com.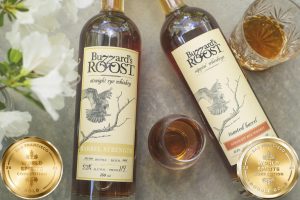 Buzzard's Roost Wins More Gold
The San Francisco World Spirits Awards are a big deal. Which is why I am always afraid that when one of my favorite whiskeys takes top honors that it will suddenly become difficult, if not impossible, to find. (Yes, I'm referring to Henry McKenna 10-Year-Old Bottled-in-Bond Bourbon).  Since its launch in 2019, Louisville-based whiskey brand Buzzard's Roost has fared very well in San Francisco, winning gold medals three times.
Most recently Buzzard's Roost Toasted Barrel Rye has received Double Gold in this year's competition and I'm very glad I still have half a bottle of it on my sideboard. Buzzard Roost Barrel Strength Rye earned Gold, too. For more information about all Buzzard Roost Sippin' Whiskeys, https://www.buzzardsroostwhiskey.com.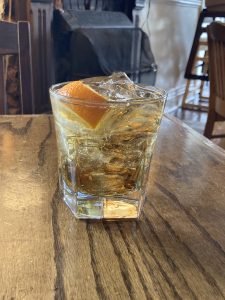 The Irish Rover's Irish Elk
Because the standards of identity for bourbon stipulate that the whiskey may only be aged in "new charred oak," bourbon barrels can only be used once. And once they have finished their time aging bourbon, the majority of the used barrels go overseas to hold other spirits. That's why a  significant number of the world's barley-based whiskeys – Scotch, Irish, Japanese – contain traces of American bourbon.
That includes the Irish whiskey, Tullamore D.E.W., which employs both ex-bourbon and ex-sherry cooperage for aging. This light (80 proof) refreshing nip is used to fine advantage in a refreshing summer sipper at the Irish Rover (https://www.theirishroverky.com). The Irish Elk is the Rover's spin on a Moscow Mule (vodka and ginger beer) or Kentucky Mule (bourbon and ginger beer.) The whiskey's fruity character plays well with the spicy ginger and is especially enjoyable on the Rover's sunny front patio.
The Irish Elk
1 ½ ounces Tullamore D.E.W
4 dashes orange bitters
Crabbie's Ginger Beer to fill
Fill a double Old-Fashioned glass with ice. Add whiskey, bitters, and top with ginger beer. Garnish with a slice of orange.
This week's photo credits: Buffalo Trace, Buzzard's Roost, S. Reigler.
******************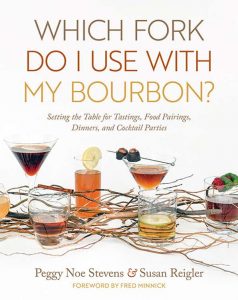 F&D Bourbon Columnist Susan Reigler is the author of several whiskey books, including Which Fork Do I Use with My Bourbon? – Setting the Table for Tastings, Food Pairings, Dinners, and Cocktail Parties.
Pick one up this Derby Season. Autographed copies are available from Carmichael's Bookstore.
It can also be purchased on Amazon, or directly from the publisher at https://www.kentuckypress.com/9780813180311/kentucky-bourbon-country/