BOURBON NEWS & NOTES – for 9 April 2021, by Susan Reigler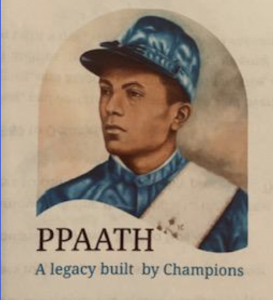 Mint Julep Month Recipe of the Week – Woodford Reserve $1,000 Kentucky Derby Julep
The proceeds from this year's sale of the Woodford Reserve $1,000 Mint Julep™, now in its sixteenth year, will benefit PPAATH, Project to Protect African-American Turf History. The Kentucky-based non-profit works to tell the history of the Black jockeys who were the majority of riders in 19th and early 20th century American racing. Considered the first American professional athletes, they dominated the sport, winning 15 Kentucky Derbies between 1875 and 1902. That includes Oliver Lewis aboard Aristides, the very first Derby winner, and Isaac Murphy who won three Derbies (1884, 1890, 1891). The jockeys' success came to an end with the segregation and racism of Jim Crow.
A total of 100 julep cups have gone on sale at woodfordreservemintjulep.com. Cups numbered 1-11 are gold-plated and sell for $2,500 each.  Cups 12-100 are silver-plated and sell for $1,000. Each cup is engraved with the name of one Black jockey and the year or years they won the Derby. Due to continuing concerns about COVID-19, the cups will be mailed directly to purchasers with all the non-bourbon ingredients to make this year's recipe, the Cherries and Cream Julep (today's cover photo). Cherries and cream were a common dessert on a Derby Day menu in the late 1800s and early 1900s. Here vanilla bean pods stand in for cream.
CHERRIES & CREAM JULEP
2 ounces Woodford Reserve Kentucky Straight Bourbon
½ ounce cherry juice
Half a vanilla bean pod cut into small segments
1 teaspoon powdered sugar
Mint Sprig, cherry and vanilla bean pod for garnish
Crushed ice
In the julep cup, add cherry juice. Add half a vanilla bean pod cut into small segments. Add 1 tsp. of powdered sugar. Muddle or mix together. Add crushed ice to 2/3 of the cup. Add 2 ounces of Woodford Reserve. Top off the cup with crushed ice. Garnish with a mint sprig, real cherry, and vanilla bean pod.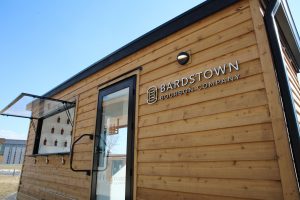 News from Bardstown Bourbon Company
Bardstown Bourbon Company is on the move. Literally. The distillery has recently launched a mobile tasting room resembling a tiny house. The 27-foot tasting room, which looks a lot like a tiny house on wheels, was custom built by Aero Build Customs. It made its first trip to Tennessee in February, is currently in Texas, and will return to Kentucky next week. Visitors to the tasting room will be able to sample bourbon and have bottles signed by master distiller and Bourbon Hall of Famer, Steve Nally.
Stops in Louisville include the Wine Rack, (22 April, 5-7 p.m.), Westport Whiskey & Wine (28 April, 5-7 p.m.), and Clayton & Crume (30 April and 1 May, 10 a.m. to 6 p.m. each day). The tasting room will travel to seven more states and the District of Columbia between now and early August. For a complete schedule, https://www.bardstownbourbon.com/mobile-tour/.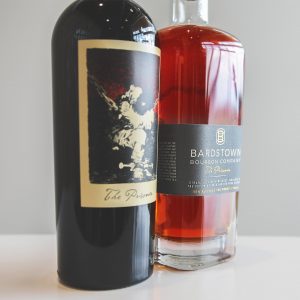 The distillery has also just released its second bourbon aged in used Prisoner Red Blend wine barrels.  The Bardstown Bourbon Company and The Prisoner Wine Company Collaboration is limited to 300 cases. In a prepared statement, master distiller Steven Nally describes it as "… a very complex spirit, with a welcoming bouquet of dark fruit aromatics, honey, vanilla, and baking spices [where] hints of the original premium grape blend take the lead on the palate with a touch of sweetness, turning to a ringing, balanced finish."
The suggested price is $124 for a 750 ml bottle. To find out more, www.bardstownbourbon.com.
This week's photo credits: Woodford Reserve, PPAATH, Bardstown Bourbon Company.
******************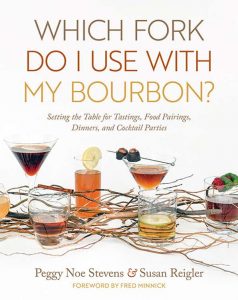 F&D Bourbon Columnist Susan Reigler is the author of several whiskey books, including Which Fork Do I Use with My Bourbon? – Setting the Table for Tastings, Food Pairings, Dinners, and Cocktail Parties.
Pick one up this Derby Season. Autographed copies are available from Carmichael's Bookstore.
It can also be purchased on Amazon, or directly from the publisher at https://www.kentuckypress.com/9780813180311/kentucky-bourbon-country/