BOURBON NEWS & NOTES – 28 August, 2020, by Susan Reigler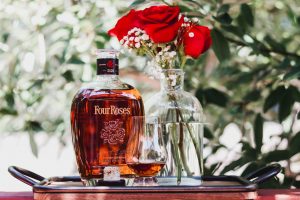 Fall Four Roses Releases
September is almost here, which is not only National Bourbon Heritage Month, but the beginning of the fall releases of limited-edition bourbons. The move of the Kentucky Derby to September has resulted in Four Roses having not only its annual Limited Edition Small Batch Bourbon, but also its annual Great Steamboat Race single barrel bourbon limited release.
Usually the steamboat selection is served aboard the competing Belle of Louisville and Belle of Cincinnati, but this year the barrel selection was made virtually by master distiller Brent Elliott. Samples were sent to Kentucky Derby Festival president Matt Gibson, Belle of Louisville captain Mark Doty, and Bourbon tasters at Kroger's headed by Chuck Osbourne.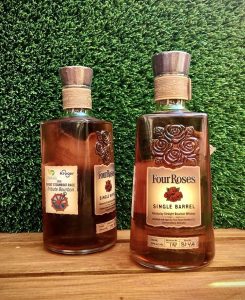 Four Roses has two mashbills and uses five different strains of yeast, for 10 total recipes. The recipe of the selected barrel is OBSV, which translates into the higher rye content mashbill and yeast that imparts delicate fruit. It was bottled at 100 proof. Instead of being served aboard the steamboats, it will be sold in select Kroger Wine & Spirits locations for about $42 per bottle.
The 2020 Limited Edition Small Batch contains four different batches of barrels selected by Elliott – 12-year old OBSV, 12-year-old OESV, 16-year-old OESK, and 19-year-old OBSK. This alphabet soup is decoded at https://fourrosesbourbon.com/our-recipes/, but the short version is that two higher corn and two high rye mashbills are used long with two batches using the delicate fruit yeast (V) and the light spice yeast (K). It's bottled at 111.4 proof and the suggested retail price is $150.00.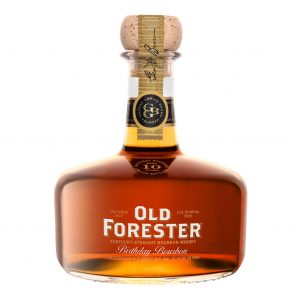 Old Forester 2020 Birthday Bourbon
Many Happy Returns to George Garvin Brown, founder of Brown-Forman in 1870 with the Old Forster bourbon brand, who was born on September 2nd, 1846.  This year marks the 20th release of the annual vintage-dated Birthday Bourbon in Brown's honor.  The 2020 Birthday Bourbon was batched from 95 10-year-old barrels and bottled at 98 proof. The suggested retail price is $129.99. Released nationwide, quantities are limited. For information about where to find it, go to www.oldforester.com/
Maker's Fancy Bourbon Punch
Yes, Derby is very different this year. But you may still be entertaining a distanced group during the race weekend. Rather than mixing separate cocktails, one easy way to get a drink into everyone's hands is to batch cocktails, and an especially refreshing batched beverage is punch. Even though the distillery is temporarily closed due to Covid-19, the good people at Maker's Mark Distillery are no strangers to entertaining and they have often welcomed special tour groups with this very festive punch.
Maker's Fancy Bourbon Punch
1 liter Maker's Mark Bourbon
1 cup granulated sugar
Peels of 3 lemons and 1 orange
Juice of the peeled lemons and orange
1 liter strong, unsweetened tea (preferably green tea)
250 ml champagne (or club soda)
Freshly grated nutmeg (or ground nutmeg if you don't have fresh)
Combine all the ingredients in a punch bowl and garnish with nutmeg. This is the perfect refreshing warm weather drink to serve to a crowd, especially outdoors. Ladle the punch into rocks glasses filled with ice and serve.
******************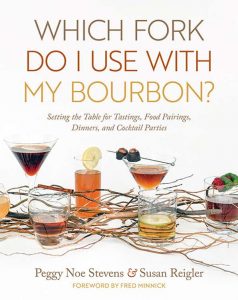 F&D Bourbon Columnist Susan Reigler is the author of several whiskey books, the most recent being Which Fork Do I Use with My Bourbon? Setting the Table for Tastings, Food Pairings, Dinner, and Cocktail Parties, co-written with Peggy Noe Stevens.
Autographed copies are available from Carmichael's Bookstore. It can also be purchased on Amazon, or directly from the publisher at https://www.kentuckypress.com/9781949669091/which-fork-do-i-use-with-my-bourbon/.
Photo credits: The respective distilleries.