BOURBON NEWS & NOTES – 6 November, 2020, by Susan Reigler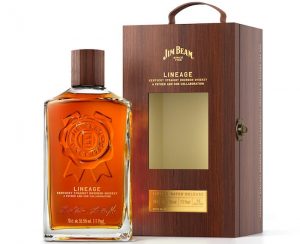 An International Travel Release from Jim Beam
Many whiskey enthusiasts know that distilleries, both in the U.S. and other countries including Scotland and Japan, produce special bottlings exclusively for overseas markets, and/or to be sold only in what's known as "travel retail." In other words, airport gift shops. While Louisville's Muhammad Ali International Airport now boasts a bourbon retailer, it certainly doesn't sell the kind of high-end bottles that globetrotting whiskey lovers find in airports such as London's Heathrow or Tokyo's Haneda International Airport.
At the whiskey shops in those terminals, collectors snap up bottles priced in the hundreds, and even, thousands of dollars. Those are the consumers that Beam Suntory has in mind with its new Jim Beam Lineage.
Lineage is a collaboration between master distiller Fred Noe and his son Freddie Noe, seventh and eighth generation distillers respectively of the Beam family. The 15-year-old bourbon is bottled at 110 proof and retails for about $250, which makes it a bargain on the travel retail shelves. It is scheduled to be released in early 2021 at airports far, far away from Kentucky. For more about all of the Noes' whiskeys, https://www.jimbeam.com.
A Rare, Vintage Bourbon from 1980
Speaking of high-end bourbons, this new release from Last Drop Distillers (parent company Sazarac, which owns Buffalo Trace Distillery) has just released its first Autumn Collection, comprised of three very limited spirits. In addition to the 1976 Very Old Jamaica Rum and the 1959 Vintage Grande Champagne Cognac, the collection includes the 1980 Buffalo Trace Bourbon Whiskey.
As the name suggests, it was distilled in 1980 at what was then known as the George T. Stagg Distillery and is now Buffalo Trace. Sazarac acquired Stagg in 1992 and catalogued a few of what were then 18-year-old barrels in 1998. Two years later, they contents were moved to stainless steel vats and now have been adjusted to 90 proof and transferred to a mere 240 bottles. Should you actually happen on one, know that it sells for $4,600. So, if that bottle was found in Kentucky, you pay more in sales tax for it that for a bottle or the aforementioned Jim Beam Lineage.
For more about all of the Last Drop rare releases, go to  https://www.lastdropdistillers.com.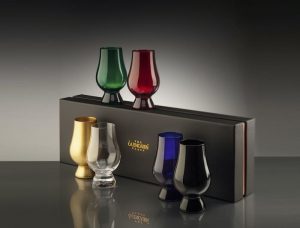 Glencairn Introduces New Whiskey Glasses
The Glencairn whiskey glass was released in 2000 and has become something of a standard for tasting not only the spirits of its native Scotland, but for whiskeys around the world, including bourbon. Made of clear, lead-free crystal, its stemless design features a bulbous base tapering to a cylindrical chimney. This allows the aromas of whiskey to open up in the glass and hover at the top.
Now, in time for its 20th anniversary (not to mention for holiday giving) the company has released a line of colored glasses. Evaluation of a whiskey often includes looking at the color for clues to age and proof. This is especially true of bourbon, to which no artificial coloring may be added. So why a colored glass? Well, how about using them in blind tastings, so as to eliminate the hue clue? A set of six – black, blue, green, gold, red, and the original clear – retail for around $90. Individual glasses are about $15. Check them out at https://www.glencairnwhiskyglass.com.
This week's photo credits: Beam Suntory, Sazarac, and Glencairn.
******************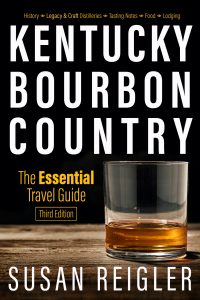 F&D Bourbon Columnist Susan Reigler is the author of several whiskey books, the most recent being Kentucky Bourbon Country: The Essential Travel Guide, 3rd edition.
Autographed copies are available from Carmichael's Bookstore. It can also be purchased on Amazon, or directly from the publisher at https://www.kentuckypress.com/9780813180311/kentucky-bourbon-country/