[adrotate group="3"]
Wry expressions are not common among buzzards, but Buzzard's Roost Straight is debuting two new expressions of rye whiskey, as sourced and bottled by Jason Brauner of Bourbons Bistro renown. Brauner will be on hand at The Wine Rack on Friday evening to launch Buzzard's Roost Straight Rye Whiskey.
Please join us in The Wine Rack courtyard this Friday, July 26th for a very special whiskey release tasting event. We will be hosting Buzzard's Roost sippin' whiskeys, a new project from Jason of Bourbons Bistro. They have two new whiskeys, a Small Batch Rye and a Single Barrel Rye, which we will be sampling from 6-8 p.m. We will also have bottles available for purchase. Limit 1 bottle of each per customer. We are excited about their new whiskeys and can't wait to share them with you!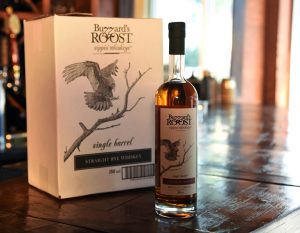 For Brauner, Buzzard's Roost is a side project existing separately from his stewardship of Bourbons Bistro, which was founded in 2005 and became the inspiration for Louisville's popular Urban Bourbon Trail. There'll be a feature about Bourbon's Bistro in the forthcoming Fall 2019 issue of Food & Dining Magazine.
In terms of American history, rye was the country's first signature whiskey, distilled from a prolific grain very familiar to European immigrants during the era predating the Revolutionary War. As these early distillers moved west, they met corn — and bourbon was born. In his book Tasting Whiskey, writer Lew Bryson explains rye amid its current explosion of popularity.
Rye as we now know it … is more like an exceptionally high-rye bourbon than what it used to be. Going back to the standards of identity, the only difference between rye and bourbon is that rye is the dominant grain in the mash bill instead of corn. Everything else is the same. It's still a breathtaking difference.
At Insider Louisville, Sara Havens recently chatted with Brauner about his new rye creations.
The name of his company — Buzzard's Roost Sippin' Whiskeys — has two meanings for him. The first is more literal, as Buzzard's Roost was the name of a nearby road on a property he was eyeing for the distillery. And the second refers to the type of whiskey he prefers to drink — the slow-sippin', savory kind.

"I like to let it sit, sip and roost awhile," he says.
The Buzzard's Roost web site is under development, but you can register for the mailing list here.