[adrotate group="3"]
This is the year to educate your taste buds about Kentucky heritage tastes, because — thanks to the Kentucky Department of Tourism — you can now taste your way through nine authentic meals across the state. "Better in the Bluegrass" offers recipes, chef profiles, and now the "Taste of the Bluegrass" culinary trail that will take you through different authentic heritage meals at Kentucky State Parks in nine regions. I'll be visiting them all, meeting the chefs and relaying my experience at each between now and the program's closing date on October 31. As I visit, the park names below will be linked to the articles about each.
(Restaurants and chefs interested in being featured on the "Better in the Bluegrass" website – separate from the culinary trail – can visit their digital toolkit and apply.)
According to the Better in the Bluegrass website, "Visitor's bureaus in each of Kentucky's nine tourism regions have worked with chefs, farmers, food producers and historians to create nine signature meals that best represent the traditional flavors and dishes of Kentucky."
Interested diners can just pick up a passport at any of the participating state park restaurants and order the designated meal to receive a stamp. Once a diner has collected a stamp from all nine parks, they can mail in their passport to receive a special gift: an engraved Better in the Bluegrass cutting board.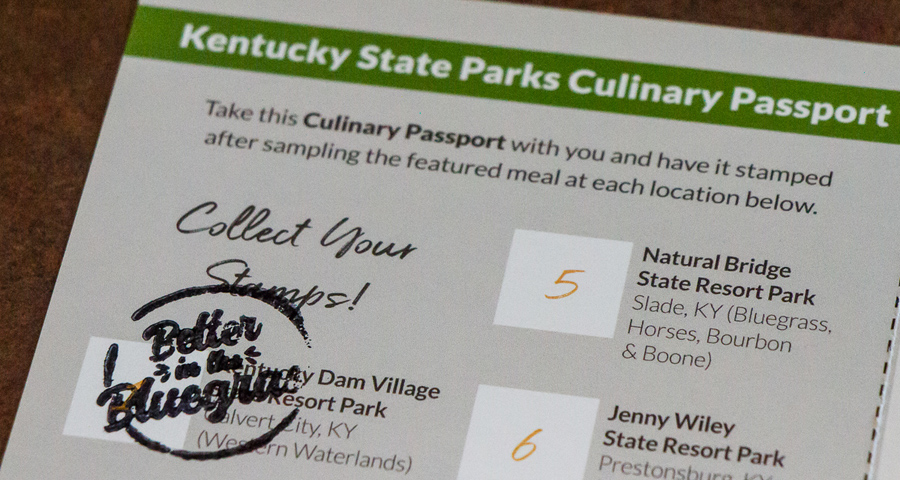 While you're at each of the state parks, there are plenty of opportunities to burn some of those southern comfort calories or just enjoy time outdoors. You can explore lodging, boating, hiking, golf and much more at the State Parks website.
Meal prices vary at each location.
Featured Meal:
› Appetizer: White beans with ham hock

› Entrée: Local Surf & Turf

› Sides: Silver Queen sweet corn, Kentucky Wonder green beans

› Dessert: Banana pudding

› Beverage: Local craft bourbon cocktail
Pennyrile Forest State Resort Park Dawson Springs, KY (Bluegrass, Blues & Barbecue)
Featured Meal:
› Appetizer: Burgoo

› Entrée: BBQ mutton

› Sides: Baked beans, slaw, potato salad

› Dessert: Peach cobbler

› Beverage: Strawberry lemonade with locally grown berries
Featured Meal:
› Appetizer: Kentucky Bibb salad with Benedictine dressing

› Entrée: Kentucky Hot Brown

› Sides: Succotash

› Dessert: Bourbon biscuit pudding

› Beverage: Old-fashioned
Featured Meal:
› Appetizer: Tomato pie

› Entrée: Goetta

› Sides: Potato cakes

› Dessert: Transparent pie

› Beverage: Kentucky Rain cocktail featuring Casamigos tequila
Featured Meal:
› Appetizer: Beer cheese

› Entrée: Kentucky beef

› Sides: Grits, spoonbread, limestone Bibb salad with sorghum vinaigrette

› Dessert: Bourbon/chocolate dessert

› Beverage: Ale-8-One/Ale-8-One and bourbon
Featured Meal:
› Appetizer: Soup beans with cornbread

› Entrée: Salmon patties

› Sides: Fried potatoes, cucumbers-tomatoes-onions with Italian dressing

› Dessert: Blackberry jam cake with caramel icing

› Beverage: Coffee
Pine Mountain State Resort Park Pineville, KY (Daniel Boone Country)
Featured Meal:
› Appetizer: Chow-chow and pickled beets

› Entrée: Soup beans

› Sides: Fried potatoes, cornbread, green onions

› Dessert: Apple stack cake

› Beverage: Milk or moonshine
Featured Meal:
› Appetizer: Pinto beans with spider cornbread

› Entrée: Fried fish

› Sides: Real mashed potatoes, collard greens, slaw

› Dessert: Fried apple pie

› Beverage: Ski
Featured Meal:
› Appetizer: Local cheeses

› Entrée: Pork shoulder/pork chops

› Sides: Fresh sliced tomatoes, sweet corn, green beans with ham hock

› Dessert: Fruit cobbler with local ice cream

› Beverage: Apple cider
Editor's note: This post originally ran on July 16, 2018