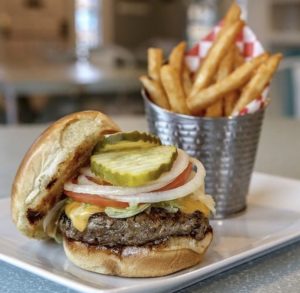 (Edibles & Potables is taking a break today because burgers are all anyone wants to talk about, anyway)
Louisville Burger Week returns tomorrow (Monday 19 July) and runs through Sunday the 25th.
It will be the fifth such burger lovefest in Louisville, and the largest to date, with more than 50 eateries of all shapes and sizes taking part on both sides of the Ohio River.
The Kentucky Beef Council once again is the primary sponsor of Louisville Burger Week, joined by Against the Grain, Gordon Food Service, Coopers' Craft Bourbon and Druther's.
Following is an outline of your forthcoming Week of the Burgers.
From July 19 through July 25, participating restaurants will be offering official $6 burgers (see menu below). Some are everyday menu items, while others have been created for the occasion.
Louisville Burger Week is an all-ages event, although some locations may be 21+ only
Starting on Monday, 19 July, the official LBW passport is available at burger week locations as well as online at the web site.
Collect five or more stamps, submit your information with a photo of the passport, and be entered for a grand prize drawing: $250 in gift cards, an ultimate grill-out party and more, courtesy of the Kentucky Beef Council.
Follow @LouisvilleBurgerWeek on Instagram, and consult the website for further details.