Geography might seem a simple task of gazing at maps and coloring between the boundaries, like we used to do at school. However, few of us in Southern Indiana can agree about SoIN's exact parameters. We lay down the crayons and steal a glance at the liquor cabinet.
Perhaps SoIN is a state of mind as much as a region. The t-shirts suggest as much.
Disclaimers aside, for metro Louisville's purposes we see New Washington to the east, Corydon to the west, with the territory in between serving as a good place to start, especially if the objective is chasing burgers – and this you'll have ample opportunity to do during Southern Indiana Burger Week: Burgers, Brews, & Boos, which the organizers say is Southern Indiana's first "burger week," slated to run from Monday, October 12 through Sunday the 18th.
.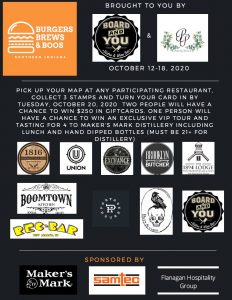 The buy-in is simple and painless. Just pick up a map at any of the ten participating restaurants, collect three stamps to verify your meals, and turn them in by Tuesday, October 20 for a chance to win gift cards and a special Maker's Mark tasting.
Here's the alphabetical listing of restaurants, each promising creative burgers and cocktails for the occasion.