Chef Adam "Hammerheads, Game & Migo" Burress and his business partners at Ostra (1758 Frankfort Avenue) want you to know that Max Powers is in the house as sous chef and artist:
"Max Powers, as the name suggests, has been given maximum powers as of late to fully innovate new items and specials in the Ostra kitchen, and the results and customer responses have been stellar."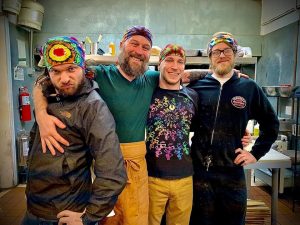 According to co-owner Mike Brady, "Never have I seen an artist go from this medium and then be able to translate his abilities to food preparation, production and presentation without missing a beat."
The first medium is Powers as the artist: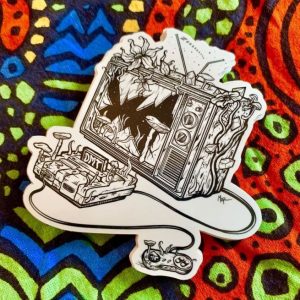 Second is Powers as chef.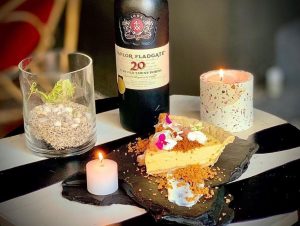 As an example, Taco Tuesdays recently have been revived at Ostra (Spanish for oysters), with Powers creating unique tacos from scratch, including a vegan Szechuan plantain taco (black garlic, sesame and pineapple on a charcoal tortilla) and a duck taco with hibiscus mole, garlic chips, brie and kimchi mayo on a cricket tortilla.
And yes, that's cricket flour — or more accurately, cricket powder — which is a mild protein powder made from milled crickets. Even before Powers came aboard, Ostra was a Louisville pioneer in the use of insect protein, which is just one facet of an innovative daily commitment to sustainability and local sourcing of foodstuffs.
https://www.facebook.com/ostralou/photos/a.238217600258914/602380173842653/?type=3&__xts__%5B0%5D=68.ARCEPLDnUvH4eBqFk4Qqz_GVoylDC0dL-kWzQ_8Z2w7gqJQRZOCbydmp4JgIVa1aeqRjva9jlIM_2Gdc-Dx6W1EAf25uHRJrSxpsVmy30WZ6bjQVA7hSyHUYHS-83yRCwgT4QCnoHXcVXQA8T6pbmNoHIrJd-mVKcUY_3c_hI0cFFU6IZSYKaC8vjp8E25PF7hVzMDEKiMukug2TePgqfnVboekdrEByEz7zBcHu1BSxxwha9HnKj1Wy2nYGrdGJh0Z20ASMBSN0pWBlJa0q5LzwCkzBiA&__tn__=-R
Food & Dining Magazine previewed Ostra in August, 2018 (note that business hours and other information might be dated).
For current information on hours and offerings, visit Ostra's page at Facebook. There's also a highly recommended 2019 profile of Burress and his Frankfort Avenue eatery, written by Sarah Kelley at Louisville Magazine: At Ostra, Creativity Rules.