Building an Empire
Fernando Martinez has built a culinary empire in Louisville with staples like Havana Rumba, Mussel & Burger Bar and El Taco Luchador. Now he wants to expand beyond the city limits.
(Originally published in the Summer 2019 issue of Food & Dining)

Fernando Martinez is one of the most prolific restaurateurs this city has ever known. Since 2002, he has opened Havana Rumba, Mojito Tapas, Guaca Mole, two Mussel and Burger Bar locations, Cena Italian Trattoria, the Place Downstairs, three El Taco Luchador restaurants, Mercato Italiano Trattoria, Coconuts Beach Tacos, Artesano Vino Tapas y Mas, Red Barn Kitchen, and Steak & Bourbon.
That's 15 restaurants! The list is even more impressive when you consider that Martinez took a break from the restaurant business from 2009 to 2012 after launching Havana Rumba and Mojito Tapas. He sold his interest in those restaurants and took the opportunity to travel and hone his craft.
After Martinez returned to Louisville, he formed the Olé Restaurant Group with his wife Cristina, cousin Yaniel Martinez and managing partner Rick Moir. His three children also work for their company, and the chef views being able to combine his passions for cooking, business and family as a gift.
"This is a family business. I wish I could say I was so clever that I knew exactly how everything was going to happen, but that's not how it is. It is a group thing. It is something that happened with time, experience and opportunity," he added.
Martinez approaches the restaurant industry as more of a lifestyle than a business. He is always in motion, transitioning between chef and businessman seamlessly. When Food & Dining caught up with him in late April at Artesano Vino Tapas y Mas, he was in the process of transforming the tapas restaurant in Westport Village into a Steak & Bourbon: An American Grill in time for Derby weekend.
"Artesano was doing okay, but we don't like okay. We like busy," he quipped. "Besides Louisville is a meat and potatoes town."
The Olé Restaurant Group's willingness to experiment with new concepts and change course quickly if it is not working has been a key factor in the company's success. When the Lyndon barbecue restaurant Red Barn Kitchen was not working, Martinez formed a partnership with Crescent "Cres" Bride, owner of R Place Pub, to change the concept.
Bride had operated the space as Joe's Older Than Dirt before Red Barn Kitchen moved into the space. The location is now Joe's Older than Dirt once again, but Bride is handling the management duties while Martinez's company runs the kitchen.
The Olé Restaurant Group has at least four restaurants on deck for 2019. A fourth El Taco Luchador location should be opened in the redeveloped Colonial Gardens complex near Iroquois Park by the time this magazine goes to press, and a fifth is scheduled to open on Taylorsville Road in Jeffersontown by the end of the summer (Update: The Jeffersontown location opens July 17). It will be followed later this year by two new concepts in Nulu, one Cuban and the other Venezuelan.
Martinez also wants to open two more El Taco Luchador locations in Louisville by the end of next year.
"We have big dreams for our company. We want to be a big player in Louisville. One day we'd like to venture outside Louisville, especially with El Taco Luchador. That would be a big way to grow for our company," Martinez explained.
The El Taco Luchador Expansion Plan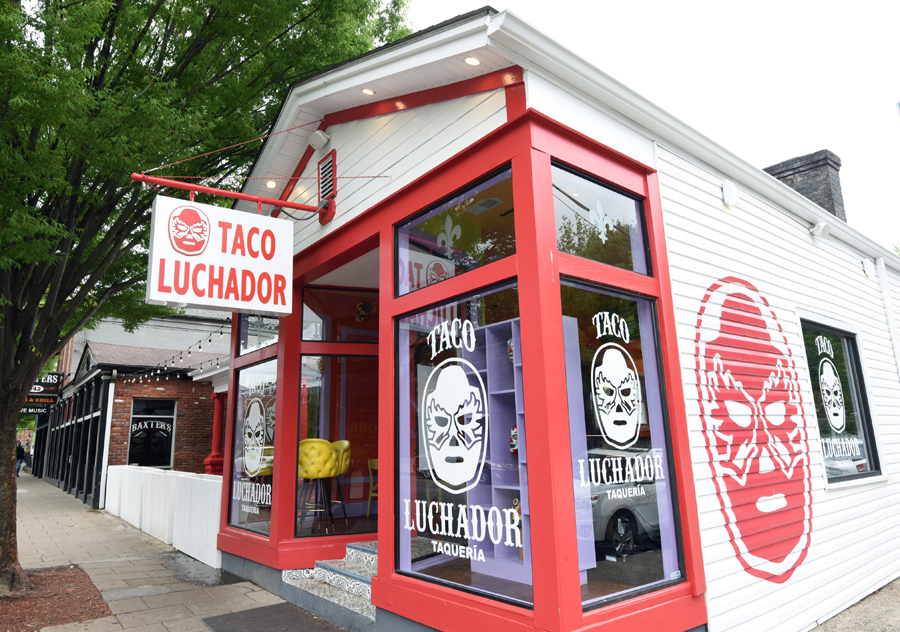 El Taco Luchador is modeled after traditional Mexican taquerias (small restaurants that specialize in tacos and tortas). Martinez opened the first taqueria on Baxter Avenue in 2014. A second location in St. Matthews came along in 2017, and he put the first location to offer breakfast downtown in a space formerly occupied by Zoë's Kitchen in 2018.
Martinez said the El Taco Luchador concept is easier to replicate than most of his other restaurants because it uses a fast-casual model that doesn't involve table service. That translates into less overhead and allows his company to keep prices low. Most of the menu items cost less than $10.
All the El Taco Luchador locations are decorated in bright colors with bold print designs that emphasis their Mexican influence. The menu includes typical Mexican fare with a few surprises like sweet potato fries. Popular choices include the Baha Fish Tacos with beer battered cod, spicy aioli and pickled red cabbage or the Carnitas Tacos with crispy pork, queso fresco, pickled onions, tomatillo, crema and guacamole. There is also a Torta with bacon, Mexican chorizo, smoked ham, tomato and fried egg that goes down well with the margaritas and sangria sold at all locations. If you're at the Highlands or either of the two new locations, you can order other libations from their full bars.
Martinez promised the El Taco Luchador in Colonial Gardens will be a showstopper. Underhill Associates has completed a $5 million, six-year renovation project at Colonial Gardens, transforming the long-vacant south Louisville landmark into a high-end food court that will house four restaurants around a large outside beer garden. Martinez said this South End El Taco Luchador will feature a bar with garage doors on either side so patrons can sit outside in the beer garden during the spring and summer months.
Martinez was the first restaurateur to publicly express interest in moving to the new development. He said the project appealed to him because of the geography and demographics of the Iroquois area. Colonial Gardens is close to Churchill Downs and just across New Cut Road from the entrance to Iroquois Park, which attracts hundreds of thousands of visitors every year. Martinez believes the complex will become a South End destination spot.
"When we opened the first Mussel & Burger Bar four or five years ago, J'town was all chain restaurants. I knew the area was ready for something local and different. I think the same applies for that area around Colonial Gardens," he said. "The people don't have huge houses, but they have good disposable income. A lot of younger families are moving over there – artists, professionals. I think the demand for what we do is going to be there."
Living Out His American Dream
The Olé Restaurant Group traces its roots back to a poor rural area just outside of Havana, Cuba. Both Martinez and Yaniel grew up there. Martinez said he found himself drawn to the kitchen from an early age. He loved to watch his mother Yolanda and his grandmother as they cooked family meals. Eventually, the women gave him little jobs peeling vegetables or cleaning up after them. That was the start of his culinary apprenticeship.
Martinez's entrepreneurial spirit also manifested itself early. When he was still a teenager, he came up with the idea of making quick cash by selling sandwiches to the busy cabbies in Havana. Like many of his later ventures, this one was a hit with the dining public. The sandwiches developed a fan base, and before long Martinez and his mother were operating an illegal underground restaurant in their living room.
The long lines snaking out of the Martinez home drew the attention of Cuban government officials who shut down the budding enterprise. Commerce is strictly regulated in the Communist country and starting a business without permission is a serious violation. Martinez spent time in jail for the offense.
After his release, Martinez started plotting his escape from the oppressive Cuban regime. He built a 16-foot raft in secret. In 1994, Martinez, his mother and six friends launched the raft into the Straits of Florida, which separates Cuba and the Florida Keys.
The group traveled through shark-infested waters for three days and endured a tropical storm before the U.S. Coast Guard picked them up near Key West. Instead of taking them to the mainland, the Coast Guard took them to Guantanamo Bay, where they spent some time before finally being allowed to immigrate into the U.S. legally. Martinez was released in 1995, and he headed to California.
"I lived in San Diego for a year, then a friend invited me to visit Louisville. I loved the city so much that I never went back to San Diego," he remembered. "Louisville is not a small town, but it's not a big city either. I immediately saw the opportunity here. I wanted to open a Cuban restaurant and this city didn't have anything like it."
Building The Empire
Martinez's culinary career did not start out any easier in Louisville than it did in Cuba. He worked a series of menial jobs for seven years in order to save up enough money to open his restaurant. He worked as a janitor, dishwasher and cook. He even did a stint at McDonalds's at one point.
The last time Martinez worked for someone else, he was the manager of Ernesto's Mexican Restaurant. He opened Havana Rumba Cuban Restaurant in St. Matthews with former partners Marcos Lorenzo and Pedro Hernandez in 2002. The restaurant was a small affair. There were only 15 tables. The kitchen staff consisted of Martinez, his mother Yolanda, one other cook and a dishwasher.
Martinez was so involved in every aspect of Havana Rumba that it wasn't unusual for him to pop out of the kitchen to play maracas and sing along with the musicians. Despite the fun family atmosphere, Havana Rumba struggled until a 3.5 star by former Courier-Journal food critic Susan Reigler appeared in the newspaper. The attention got diners through the door and word of mouth made Havana Rumba a hit.
In 2007, Martinez and his partners opened Mojito Tapas in Holiday Manor. The new restaurant was a fusion spin on tapas and Cuban cuisine. Martinez's cousin Yaniel, who had operated a large catering and food operation in Cuba, moved to Louisville to help him with the cooking at the new place.
During this period, Martinez took a six-week course at the Le Cordon Bleu culinary school in Paris, France because he wanted to learn to utilize French cooking techniques in Cuban and Spanish food. The experience ignited an urge to further elevate his craft. He sold his shares in Havana Rumba and Mojito in 2009 and moved his family to Venezuela, Cristina's native country. Martinez spent his time there sampling food and picking up new cooking techniques.
The chef moved his family back to America after a year abroad. They settled in Miami, where he worked as a sous chef for Chef Douglas Rodriguez at Hotel Astor and the Hilton Bentley Hotel. Martinez followed that with a stint as Executive Chef at Café L'Europe in Palm Beach. That ended when he started to get home sick.
"When I moved out of Louisville, I'd lived here for 15 years. I loved the city, but I needed a break. I took that time to travel and learn. When I decided to settle down again, I was like 'Why not go back to Louisville?' Me and my family did really well here. Our friends and family were here. It was home," he said.
In Martinez's absence, Yaniel had become the executive chef at the original Havana Rumba and a partner in the restaurant's second Middletown location. The cousins joined forces in the Olé Restaurant Group in 2012. The company's first restaurant was the Mexican-themed Guaca Mole on Ormsby Station Road in Lyndon. It was followed quickly by Mussel & Burger Bar in Jeffersontown and the short-lived Cena Italian Trattoria. After that, the company continued to produce one concept after another.
"We don't like to be comfortable, because if you are comfortable you don't grow," Martinez said. "We like to challenge ourselves and our employees. We have a system where we make people who have worked for us a long time and are hungry into partners. That way every restaurant has someone there who cares about it."
Combining His Past and Present
The Olé Restaurant Group currently has about 150 employees. That will double by the end of the year. Martinez said the Cuban and Venezuelan concepts he is opening are among the most personal businesses he has ever created.
[ngg src="galleries" ids="18″ exclusions="442,449,450″ sortorder="447,444,448,452,451,439,445,446,453,454,443,440,455,456,442,441,449,450″ display="basic_thumbnail" order_by="sortorder"]The Cuban restaurant called Mima, the Spanish word for mom, is dedicated to Yolanda and the things she has taught their family. Martinez brought in a designer from Miami to work on the restaurant, which is located next to the AC Hotel. He promised a festive place with live music and a rum bar.
"For a long time, we have been looking for the right location to open a Cuban restaurant. We finally found a house next to the AC hotel that looked like an old house in Havana," Martinez said. "Everyone calls my mother Mima. She is like the unofficial mom of the whole company. This is going to be a restaurant that honors her, our culture and our background."
The new Venezuelan concept, which doesn't have a name yet, was inspired by his travels in that country. It will be located next to Mima and much of the menu will focus on Arepa, a pre-Columbian dish made of ground maize that is a Venezuelan staple.
"It is kind of like a Mexican gordita, a white corn cake. You stuff it with chicken, beef and all kinds of things. You can do a breakfast Arepa. You can put all kinds of toppings inside. I think the concept will go well with the area and it's really different," he declared.
Martinez expects the future expansion of Olé Restaurant Group to be more measured than in the past. Although he doesn't rule out doing a one-off restaurant, he said most of the company's attention will be focused on El Taco Luchador. Martinez and his partners want to be very strategic about the national rollout of the brand. He said they might focus on smaller and medium-sized cities before trying the business in big metropolitan areas.
After opening three restaurants this year, Martinez said he plans to take things easy for a while before starting his company's next chapter. Besides his duties with the Olé Restaurant Group, the chef also consults with outside businesses. But his kids will probably be leaving for college soon, and he wants to spend as much time with them as he can before that happens.
"My wife has stepped back from the business and now she just manages the numbers. I think about doing something like that sometimes," the chef said.
F&D Publisher John Carlos White, a friend to Martinez since his days at Ernesto's, is not buying it. White said his friend is too creative and full of life to stay still for too long.
"Every time he opens two or three restaurants at once, Fernando starts talking about taking a break," White said. "Then he comes up with something that sounds crazy like selling Mussel and Burgers and he turns it into a great restaurant. Who knows what concept he'll come up with next?" F&D