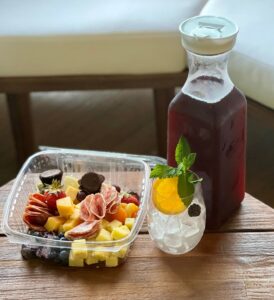 In the beginning there was Union Restaurant & GameYard in Jeffersonville, a half-block from where the Big Four Pedestrian Bridge lands on the Indiana side of the Ohio River, to which was appended a contiguous and smartly remodeled retail space leased by That's My Dog, and when the latter closed up shop in summer of 2021, the owners of Union installed their own Bocce Bowl concept.
Bocce Bowl had its core of avid supporters, but as so often is the case, they were too few in number. It was back to the art of brainstorming, and at this juncture we turn to Laurel Deppen at Louisville Business First, who explains what happened next.
Bobby Bass, owner of Southern Hospitality, said most of the renovations were done in house. He invested about $100,000 in the space.
He said the company started working on the sangria bar in April. When Bass's team was thinking of new ideas for the space, they focused more on what he thought the downtown market needed in Jeffersonville.
"We weren't like, 'We're gonna do sangria,'" Bass said. "We wanted to find out what the market was doing. We built the concept based on nighttime, low cost, low labor, and then backed into that."
The advent of Sangria Bar at Union (125 W. Chestnut St.) comes with an impressive localism lesson attached, in that Southern Hospitality is partnering with Old 502 Winery for the sangria base and Board & You Custom Charcuterie to supply charcuterie boards.
By the way, Board & You Café is open at Norton Commons.