Whenever I ask others for their top three fine dining restaurants in Louisville, La Chasse, 1359 Bardstown Rd, is almost always mentioned – quite a feat for a restaurant open just three years, and yet,  I had somehow not been there.
La Chasse, translated from French, means "the hunt," and owner Isaac Fox says while they have featured hunted game like wild boar, rabbit, duck or elk on the menu, he considers their hunt to be for the freshest ingredients and the hunt for perfection. After attending the Maker's Mark dinner Monday with a menu by new Executive Chef Kristina Dyer and drink pairings by Fox, I'd say they nailed it.
The five-course menu was inspired by the elements required for the Maker's Mark bourbon featured in the cocktails each course was paired with: Corn, Water, Yeast & Wheat, Char & Wood – and finally the finished product, bourbon.  Maker's Mark Master Distiller Greg Davis was there to speak a few words, as was Distillery Diplomat Thomas Bolton, who said he had the idea for this kind of dinner six years ago and brought it up a few months ago when Fox said he wanted to do something challenging.

"My initial reaction was one of excitement," said Fox. "We had done a lot of cocktail dinners, but this was not only a unique and exciting idea. I knew this was something that would push me to find new methods and new levels of creativity. I love when someone brings me an idea that forces me to get out of my box where I can learn in the process."
Fox said that Chef Dyer – who was promoted to Executive Chef only weeks ago – also rose to the challenge, immediately bringing her creativity and passion to three wine and cocktail dinners thrown at her.  
Fox praised Dyer, saying, "I love how passionate and creative she is and enthusiastic about doing this dinner on such short notice. I think one of the reasons we work so well together is that we are both always looking to raise the bar."
I'll be honest. I'm a bit picky, and there are certain flavors I usually run from — flavors I saw on the menu. I've had a lifelong aversion to pickles or pickled anything, and I'm a heat sissy who hides from habanero level heat. I also have to confess that I've always been a little afraid of oysters and have never even tried them. But this menu was one of the most creative use of ingredients I've ever had flash across my email, so I arrived determined to be brave and try everything – and I'm so glad I did.
Let me go ahead and get my nerdiness out of the way. La Chasse now officially has my favorite dishware in the city. I know my "geek-edermis" might be showing, but as a creative person, I was as attracted to the stoneware plates as I was the food presented on them. Their sleek glossy smooth surface was so pretty. I kind of wanted to rub my hands across them, but I'm happy to report I did not. It was a fine dining situation after all.
"I can't tell you how much dishware I looked at before I found those," said Fox when I confessed to him. "I thought the rustic look of the stoneware was just perfect."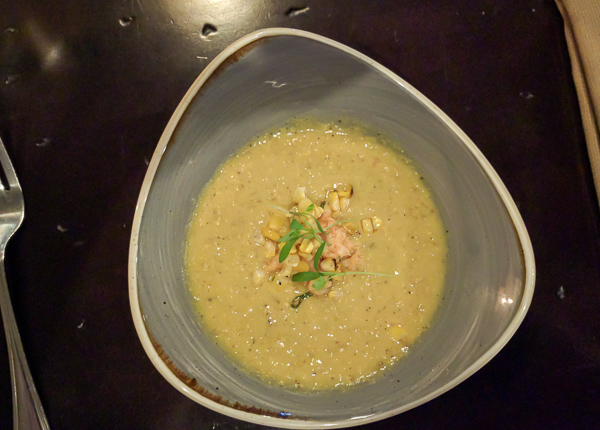 The first course to arrive in the stoneware was a corn chilled bisque, topped with pickled sweet corn, langoustine lobster and micro cilantro paired with a Popcorn Champagne Old Fashioned.
Popcorn? In a drink? Fox told us that he popped popcorn, melted butter in a pan until it was warm and added the popcorn and bourbon to that, cooking it on low heat to infuse, and then froze it overnight – allowing the butter to congeal as one sheet on the top surface. He removed that and strained the rest of the bourbon through a cloth to remove any remaining pieces. (If you try this, he suggests you save the butter, because then you have bourbon infused butter, which he says is amazing on pastries.)
I couldn't imagine how a buttered popcorn drink might taste, but I imagined what it would be like to drink popcorn butter straight. I was a little concerned, but I was most pleasantly surprised. The drink did not taste like buttered popcorn. I found it to be a delicious and refreshing sanctuary from the heat of of the bisque, which was blended so well, I ate the pickled sweet corn and did not mind one bit. I found myself gleefully going back and forth between the low heat that grew with each bite, and the refreshing bubbly. This set my mind for the rest of the meal that I'd made the right choice in setting my own flavor prejudice aside.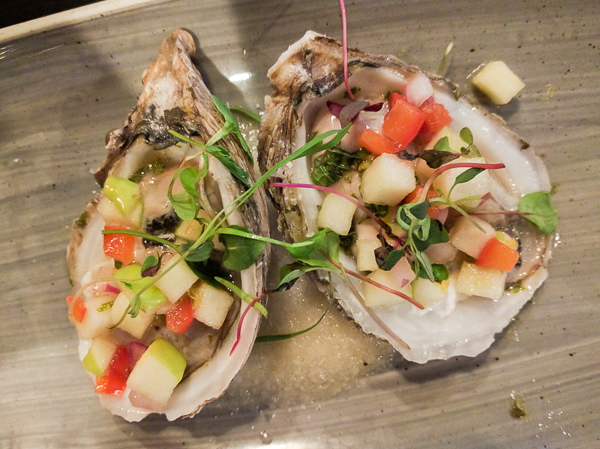 The rest of our experience delighted in the same manner. Buttery salty meat and sweet apple and pepper crudité tantalized my taste buds, making one heck of an introduction to oysters. I'd heard that oysters are rubbery, but my mind was too busy with the various flavors to detect any texture resembling that. The habanero was undetectable in the Beet the Heat cocktail, and I absolutely must have the Sweet potato and Kenny's fromage blanc stuffed ravioli over mushroom duxelles with a roasted garlic cream again. The pork tenderloin and everything on this menu was flavor packed and expertly presented right up through the Maple brown sugar bar served with house bourbon chocolate chip ice cream sandwich, salted ganache, espresso cocoa dust and the straight Makers Mark Cask bourbon tasting from iconic glassware, which diners were encouraged to keep.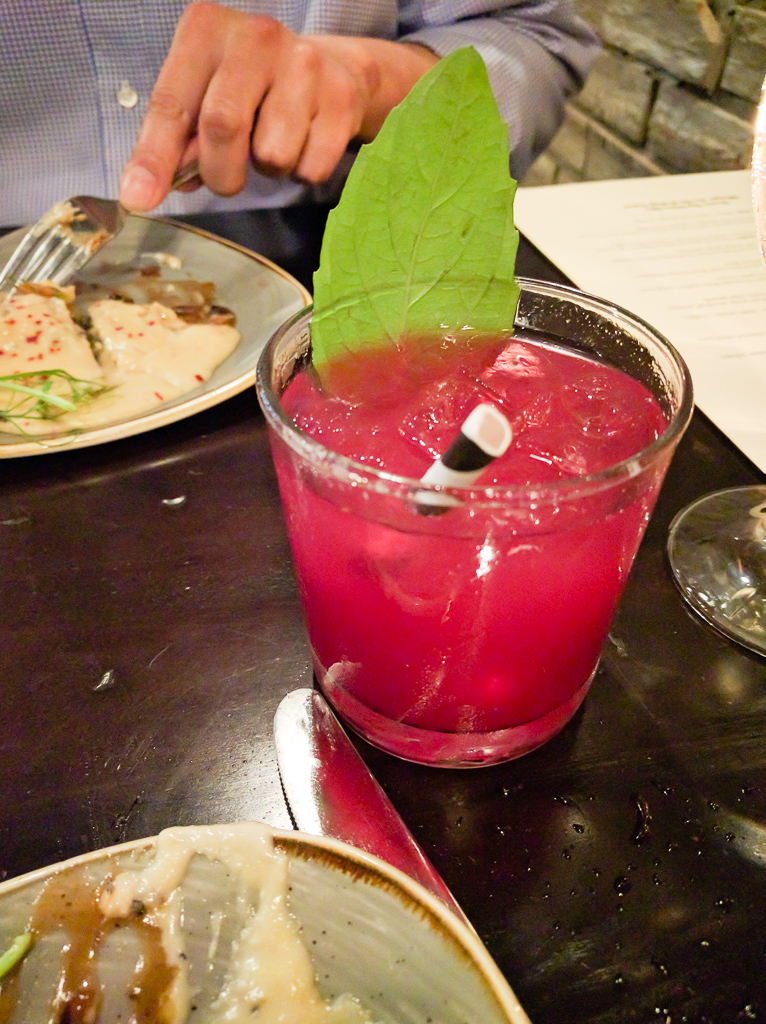 In my opinion, there is nothing more enjoyable than watching humans play or experiencing the fruits of playful creativity. By the end of the meal, I felt like my sense of taste was a child who had been at the science center playground and had to be dragged out when it was time to leave.
Fox said he felt three things after the dinner, "First, I felt the guest response was really positive, which made me feel really well. We had interesting flavors going into drinks that were kind of out there, so I was really happy with the guest response. Second, I was really happy with the pairings, and the execution that Dyer delivered. Third, It really inspired me to try to do more events like this and keep shooting for something more interesting and creative.
"When you work in a restaurant or behind the bar six days a week, it's really nice to have those moments. When something like this gets presented to you, it reignites inspiration in you, and that's really nice."
advertising content
advertising content