"Les Dames d'Escoffier is a leadership culinary organization composed of women who have not only achieved success in their profession, but who contribute significantly to their communities. Since its incorporation 25 years ago, Les Dames d'Escoffier has followed its mission to elevate the profession through mentoring members and helping worthy students succeed in their culinary careers. I am very proud to be a member."
— Julia Child, 2001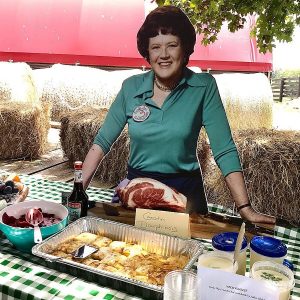 Award-winning author and educator Susan Reigler has been named president of the Les Dames d'Escoffier Kentucky (LDKY) Chapter Board, replacing Judith Hollis-Jones, who was elected to First VP of Les Dames d'Escoffier International (LDEI).
Congratulations, Susan!
Here at Food & Dining Magazine, we'd like to point with pride to the fact that Susan is our bourbon columnist. Moreover, she is known locally as the onetime restaurant critic for the Louisville Courier-Journal.
Susan has authored numerous books and columns on bourbon, food and travel, and is an executive bourbon steward and private tastings curator. She holds a music degree from Indiana University and a master's degree in zoology from Oxford University, which she attended as a Humphrey Scholar.
Not to neglect Judith Hollis-Jones, profiled in an information release.
Judith owns Hollis Jones & Associates, a culinary industry talent acquisition company, and serves as President for the newly formed Buzzard's Roost Whiskeys. Judith brings more than 25 years of experience as a senior executive in the food and beverage industries, serving as a VP at YUM Brands/KFC and Senior Vice President Global Supply Chain at Wendy's. She holds a Mathematics degree from the University of Kentucky. Prior to her LDEI Board appointment, Hollis-Jones was President of the Kentucky Les Dames d'Escoffier Chapter for two years.
Les Dames d'Escoffier dates to 1976, when the organization was founded in New York City in honor of Auguste Escoffier, who is credited with single-handedly bringing culinary arts into the modern era.