No Derby Week. No Dawn at the Downs. No Opening Night. No Thurby. No A Taste of Derby. No joining friends at restaurants for a drink and a bite.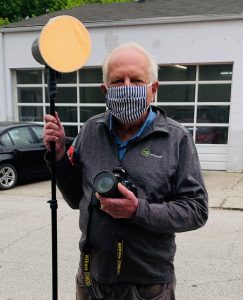 No Kentucky Oaks. No Kentucky Derby.
Today, May 2, 2020 at 6:46 pm will mark the time in 42 years that I won't be at the Churchill Downs finish line set up to photograph the final moments of the "The Most Exciting Two Minutes in Sports."
I will miss the race, of course. But I also mourn for all the other things that surround the "Run for the Roses" that long ago stole my heart.
In addition to being the Chief Photographer here at F&D and Managing Director of the Content Creation Studio at PriceWeber, I am also the Director of Photography of www.kyderby.com, the official website of Churchill Downs.
In that role, I start my own personal Derby race a week before the horses are called to the post.
My race is a marathon of seven consecutive days that last sixteen-plus hours. I start every morning with 5 am trip to Churchill Downs to shoot the dawn workouts. Then my shooting schedule fills up with Derby events – Opening Night, Thurby, A Taste of Derby, The Kentucky Oaks (all of which gets squeezed into my full-time daily responsibilities at PriceWeber).
All of that work comes to a climax with "dawn to dusk" Derby Day coverage, when I manage a photo team of 12-plus photographers and photo assistants who cover the main event.
But even with the long days and all the work, I am always bound and determined to find time for a little Derby Week fun for myself. After all, as the saying goes, "we can sleep when we're dead."
This collection of photos features the chefs I refer to as my "Derby Dandies." They're the ones who over the years have helped me discover different dimensions of Derby fun. Sometimes that fun as taken the form of a quick cocktail at day's end, a late dinner, a beautifully staged event in their restaurant, or allowing me to shoot in their kitchen on the busiest day of the day of the year.
[ngg src="galleries" ids="25″ display="basic_slideshow" gallery_width="1200″ transition_style="slide"]I am grateful to all of them, and to all the chefs, restaurateurs, managers, and servers that have shared their work for me and their love for the Derby over the years. It's impossible to calculate the debt of gratitude we all owe them for the joy they bring to our community and to our annual influx of visitors during Derby Week.
And my list certainly doesn't stop with the chefs that I have photographed here. I feel fortunate to have worked with so many members of Louisville's creative, imaginative, and generous restaurant community. And I thank them all.
This year, more than ever, I thank you all!
And I look forward to the day when we can all return to doing what we all do best, making happy memories with one another.
Cheers to all of you. Together — even when we're apart — we will get through all of this. And God willing there will be many more Kentucky Derby weeks in our futures.
[ngg src="galleries" ids="26″ display="basic_slideshow" gallery_width="1200″](Some of my favorite Kentucky Derby images over the years.)
advertising content
advertising content