Appropriately for the run-up to Louisville Beer Week, the forthcoming DO/LOVE/LIVE Taproom & Brewery project in Butchertown has found its brewmaster. He's Larry Horwitz, a 26-year veteran of the brewhouse, who most recently crafted beers for the now defunct Four String Brewing Company in Columbus, Ohio.
DO/LOVE/LIVE Taproom & Brewery has a projected opening date of March, 2020. The 22,000-sq-ft beer, food and entertainment complex will occupy the familiar 1950s-vintage Dryden Provisions building at 1016 E. Washington Street, a short distance from the Louisville City FC Stadium currently nearing completion.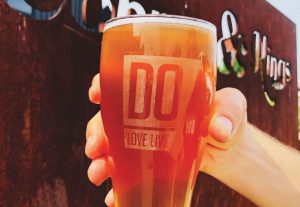 Reporter Haley Cawthon covered Horwitz's hire for Louisville Business First.
Horwitz, who has brewed award-winning beers for 26 years, is an instructor with the American Brewers Guild and serves as a board member for the Brewers Association. Within that organization, Horwitz co-chairs the Technical Committee that provides leadership and oversight on quality, safety, sustainability, supply chain management and engineering for the independent craft brewing community.
"I was immediately drawn to this project because of the exciting things happening in craft beer in Louisville and the uniqueness of the DO/LOVE/LIVE project," Horwitz said in an information release. "DO/LOVE/LIVE Brewing has built a family that is fanatical about quality beer combined with a passion for doing good. We're going to bring all those things together in this tremendous new space for Louisville."