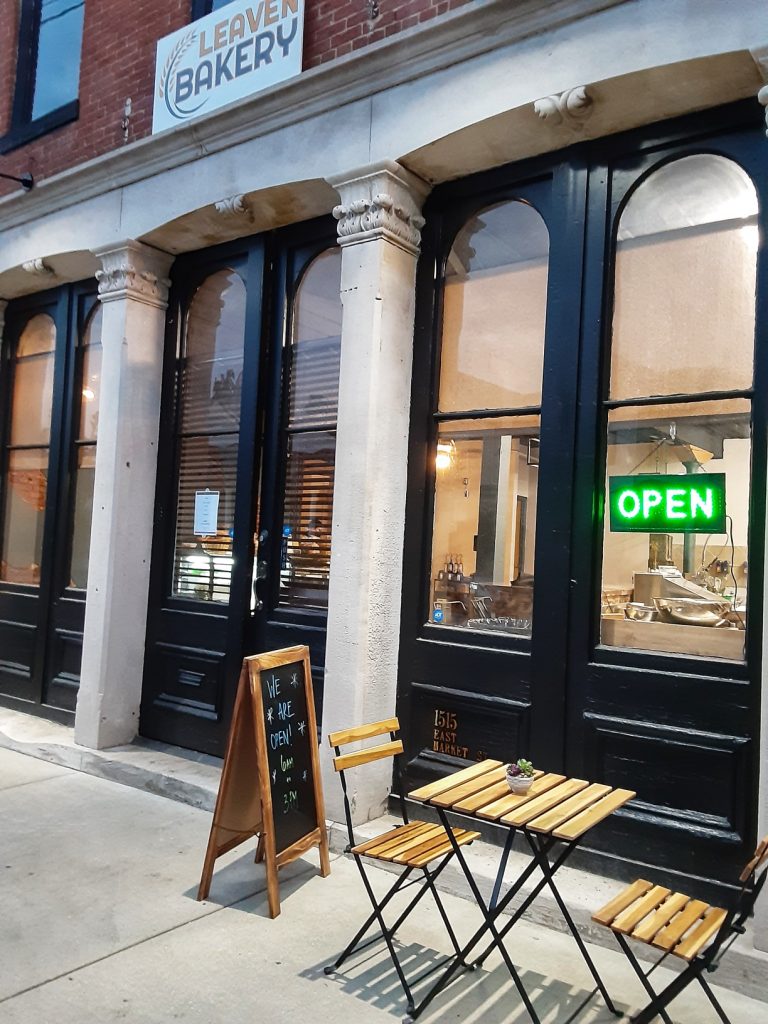 Speaking as a New Albanian of long standing (full disclosure: I work for Pints&union), I still find it weirdly disorienting to contrast the lively food, dining and drinking scene in New Albany today with the moribund situation as it existed when we purchased our home downtown in 2003. It's a pleasing juxtaposition, and yet some mornings I awaken to the fear that it will somehow disappear.
Eighteen years ago I was one of three co-owners of NABC's Pizzeria & Public House, where we had started brewing beer in 2002 as the first new brewery in New Albany since 1935. Now, in 2021, there are six breweries operating in New Albany, as well as two distilleries and soon a winery (see below).
This is staggering — in metaphorical terms, of course.
Accordingly, New Albany has passed through several waves of start-ups, more than a few fall-downs, and can celebrate a good many established long-haulers. New Albany's hospitality sector survived the pandemic mostly intact, and it appears that another great leap forward is underway. Following is a survey of the newcomers, beginning with that very rarest of commodities in my city.
The Idea Exporters
Parlour Pizza, Agave & Rye and Rec Bar 812 arrived in New Albany earlier in 2021 as proven concepts from elsewhere. But now at least three New Albany-born ideas are being exported to other neighborhoods.
New Fresco Tea Bar opens in Jeffersonville (story in Louisville Business First): "Fresco offers a menu of wellness teas, tea lattes and steeped teas alongside pastries and other food items through partnerships with Butchertown Grocery Bakery and FOKO at Logan Street Market."
Board & You takes charcuterie to Norton Commons (story in Louisville Business First): "The Southern Indiana-based charcuterie company will add a new location at 10700 Meeting St. in Prospect, Kentucky, later this summer, according to a Facebook post. The new cafe will be in addition to Board and You Bistro & Wine Bar and its recently-opened boutique cheese shop at 428 Pearl St. in New Albany, Indiana."
German-style beer hall planned for downtown Jeffersonville (story in News and Tribune): "A local restaurant owner is bringing a German-style beer hall to downtown Jeffersonville. Pints & Union owner Joe Phillips is planning to open a restaurant called Common Haus this fall at 134 Spring St., near the riverfront…Common Haus will be a 'sister restaurant' to Pints & Union, a pub in downtown New Albany that opened in 2018 at 114 E. Market St."
The Grassroots Entrepreneurs
Cultivator Coffee under development at 1415 E. Spring Street, New Albany (story at the Courier Journal): "Allie and Jon Dunn first started putting together a mobile coffee cart company last spring, but the coronavirus pandemic brought plans to a halt. After holding pop-up sales for a few months in the spring, they decided to go for a brick-and-mortar storefront. Cultivator Coffee will open on Spring Street in mid-June in a tiny, 600-square-foot cafe."
Distillery 64, open now at on 800 E. 8th Street, Suite 113, New Albany (story at the News and Tribune): "Distillery 64 will offer a 'speakeasy-style' experience, (owner Terry) Spine said. The door actually will be locked to incoming patrons during business hours, and a note on the door will inform customers to read the instructions on a typewriter, which will be on a table by the entrance. Customers then will pick up a phone next to the typewriter to call the bar to be let into the tasting room. 'The whole thing is an experience to get in,' he said."
Leaven Bakery, opening TODAY, Wednesday 26 May, at 1515 E. Market Street, the longtime home of Israel's Delicias de Mexico Gourmet, itself moved to 604 E. Spring Street (Leaven's story in the News and Tribune): "'We don't cut corners at all — everything that we make in-house we make from scratch,' Kimberly (Maxey) said. 'That's how we were trained to do it, and we want to bring that to Indiana.' The bakery will offer baked goods such as bread, pastries, cakes, cookies and other baked goods, as well as breakfast and lunch options. Customers can also order coffee and tea."
Here is Leaven's video on Tuesday announcing today's opening.
The Adaptive Reusers
Baers City Winery to open in downtown New Albany (story at the News and Tribune): "Baers City Winery is preparing to open in the next month at the former River City Winery at 321 Pearl St. River City Winery closed its doors in 2018 after nearly a decade of business. Barbara Haas, the new owner, is aiming for a soft opening in early June…Although Haas is the winery's current owner, former River City Winery owner Gary Humphrey will continue as the winemaker."
Recently at her personal page at Facebook, Haas suggested the Baers City Winery opening would come on June 10. As yet, there does not seem to be a website or social media feed for the business.
Finally, Terri Lynn's Cafe & Catering has been remodeling the space at 133 E. Market Street previously occupied by Adrienne & Company Bakery Cafe and should be ready any day.
Note also that the New Albany Restaurant & Bar Association provides frequent updates about daily events and specials via Facebook. And, to conclude, today's cover photo depicts an amazing mural created by local artist Carrie Johns on the back exterior wall at Mesa, A Collaborative Kitchen.
Previously at F&D: